Waking up this first full day of spring with the full worm moon peeking through my Studio windows! Hooray! MUSICA! Note below, it's the Early Bird!
This was our moonrise last night! How do we get so lucky?
Out behind the barn, snowdrops are coming right up through the melting ice. Daffodils too!
We're doing a little bit of forsythia-forcing. So easy to do. Just bang stems of budding trees and bushes with hammer and put in warm water in a light spot and soon, very soon, you will have . . .
This! Forsythia is such a harbinger of spring on this island! Our first very strong color and after months of none of it, it's like a dream we want to celebrate.
And so we do! I hung my wreath on our front door just a couple of days ago.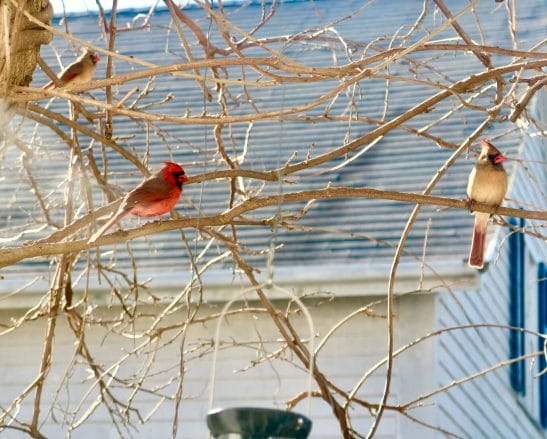 Yesterday, such a gorgeous sunny day, although still only 46º . . . Out in California everyone is in wildflower heaven, so much rain, the hillsides and valleys are covered in bright orange poppies and blue lupin, and
probably to them, this photo above looks like it has yellow-grass, leafless, dead-tree syndrome, but I wouldn't change our four seasons for anything, because as so many of you know, this is SO GOOD after all these months of cold, it feels like a miracle and nothing could take its place. I can barely have words for what this chilled clean salty air feels like as it is now caressing our sheets and infusing them with spring. 🌸 We are dancing out there! Each little rebirth is a celebration!
And soon it will be tulip-time! There is something whimsical about tulip colors and shapes. I decided NOT to plant bulbs last fall . . . to wait for spring. Our
nurseries aren't open yet, but when they do they BURST with spring bloom ~ pots and pots and POTS of tulips, daffodils, hyacinth, crocus … and I get to GO and buy tulips already in bloom ~ and get triple bang for my buck. Too often I buy a bag of mixed tulips and they are ALL yellow, or I buy orange that turn out to be purple or Parrot Tulips that turn out to be not to be Parrot Tulips. This way, instead of little brown bulbous mysteries, I'll get the color and variety I want and can mix color the way I like! I can't wait. It will be whimsey-land out there!  Have you ever seen Angelique Tulips? Oooh la la!
More oooh-la-la to look forward to, the weeping cherries will soon be coming into bloom.
And nothing will have to be "forced!" They will come to us gladly!

And soon . . . this ⬇
These last few weeks, the light has been making me crazy, it's been coming in and landing on everything, and making the most interesting shadows! Running to get the camera before it moves!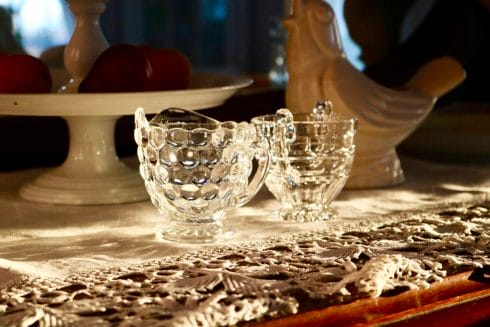 You love glass, but when it does this, you love it more!
Pops like sparks all over the house . . .
I walk by, and there's me on the kitchen wall. Have to stop and give you a wave!
Look at this one. I've never seen this before. Perfect for this old house.
Just a touch here and there . . . draws your eye…
Even Jack, look at the light on his toes!
This boy! Asleep in the middle of my art table right this moment. Put my foot into my shoe this morning, felt something. Guess what? Rubber band.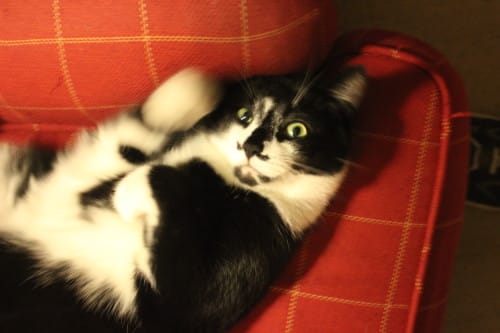 Him.
More sparks of light . . . colors from prisms on the lamp . . .
THIS is a picture through my kitchen-counter windows out toward the picket-fence garden, and INCLUDES the reflection from the windows behind me, where that bird is on the window sill …
My rusty birds make such nice shadows!
See? Doubles my pleasure!
And yes. Still doing it. Sixteen pounds lighter and happy as a clam. Here's a normal breakfast, two scrambled eggs, with steamed spinach and green beans with mixed seeds on top. So yummy and so good. Just heard a disheartening report this morning, that of the top three "dirty" vegetables (meaning smothered in pesticides), spinach and kale are two of them. So think "organic" for these spectacular veggies that your brain is craving.🥗
My other favorite breakfast: Organic oats, sprinkled with cinnamon, with blueberries, chopped walnut, and chopped apple. Makes you feel like Superwoman. 💪
These are the new noodles I told you about, Shirataki, they come in a liquid in a package, and have barely any calories at all, plant-based (not soy), gluten-free. You use them as carriers for healthy roasted vegetables, or stir fry, or soup, or thick tomato sauce with ground grass-fed beef, onions, basil, garlic (no added sugar), a sprinkle of dry red chili pepper, and grated Parmesan.
Another breakfast . . . Organic broccoli-slaw (sold in bags in the vegetable section of our supermarket) sautéed in butter with mixed seeds and two scrambled Omega-three eggs. It doesn't feel like a diet, it feels like joy.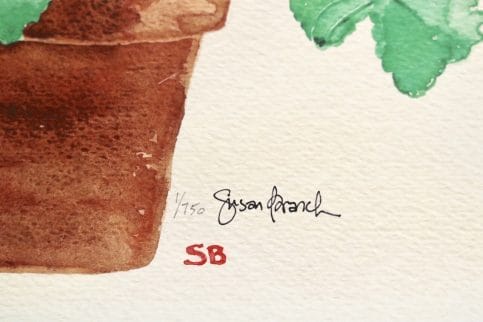 So what is new. Does anyone recognize this? You'd have to be a sort of Houdini if you do. Hint: I told the story of it in my Fairytale Girl book. Ring any bells?
It's my first painting, the one that I did in 1977 after I was given a gift certificate to an art store for my birthday where I went and bought watercolors, then came home and painted the geranium sitting on my kitchen table, and received a bit of a shock that it DID look like a geranium. Yes, the one I didn't have the confidence to sign . . . and when I did, I signed it with my new initials (was getting married the next month, becoming an SB). I just had it reframed to go in my newly painted dining room. Look at that little thin gold frame! I'm really happy with the way it came out.
But before I had it framed, I asked myself, maybe some of the Girlfriends would like one of these? So, I had them copied and made into beautiful fine art Giclees on gorgeous thick watercolor paper . . . here they are, I'm signing and numbering them, there will only ever be 750 of them in the world.
They now look like this, after all these years, finally signed with my whole name . . . and available HERE.
We've actually had a few Giclees available for a long time ~ like this one of Zinnias and Baby's Breath which I did in 1984, just before I wrote Heart of the Home . . .
Or this one, Grandma's Bowl, the original is in our bedroom now, after the years it hung on my Grandma's wall . . . kitchen art!
Or this one, called Lighthouse Beach, which I did just after I moved to Martha's Vineyard . . . and was cat crazy in love (and still am!). BUT the good news is, the new news, is that we found a way to have our giclees done less expensively, because we wanted to be more affordable, and so we did, and they are. 💞
All newly signed and ready to go.
So yes, before we eat those joy-filled healthy-breakfasts, we go walking on this dirt road through the woods out to where it opens onto the sound. It's
been glorious this entire week. Only in the 40s, not exactly beach weather, but better than 20s, and cold doesn't stop us, we bundle up and walk out into the wonderful spring sunshine every day. We need our exercise. Basking in the morning light has been heaven. We'll be going in a few minutes, right after I press "Publish" on this post!
We find a sheltered spot out of the icy wind and sit for a few minutes soaking up the bright sun. ☀️
What else? I've been working hard on our new book . . . and loving every moment of it. Look at that thing, it's STUFFED with memories.
So there's my March 2018 calendar and my Scotland Diary for reference (I'm putting our 2016 trip to Scotland in this book too)  and my new cup and I'm on my way . . . to ENCHANTED!
Making all kinds of new bookmarks along the way . . . so when we go on a book tour I will be bearing gifts~
I've been staying away from stressful news (I only allow myself a half hour a day lately), and have been on an old movie kick… I can't say enough good about TCM … Turner Classic Movies, it can cure what ails you. 😘
But Joe and I decided we deserved a mini-break (as Bridget Jones would call it).
Yes! It's on the calendar! FUN! So excited, we've moved it up a day and we leave tomorrow!!!
Road trip! We're going to Virginia! We're going to drive out of our baby-budding spring in to the REAL THING. We're going south for a tour of George Washington's House at Mount Vernon. You have no idea how excited I am. I read the Ron Chernow biography of George Washington last year and learned so much ~ before I read it, he was just a figure, something to do with cherry trees, wooden teeth and first President, now he is a man, a husband, a father, and a hero. Flawed, as we all are, except Beatrix Potter, but human and real. I've been wanting to immerse myself a little bit in his world. So here we go!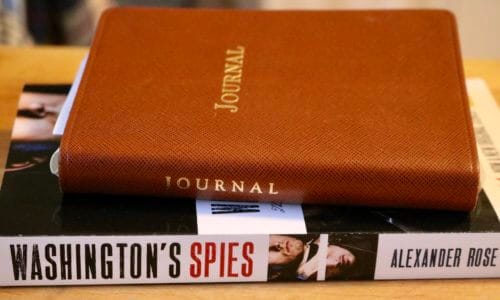 I have a new book to take with me . . . The Revolutionary War story of Washington's Spies! I saw the great mini-series TURN (which is still on Netflix, I just rewatched it), now I want to read the book. Also taking the one I'm just finishing, the wonderful Africa House by Christina Lamb. A mini-break week of reading, who could ask for more!? Antique stores too . . . we brake for them! Nurseries too! I guarantee the Fine Romance Van will be coming home stuffed with springtime!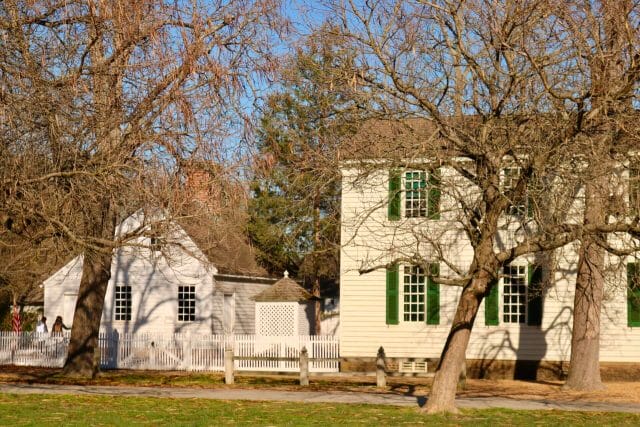 After Mount Vernon, we're going back to Colonial Williamsburg! We were there almost exactly a year ago on our way to board the Queen Victoria, but only had
one day, barely time to get the lay of the land . . . we promised ourselves we'd be going back, and so we are! I was thinking about putting photos of our trip on Instagram, where I'm @susanbranchauthor ~ my imagination tells me there may be more of you on Instagram now than on Twitter?  Let me know where's the best place for them! I could put them on both if you like . . . 💞
Look at this place! William and Mary College, started in 1693 (Second oldest in country after Harvard), is at one end of mile-long Duke of Gloucester Street (almost 100 feet wide and no cars allowed) where George Washington often came riding in on his white horse.  We didn't get to the nearby Jamestown Settlement last time … I'm excited to see the first permanent English colony in America, founded in 1607. We've got tickets for everything!
Going back in time, our favorite place to be . . . I hope we can take a carriage ride!
Look how charming . . . I love the simplicity. We'll only be gone one week, blink and we will be home, which will then look more wonderful than ever.
So I want to leave you with a few small gifts.🎁 Spring has sprung which brought us all new Free Stuff , thanks to Kellee who is a mind reader in her spare time. She knows what we like. Four new springtime stationary designs you can print out on nice paper . . . this one above celebrates our full moon, matches my new cup! But you can choose from the other designs, or maybe you'd like a new screen saver . . . just click on Free Stuff and off you go!
And while I'm away, you may need the recipe for the MOST delicious Carrot Cupcakes with Cream Cheese Frosting. Tis the season! Makes 30! But you can halve the recipe if you like. Take them to work and the fans will go wild! You'll also find the recipe on page 138 in the 30th Anniversary Edition of my first book, Heart of the Home.
And this adorable thing . . . Just in cases you're in the mood for Lamb Cake ~ Here's the How-To ~ Sheri just brought in some new lamb molds . . . this cake is  also excellent for baby showers and Mother's Day! Cover it in pansies! We have a Bunny Cake Mold too! 🐰
We'll only be gone a week, you'll blink and we'll be home. When we get back, I'll settling back into my chair, all refreshed, where I'll be spending this summer windows open, flowers wafting from the garden, deep in the diary, writing Enchanted, England, Ireland, Wales, and Scotland, reliving everything we did at almost this very time last year. Talk about armchair travel!
And one more little gift I found on Youtube . . . an armchair walk through the English Countryside with a very knowledgeable English man. The Lake District to be exact . . . HERE you GO!  Stress reliever extraordinaire. Enjoy! ❌⭕️❌
Later gators. xoxo