RABBIT-RABBIT Me again, I know, shocking! But, it's June, and something is coming! But first? MUSICA!
But I couldn't let today go by without saying Rabbit-Rabbit and a wishing you Happy first day of June! 🌸
June is wonderful on Martha's Vineyard . . . the roses bloom! They aren't yet, but soon fences and walls will be covered in them!
    Go get a cup of tea and let's talk about the little things in life. 🌸
My hour for tea is actually anytime I want! But half-past-five in the morning is perfect! We had some moody Island fog today ~ the fog horn was blowing all morning long. I like it. Makes us invisible. We're out here hidden in the mist.
We've been busy doing probably just what you've been busy doing, putting away winter and getting out the things we need for summer ~ including pulling the yard furniture out of the barn.
And taking off the last of the storm windows . . .
We brought the screens from the barn and exchanged them for the double windows. This old house! These are really the old fashioned kind of storms . . . like modern double windows, only in two pieces so not as airtight. We only have a few of them left, most of our windows work the modern way. But I like doing it the same way Mrs. Bowditch did. I know after we leave this house no one will ever do it this way again.
Speaking of this old house! This is a close-up of a page in one of my scrapbooks. This month of June is our 30th Anniversary!🎉 That's the first photo I ever took of the house, standing on the street, poking my camera through the bushes because I was already so madly in love.
It's still a miracle to me!
And out comes my collection of seashells . . . I love to scatter them around in the summer . . . this little pile is now rinsed and clean and piled in the middle of the table in the garden next to the Adirondack chairs.
Our little fountain is out of the barn and gurgling away on the kitchen porch, I added a couple of seashells to make extra gurgle.
These will be sitting on the bricks when I get everything organized on the porch.
Ahhh, Mother Nature. 💞
Time's passing . . . petals are fluttering off the clematis, waving a sad little goodbye to spring  ~ but the Rhododendrons and peonies are already vying for attention  . . .
Chives are in bloom ~ they provide a triple garden whammy, come back every year, for free! The flowers are pretty, and the whole plant tastes delicious!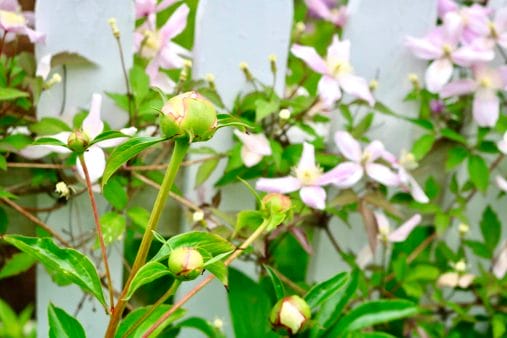 I think our peonies have finally established themselves,
. . . we have lots of blooms on them this year.🌸
We're replanting our little shade garden ~ our old hydrangeas outgrew the space, so we moved them and put in smaller blue hydrangeas, white impatience, hosta, browallia (flowers like little white 🌼 stars), white bleeding hearts, and lily of the valley. This garden is next to the picnic table and I hope the white flowers glow in the dark this summer.
I also planted different kinds of marigolds . . . they protect the garden from bugs, but also . . . 
. . . They look great in vases in September and October ~ plus, the petals add charm to soups and salads and look very sweet sprinkled on ice cream or zucchini bread.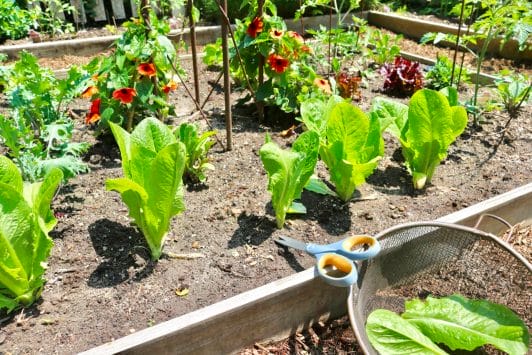 Yesterday I picked my first salad from the garden!
I took a leaf or two of everything out there, plus a few chives, a bit of thyme, a sprig of parsley . . . The nasturtiums are planted but no flowers yet!
I gave it all a rinse under cold water and tore the leaves into bite-sized pieces,
And put the whole delicious, fresh, crisp, and crunchy health-tonic in a bowl with a bunch of other vitamins like mixed seeds, sliced red onion, kidney beans, and chicken (see, I'm like my mom, nothing is actually food, this is roughage and protein) . . . and drizzled it all with a homemade balsamic-garlic dressing. It was delicious, and I felt like Superwoman when I finished eating it!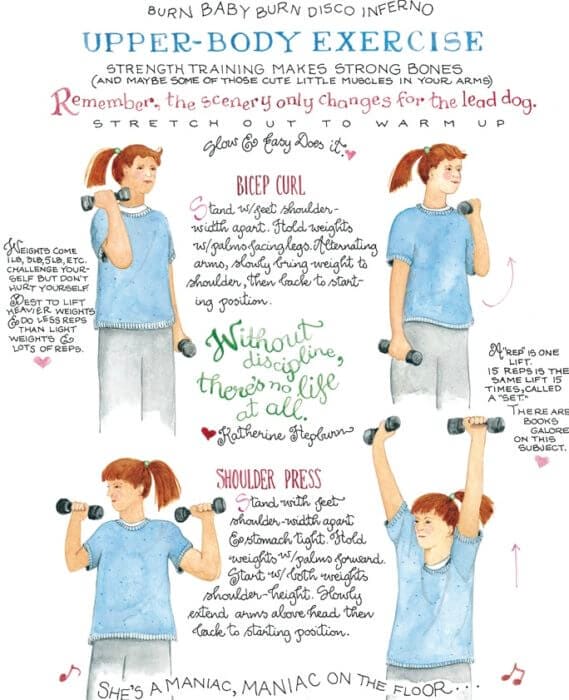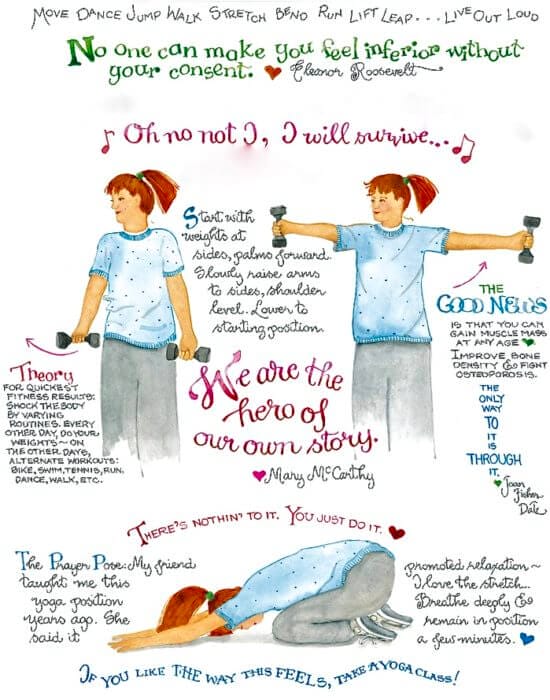 Something else that goes really well with that salad . . . these little exercises from Girlfriends Forever . . . I do them every other day!
With help from Jack my fitness coach.
Here's another easy, delicious, and healthy lunch . . . scrambled eggs, Ezekiel bread with avocado, salt and pepper, and roasted chicken on spinach leaves with some balsamic and olive oil. I'm still working my way back down the scale. It's slow but steady, but like I said, I don't care how long it takes. It gets better every day, and I'm never hungry. Of the two choices below, I decided to get what I want. 😁
So Guess What??? A miracle has occurred! 
To all my patient, darling, and loyal Girlfriends who stood by me while we waited FOREVER for the new dishes to come . . . they're HERE!
I was so happy when Kellee called and said, "They're Here!"
I'm glad I didn't give up  . . .
They turned out great . . .
Kellee and Sheri have them almost packed up . . .
They'll be shipping all next week!
So take time for the little things Girlfriends!
Adorable little pin tray . . .
And this is a little vase has a place for flower stems in the back so the blooms will show over the top.
Life IS good! If you end up wanting more of anything, we will be getting another shipment in a couple of weeks …
Thought you'd like to see the people who make it all happen . . . Sheri and Kellee sent me this photo when I first got Jack!
You looking' at ME?
One more thing before I go . . . I haven't put this recipe up in a long time, but it's so delicious I don't want you to forget it ~ perfectly pink for summer!
Our new feeders should be up this week. We got safflower seed too! Thank you so much for all your brilliant suggestions. I think we may outwit them. It takes a village! (I mean, with squirrels, it REALLY takes a village ~ luckily we ARE one! 💞)
Be sure to take time to smell the flowers! It's a good time of year for that! Happy June! XOXO