Well, for the first time, I finally sort of have everyone where I want them! Home! MUSICA
There's my hero off to rob the grocery store! We are doing fine here, so far so good. On our third week of staying home, doing our part to protect ourselves and the brave health workers at our little hospital. Joe doesn't LOVE going out dressed like this, but he does it for me.💞
Still dark and quiet this morning .
. . I finished the new calendars yesterday! DONE💃! Yay! Now I get to write my Christmas Story! So excited! I put everything away and cleaned the studio to get ready ~ and now the house is smooth and quiet. Behind a chair on the floor of this room is a little machine I got many years ago … a recording of birdsong on a constant loop. Because it's still too cold, we can't open our windows yet, but it's April and I, personally, am ready, READY, READY for spring. Recorded birdsong works for me till the real thing comes along. Makes me happy!
It's getting a little lighter, a little warmer every day . . . Which is perfect because for some reason our supermarket decided the one thing they could live without during this pandemic was, wait for it, yes . . . F L O W E R S. Totally nutty. So good for the soul. They've been #1 on my shopping list the two times Joe has gone. But, no.
So here we are, in the NICK of time! Spring, the season of hope and rebirth.
And it's purr-fect here! Just ask Jack!
So out comes the yellow . . . Easter is on my birthday this year! I love it when Easter's on my birthday! And by the 12th, we'll already be almost halfway through April. This time with pandemic feels like forever, but it will pass much faster than we think. I've been thinking about what I'll have to show for it. (Besides, of course, a hundred thousand prayers.🙏)
I'm such a homebody, as you all know, that if I "HAD" to be "quarantined" ~ "stuck" on a desert island so to speak, I could not think of a better place than Home! Where all my best things are. Tea, candles, dishes in soap suds, clean dishtowels on the stove, jars with red lids, peanut butter cookies in the oven, Beatrix Potter people on the window sill, Jack in my drawer, Joe at my side. All the good stuff happens here anyway. It's trouble out there. Home is the only place we are in charge! 
Was "Zooming" with my English Girlfriend Rachel the other day (*see Zooming below) . . . we were comparing what we're going through to what the Brits went through during WWII, when their "pandemic" fell out of the sky and blew up houses while people were sleeping ~ which they lived through every day for SIX years. How DID they sleep? No sugar, butter, eggs, coffee. No gas. Everyone like sitting ducks. Sons and husbands in danger, far from home, not heard from in months. Ray gave me a book called Nella's War, an actual diary of an everyday English woman during the war and what I learned: we are so lucky, even now. Staying home? Lucky us. Whatever happens, we'll figure it out. If they could, so can we.
What if, the way this went, we were all quarantined in a
dentist's chair? Right? Way worse! Or a highly air-conditioned department-store bathroom, locked in with a bunch of strangers and only two plastic chairs? There is no nicer place than home especially when bombs aren't falling. We LOVE our own beds, we LOVE the musica that plays here! No strange dentist-chair music in THIS house. I'm stealing daffodils from the garden, and forced a tiny stem of cherry tree. If I didn't have a garden, I might dress like Joe and take a walk on our deserted street with my scissors.
We are like this. We go out to stare at the garden before we go for our walk and holler to each other. "Joe, over here!"
SO exciting! (Norman Rockwell was clearly one of us!)
SEE? Happening all over. New life. Isn't it thrilling?
I'm so proud of everyone. The whole world is on a mission. We're in it together. "If you can't do what you do," said Bon Jovi, "do what you can." And so we do.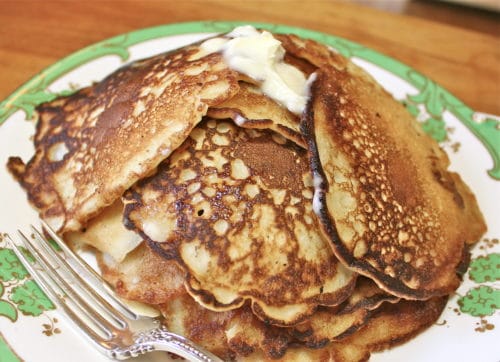 If we want to have breakfast for dinner, we can and we do! There is something so cozy and comforting about pancakes for dinner. Then we watch two series on Acorn, Brokenwood Mysteries, and 800 Words. We are loving the creative art of cooking more than ever. Dinner is like an event, what are we making? Let's have PANCAKES, let's put bacon in them … yaaaay!
I wasn't always a good cook ~ no one is BORN that way, not even Julia Child, who said, "Before I was 32 all I did was eat." And as you know if you've read my books Fairy Tale Girl and Martha's Vineyard Isle of Dreams, I didn't just burn up one stove, I burnt up two.😱 But cooking was right smack in the middle of the road I took searching to find my passions and the things that would make me happy in life. Cooking was like a secret way of giving. I could make people happy when I did it.❤️
It was my own little pandemic that brought me to this cottage in the woods on Martha's Vineyard. When my life was
suddenly thrown into reverse, I went inside, in more ways than one. And it was in that quiet where I learned most everything else that's brought me to now. Sometimes we need a little pandemic in our lives to help us see the road. It's awful when it's happening, you fight it in the beginning, but later, if you survive, if you aren't allowed out too soon, you think, Oh, thank God.💖
What helps the fear? Little things. Naps with kitties, tomato soup, scrambled eggs, a good book, bubble baths, MEDITATION, finding new recipes, cleaning out a closet,
maybe writing that book you've promised yourself you would do. Are you homeschooling? You could teach history the fun way. Watch with them: Darkest Hour, Schindler's List, Amistad, Lincoln, Amadeus, or Chaplin. Show them where on the map these heroes were born, or where the story took place. Make it all real for them. Google "Best Silent Movies" and show them the world of their great grandparents. Check out my Movie List ~ maybe you have a budding vintage-movie buff in the family. Have a Family Book Club: read out loud every night: The Diary of Anne Frank or To Kill a Mockingbird. Take questions. I have a Book List too, tried and true, guaranteed to bring a laugh 

or a tear. Get online and fill out the Census. Teach good citizenship and explain how doing this makes your community strong. Teach them how the stock market works (😳I'm still trying to figure it out!). Paint a bedroom. Check out TED TALKS, so much genius free for the taking (watch Isabel Allende speak passionately, brilliantly, about Passion). Create a photo wall in your bathroom. Make a homemade pie crust. Teach kids how to iron, knit, watercolor, embroider. There are lots of embroidery kits and fill-in family cookbooks in our web store (make Christmas presents). Get out that hammer and nails and Google How To Make a Bird House. Every lesson for everything you've ever wanted to learn is on Youtube. Things you never thought of, things you hardly ever have time for, you do now. Who knows? You might stir up some passions!

My own personal divorce-pandemic took me here. From California to a small island and this little house . . .
Where I cried myself to sleep and healed with kittens and Potato Pancakes.
A recipe I then put in a cookbook I wrote at my dining room table . . . 
. . . that changed my life and gave me a future and made my pandemic worthwhile, all six years of it.
I never imagined this book would turn 30! But it did. And it got a makeover, not just the cover, but there are lots of new recipes. I'm thinking you or a friend or a relative may
be needing a little extra TLC right now, a little bit of vintage charm in a topsy-turvy world ~ so I'm putting this watercolored, hand-written book full of homey recipes, 176 pages of how-to's, and family stories, on sale ~ each with a signed bookplate inside.❤️ For the whole month. And don't worry, I am living proof . . .
None of us know what the future will bring, we have lots of these books in stock right now, it would be better not to have them lounging in a warehouse somewhere, they should be out there, spreading their homey goodness, doing what they do best, inspiring family togetherness with potato pancake, carrot cupcakes, linguine in clam sauce, Gazpacho, my dad's garlic bread, stuffed pork chops, enchiladas, rainbow jell-O, onion pudding, German pancake ⬇️ . . .
. . . the way to fry an egg so the yolk is
still soft, bubbled up with crispy edges . . . bean soup, cranberry tea cake, caesar salad, twice-baked potatoes, lemon chicken, bread and butter pudding, chocolate eclairs . . . and so much more…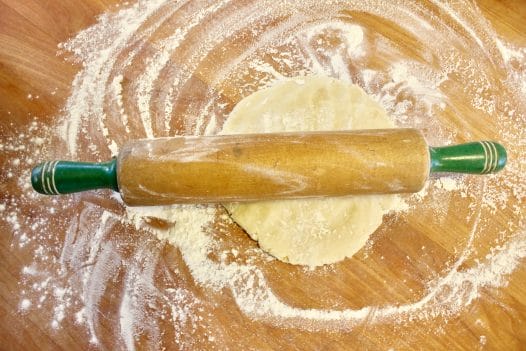 As my parents did and taught us, if you want something bad enough, you just make it. 
I just checked my cupboard, I have three Heart of the Home's here on the Island, which I'm going to give away to YOU. All you
have to do to win one of these books is scroll to the bottom of this post where you'll see a bunch of tiny little words, including the word "comments" … click there, leave a comment (anything, so the blog registers you there), and you'll be automatically entered in the drawing which we'll do next week. ❤️ I'll email the winners and personalize each book before it goes out. Little something to look forward to.
Here's another small treat you can make yourself ~ extra simple made with boxed mix, but outstanding for kids ~ and you'll feel pretty proud too.
One of our Girlfriends sent us her version!
What else . . . Oh yes . .
 No doubt you have figured this out, but just in cases, our Mother's Day Tea Parties in Duxbury have both been canceled, until, we think (and hope), September. I've been saving my old paintbrushes and pencil stubs and making bookmarks to hand out at the signing . . . which means there will be more by the time this happens! See? It's all good. I'll announce the new dates when I get them.
Another 2021 Calendar preview, it's April! Just a reminder, we will be placing our calendar order with the manufacturer on Monday. Hopefully you have yours on order . . . but if not, if you are going to want either the 2021 Photo Wall-Calendar or the regular Heart of the Home wall-calendar, now is the time to get them. Nobody knows WHAT is going to happen to the stores that usually sell them, our manufacturer may make HALF as many this year as last, we just want to make sure our Girlfriends get one if they want one.💞
I'm sure you've heard of ZOOM, but if you haven't let me tell you . . . it's like an on-line conference call . . . I
have used it twice now . . . once with seven girlfriends here on the island, (we had our TGIF, with cocktails, via Zoom) … and the other with Rachel and Paul with us here and them in England (and more cocktails). It's free! It's easy! If I can do it, anyone can. And it's highly satisfying. A safe way to reach out and say I'm still here and I love you, you can see the love-light in their eyes. You can even kiss the screen. You'll see. Excellent invention.💞  
Another especially fun family project is Ancestry.com … get your DNA done and start working on your family tree . . . my sister and I do it over the phone together . . . it's wonderful to feel your family connected to the world, puts a new sort of foundation under you, deeper roots in a world of curiosity and investigation! Shelly finds a name from 1736, and I'm practically screaming the WOW-ness of it into the phone! We get totally tangled sometimes saying such lunatic things as this, "No that's Irene's DAD'S father's brother's OTHER son!"
Well, look! It's light out. Blustery and cold, leafless ~ once again, have to say, right now real world is isn't quite as wonderful as it is in this cozy house . . . look,  my agapanthus are blooming in my studio window! Birds and squirrels are feeding outside the kitchen window ~
It's as good as it can get. One last thing before I go . . . one thing you must do. Turn off the news. Do not listen to daily numbers. Don't hear strident voices all day. If you're at home, following the rules, and staying inside, you're already doing EXACTLY what you're supposed to do to protect your medical centers and your amazing healthcare workers (under so much stress it's unfathomable), from YOU. Blessings and prayers for them, and also, for our first responders, grocery-store people, volunteers and delivery people, who put themselves on the line for us every day. Social distancing is working! Too much negativity will make us as sick as the virus does. Just keep praying, and go World-War-Twoing through to the other side. Think of magical words like delphinium (say them out loud, pure poetry), hollyhock and foxglove. Lily. Pansy. Because it won't be long.
💞
Don't forget to leave a comment for the book! Would love to hear how you're doing!💞 Oh yes, I have a new bookmark for you! You can see it below. Just click HERE and print it out either on card stock, or do it double thickness. From me to you . . .