Rabbit-Rabbit Girlfriends! It's been way too long, and I've wanted so much to write, but I needed to finish something before I did . . . so I could tell you! And yesterday, in the nick of time for July first, so we can celebrate Christmas in July . . . I did! I finished! I'm a person again! Let's start this celebration with MUSICA from the way-back machine (pure proof I love you), because this is the way I like my house to sound when the screen door is open in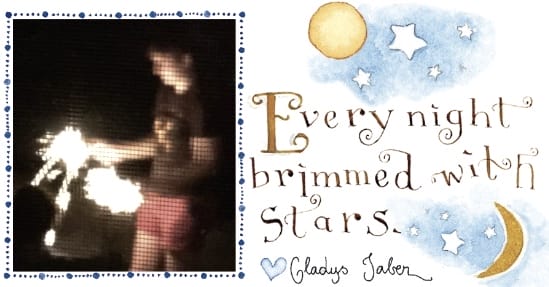 I come bearing gifts. Meet one of the characters in my new book! Yes, it's finished! Many of you know I wanted to write something special for this Christmas, which may, considering the circumstances, be our most memorable and creative ever! So, I did, I've been deep in Christmas every day since March! A lovely place to spend a pandemic since choice does not seem to be on the menu!😷

I used my tiniest brush to make a childrens' book for big people, and little people too.❤️ It's been so much fun choosing shoes and clothes . . . like playing with paper dolls! 
And Look! I blot my paintbrush on watercolor paper ~ so I saved them, and cut them, and look at all the new bookmarks! I hope I can meet you at a bookstore someday ~ because I made them for you! I'll come there bearing gifts too!❤️

So, I finally named it Home for Christmas, because no other title would do . . . that's where it looks like we all might be this year the way things are going! Not the worst place to spend Christmas!
I painted every little bit of the book, even this . . . little things matter too…
That's the truth, and here's the cover! One day, after months of putting one foot in front of the other inching along to today (which was going to happen one way or another) . . . the cover materialized right on my art table! I saw it happen! My Santa has never been in a book or a calendar, it was now or never! After all, Joe was my model for Santa. And yesterday, I turned in the very last page and realized, it was okay now, I could go ahead and put it up for presale! It's a 64-page storybook, with watercolors and photographs ~ it's
And going off to the printer in Crawfordsville, Indiana at the end of next week. And that's when I get started on phase-two of book publication . . . 
Waiting for it to arrive at the end of August . . . knowing that…
If you want one . . . you can get it HERE . . . I am going to TRY and see if any of my favorite independent bookstores would like to have a zoom-book-party. I'd love to invite you to something, we'll see what they say. There is one party I know FOR SURE is coming next month, in August. Remember when I was going to be in Duxbury, MA for a luncheon and book-talk last Mother's Day? And it had to be canceled? Well, they've gotten creative! They've planned a computer party that you will ALL be invited to.❤️ Don't ask me how it will work, I have NO idea, I don't know if it will be on Zoom or what, but I hear it's going to be amazing ~ that you'll be able to hear and see me, that I can even show pictures. I'll send you details the minute I know them! So keep your calendar looking like mine, with nothing on it except for full moons and birthdays you're not attending!
And because it seems many of you missed them the first time ~ we ordered more Santa Cups to go with the book! Kellee put them up for preorder too! HERE. They'll get here the same time as the other cups!
Speaking of . . . everything's on schedule! They should be here the end of this month! If you wanted one, I hope you got one because the Little Things cup is now completely gone. Before they've even arrived! There are still a few Bluebirds available ~ you can see the handle, back, and bottoms of them HERE. If you placed an order, we'll send them the minute they arrive, first come, first serve.💝
And, yes, Calendars are coming too ~ the 2021 wall calendars (one of them is all art, the other one is mostly photographs) are up for presale now… but they'll all be here, including the Blotter, the Mini, and the purse calendar, too, around the end of this month.
And one last bit of business, YES! (isn't that the BEST word?!) We did reorder the Pandemic Postcards, and they did come in . . .
 Okay, well, we have other plans too. We're going to make Christmas cards and Thanksgiving cards, and new wrapping paper for Spoonflower 
~ and other surprises ~ we're doing our best to create the best distancing, but reaching-out Christmas we know how to do. What do we want for Christmas? A vaccine, thank you very much.💞 It makes me happy to think we have the best minds in the world working on making that happen in the safest and quickest way possible. I can't live in here the rest of my life. I need to do a yard sale!!! Stuff is piling up. I may end up having an estate sale in the antique section of my webstore! Might just have to! Wouldn't that be interesting.✔️ What do you think?
Back to our regular scheduled programing . . . the little things that make life sweet. Morning shadows ~ so quiet here these days. 
 This pandemic asked us to go inside in more ways than one. Just like all the other unexpected, undesired, unplanned-for events in our lives. I wrote a book about it which a lot of you read … Martha's Vineyard Isle of Dreams was my very own maskless pandemic! Same question I was always asking then, time will pass anyway, what am I going to DO with it? Now that I'm a person again, I'm about to find out! Paint is probably the answer! 🤣 I'm a little bit addicted! Although Joe thinks I should say "cook!" 
I know I'll take pictures of shadows! Nature's art! I love it when the sun tips off of things. . . so pretty.
One of the many reasons I love morning!
Minding my own business, washing apples and making toast, and hello sunshine, poof, magic!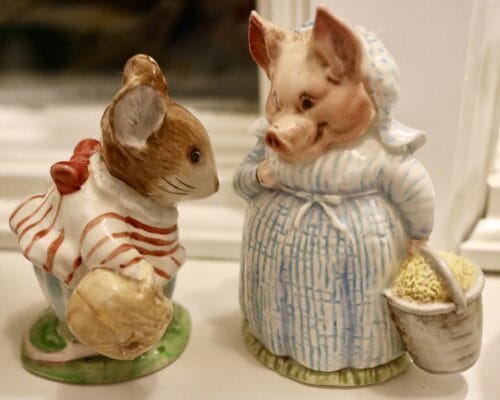 I flipped the light on in the kitchen this morning and found these two like this. Doesn't it look like they're up to something? Things go on around here I know nothing about.
While I was busy, one of my favorite people, the wonderful Vera Lynn died . . . 😢 The thing about losing people, especially the very old, it's not just them, it's their connection to history, what they could tell us if we asked, and even to our own ancestral past . . . even if we aren't related.
XOXO
Such an important person of her times. If World War II had a heart, it would be her, if it had a soundtrack, it would be her. Whether or not you're familiar with her, you'll enjoy this tribute . . . We always took her music to play in the car when we were driving the back roads of England. James Taylor is the voice of Martha's Vineyard, Vera Lynn is the voice of Britain. 
OXO
There was something else I learned about I wanted to tell you . . . oh yes, have you heard of Radio Garden? Go HERE ~ and hear what's playing on any radio station in the world! BBC London? Yes! WMVY, our Martha's Vineyard Station? Yes. WCAI from the Cape and Islands? Yes. Homesick for somewhere? They have a radio station!
Driving home from the market the other day, I rolled down the car window to take this picture ~ if this mitten looks familiar but you only have one? The other one is on the fence post at the corner of Look and Spring Streets on Martha's Vineyard!

I haven't touched the garden this year! Sad thing is, you can't tell! You don't do gardens at Christmas-time in this neck of the woods, and that let me out. It's lucky a lot of ours came back. Can't ask much more than this!
All doing fine without me. I think roses and hydrangeas are the two number-one flowers on Martha's Vineyard! (Don't you like the way I said that?😂)
I always do what my dishtowels tell me to do!
And there's my boy, in his regular position when I'm putting clothes on the line! Doesn't want to miss a thing!
And here's my other boy. Life is good. We decided to start watching Foyle's War over again (on Acorn) . . . I missed some of it the first time! Joe and I meet at 6 pm and quiz each other on what we remember from the show from the night before! So good, if you haven't seen it, I highly recommend it. It has the gift, removes today from your mind completely!
Flag's up!
I'm a flag putter-upper from way back!
No fireworks on the island this year!
So happy I have the photographs! Jack's fine with it, he's asleep next to me in his drawer right now, breeze coming in through the window, and no loud bangs to scare him.
Did you know about this "co-incidence?" ⬆️ I think this is just too much. The same DAY? On the 50th Anniversary? Miles and miles apart? So far apart, and news traveled so slow then, people had to put two and two together! Imagine their faces! Just like mine!😲 How can that BE?
You will need a taste treat for the fourth . . . why not try a recipe for something delicious that also makes you laugh! This is the one! It's in the new version of Heart of the Home if that makes it easier…p.99.❤️
Well, time to face the Musica and go be a person, if I remember how. First up? A nap! Then back to
W E A R   A   M A S K 😎
Yours forever,💞 Anna Susana Dana Branchburger, the third.