Well, it isn't quite April, but almost! Right now everything seems to be almost: Pandemic is almost over, Ukraine has almost won, the tulips are almost up, it's almost time to go to England, and my new book is almost here, it's almost April, almost my birthday, and my sisters are almost here! The only thing not almost, is this Willard! MUSICA
So here begins the painting of the cover of my new book. I had an idea of how I wanted it to look, but at this point, I'm thinking, I hope I'm going to like it … but I had a ways to go. . .
And here I'm beginning to love it because of the moon in the middle ~ but I'm nervous to do the border I have in mind, because I might ruin the whole thing . . .
I wanted to paint the sky over the Atlantic we see when we're on a ship, a huge profound ice-cold, blue-black starry sky that says "infinity" . . . and now I'm happy because it looks like I remember it.💖 If I've done the best I can, "good enough" is my middle name. Am I done? Not yet, I think …. it needs a little something more . . . a little more magic . . . And I have to change the line above my name… the correct word is quotations, not quotes . . . 
And there it is! Voila! The finished cover from. . .
And today is the day Distilled Genius goes up for presale . . . you can order your copy HERE . . . They are due in to the Studio at the end of June … they will be printed in the USA, with a hard cover, and a ribbon bookmark, so they SHOULD be on time! I hope we'll have enough to last through Christmas because, due to EVERYTHING that's going on in the world, we've been told we won't be able to get another printing until 2023 ~ I just never know for sure how many to get. But if Distilled Genius is something you really want, please try to put your name on it now!❤️
What a labor of love writing this book has been! My days have been spent with the geniuses of the world. Can't ask for more than that! I almost didn't notice it was March! And now, poof! It's almost April!🌸

I thought you'd like to see a few pages so you have an idea of what you will get . . . this one is from the chapter called The Secrets of Life.✍️
This is from the chapter on Happiness . . . As Lewis Carroll wrote, "What use is a book without pictures?" Luckily we don't have to worry about that!
Page 234 is in the chapter called Breaking Up ~
and this one is in "Women" … we also have Chapters for Love, Creativity, Diaries, Writing & Writers, Courage, and Fairy Tales to name a few.
At the end of each chapter there are blank pages, so you can include your favorite quotes!💞
And the next bit of exciting information is
THIS SATURDAY, April 2,
I will get to say Rabbit-Rabbit and celebrate spring with 1000 of you in person!👏
. . . that is if you click HERE to sign up to join a Webinar with me and Hayley Solano and her Enchanted Book Club ~ grab a cup of tea
or coffee… (or gin if you're in England!) And join us at 3 pm my time, 2 pm in Chicago, 1 pm in Denver, noon in California, and 8pm in England! This Saturday, April 2! Check the time in your area to make sure. It's free, sign up and you'll automatically be sent a link to join … We'll take questions and talk about creativity and the new book and spring and any questions you might have about the trip to England and all kinds of girl talk! ♥️
Most of the time, I think all I do is work … but I forget! The best part of doing a blog is looking back at my photos and realizing how much fun I've been having. After painting and writing in the early hours, our morning walk in the fresh cold air is so beautiful with the sun shining through the trees, almost an out-of-body experience. The outdoors is not one bit like the indoors … two very separate things . . . We're still bundling up in sweaters and jackets, hats, gloves, scarves . . .
We each put an AirPod in our ear, and turn on our book of the moment on my phone via Audible . . . and off we go, through the woods to the sea! We could NOT
love it more. We just finished The Lincoln Highway by Amor Towles, and NOW, we're "reading" Brideshead Revisited, an old classic about English society in 1923  … written by Evelyn Waugh. I somehow missed both the series and the movie … but being an Anglophile, I could NOT love this more! It was first published in 1945, during the war, and the writing is amazing ~ I would almost go so far to say awesome! Memories of times gone by, a step back in time in story and language, and for frosting on the cake, it's read by Jeremy Irons, who acts it rather than reads it. You'll love it if you haven't read it! Even the parts that puzzle me are okay because his writing is so eloquent and engaging.
And at the end of the dirt road, is this . . . before we turn around and retrace our steps to home, we stop and breathe and count our blessings and say a prayer for the world, especially for Ukraine (⬅️ click there for charities), we grieve for the brave moms and dads who we just KNOW are going to win this thing! Like most of us the world over, I've fallen totally in love with these people fighting for freedom for all of us  … I don't think many of us do well understanding such cruelty.🇺🇦 But the outpouring of help from the world is certainly making a difference.
We are lucky it's peaceful here on our little island where the daffodils have begun blooming and where the earth is turning green again . . . and we cleaned the house!

We had to. First off, it's spring, time to bring in more light and cheer … and secondly, we had to clean up because our dear friend wrote a book about his immigrant grandparents called Blood Pudding … and we invited 60 people to a book party which we had last Sunday! We dusted and vacuumed and moved furniture around . . .
We turned the dining room into a reading room ~ and filled the house with flowers, opened the windows, turned up the heat, lit a fire, brewed four kinds of tea, made cucumber sandwiches and two tea cakes, and had a lovely Sunday afternoon celebrating with our friends!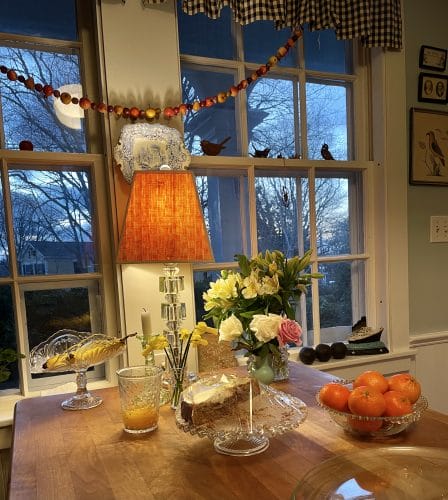 And when they all went home we had leftover cake and a clean house! How perfect is that? 💖
Extra good because my two youngest sisters, Mary and Shelly are coming to stay with us next week to help celebrate my 75TH BIRTHDAY!🥳 I'm so excited! And then it's Easter, and then we GET ON THE QUEEN MARY 2, May One, and hit the high seas! And we'll get to hug under that black starry sky for real! With lots of you! It's definitely a red letter month and it hasn't even started yet! If any of you sailors want to bring books to the ship for me to sign, I'll be happy to do that!
That face is a bit of now I feel ⬆️, I'm always afraid to go away, afraid I'll never see Jack again 🙀, but NOTHING WILL STOP ME.🔪 I just have to step over the fear … so that's that about that!✌️We'll be getting another booster FYI, just for extra safety on board, our plan is to have fun and not get sick!👍
We can't take Jack, but we'll take his best friend, Petey. Petey rides for free. And so will all of you armchair travelers! We won't forget you!💞
What else . . . oh yeah . . .
It's  almost April Fool's Day, you will need to be ready! This is a gummy worm and that is the shower drain. Need I say more? Even though I've done it before, Joe NEVER expects it! Oh the power!😂
Also, Kellee reprinted some notecards for you . . . cheery notes for spring, two styles in each package of 10… you can see they are pretty on all sides! Find them HERE.
Don't forget to treat yourself . . . 
From our kitchen window we see that apple slices are a big hit . . 
A frozen ear of corn, very popular!
Dishwasher went on the blink, Joe had to get on the floor to see what was going on under there ~ he fixed it! And I got a great shot if I do say so myself! I always say a man fixing things around the house is a pure aphrodisiac!💞
One of my girlfriends turned 71 a couple of weeks ago … we found the perfect candle for her … I made the cake for her party, where we did our girlfriend tradition of putting our rings around her candles … we made a wish along with her,  when she blew them out, all our wishes came true.💫 It's magic! I'll need to make one for me! And now, must go … leaving you with one of my favorite quotations …❤️❤️❤️❤️
See you Saturday! 
P.S. I have a nephew named Jesse who's in his twenties & teaches art in China! He is Holly's brother and my sister Mary's son … Mary just sent me this picture he painted on an outside wall of a building in China, on behalf of Ukraine! Makes me so happy! That's my boy!💖 What a small world we actually do live in!💞