Hello little monster (Not you! You're adorable! That ⬇️ monster!) Oh, it is good to be home! MUSICA!

But first of all, let me say, in a quiet, but excited voice, YOUR BOOKS ARE ON THE WAY!!!🎵 This was a perfect welcome home gift for me!!! If you preordered Distilled Genius, then get ready, because they started going out on Friday and will continue to do so all week! At least! You may already have yours!
When we drove up, fresh off the ship, these boxes of books were waiting on our front porch!!! How's that for timing?
I dove straight into the boxes (after hugging and kissing the little monster) … I couldn't wait! It's not real until it's real! I love the red ribbon!
And something else I think turned out good . . . Almost all my books have dust jackets, I love the way they look, and the little "extra" you get to read on them … they seem to finish the book. But with some books, especially a reference book like this one, I find that dust jackets get in the way. They slip off, they get torn, and sometimes I get frustrated and take them off ~ and never can find them again! 
So I did something with this book that I've never done or even seen before. I glued the dust jacket down and Trompe l'oeiled the cover flaps! See the shadow on the edge of the flap? It's not really a flap! It's all glued down! Have you seen books like this before? Maybe I invented it! Look at all the trees we saved! Makes me so happy!😂 Made in America!
Anyway,
I've waited a long time to do this book (as you know, there's a queue💖) and I couldn't be happier with the way it came out. If you pre-ordered, you should know, there is a little surprise in the envelope, don't accidentally throw it away! There will be one with every order until we run out of them (even if you didn't preorder!). If you haven't got yours, we still have them, you can read more about Distilled Genius here . . .
So back to the little monster! He has not punished me for going away! I keep waiting. In fact, he cuddles
alongside me in my chair, or at night. I think it might be, after all these years, dare I name it, could it be love?
I've come home to the little things, and I am almost giddy with the delight of it… my own home where I can nest and hygge to my hearts content… 💞
As I putter around the house, unpacking, doing laundry, putting it slowly back together, his eyes are always on me, except when he's asleep as he is now in the desk drawer next to me. My shadow.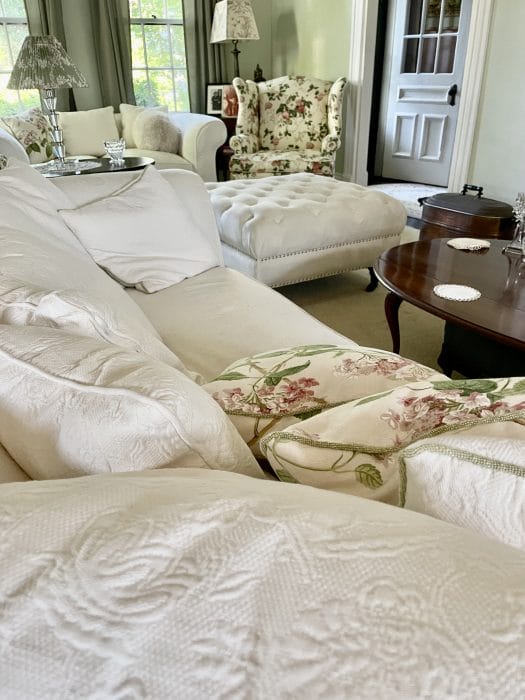 All so soft and peaceful in the old creaky house I love so much
The new needlepoint pillow I bought in an antique store in Harleston UK and smooshed into our luggage to bring home … looks pretty good in my pale green living room! (Before you even ask: Paint color, Martin Señor Colonial Williamsburg Green Light ~ 🤣)
Of course the children were waiting for me, a feast for the eyes 
… the Beatrix Potter figurines I collected in my 20s that have been in every kitchen I've ever had and went onto this shelf in 1989 when I bought this house and have watched over this kitchen ever since …. and their new friend from home, a tiny painted shell Rachel bought for me from children selling their artwork for Ukraine on the beach in Southwold, (the beach town I showed you in my last post). Whew, that sentence was a mouthful for such a tiny little shell!

And yes, the ritual filling of the tiny vases . . . such an important part of the puttering!
If ever I am feeling sad … or lazy, or tired, or lonely I just
go outside pick a flower or two, bring it in, put it in a vase, walk around the house finding the perfect place for it, and my mood gets an instant lift. Something about the garden, the sunshine, the birds, smells, and sounds, and the small gesture makes the difference.💝 We came home to wildness in the world, very hard days we are living through, I want to pat everyone's head and say it's going to be okay … but I'm reminded, the only part any of us have much say over, is our own homes. And that's not a little thing… we have the power to make them heaven on earth, bake a pie, and voila! We are lucky, not everyone in the world can say that!

We've been lucky so far … we came home to the most wonderful weather, our windows are open, the curtains flutter in the sea
breezes, the island is abuzz with summer life, the harbor is filled with little white sailboats flitting around in the blue, we had our first Fish Sandwich at John's Fish Market (a summer tradition for us, I take tiny bites of it's juicy goodness to make it last), and of course, we walk our walk to the sea each day. It's good to go away, good to challenge yourself, and drive on the wrong side of the road, and good to come home, alive and well, full of inspiration, and plotting for the next time!
Beautiful on Martha's Vineyard just now ~ our walk to the water in the morning is heaven … and FLUFFY. When we left there weren't any leaves on the trees and bushes in the woods, and now the island could actually use a haircut!
Quiet sandy pathways and the sounds of seagulls. . .
Yup. I know you know how I feel.💞 Kindred spirits.👏
And speaking of houses … I know you love them the way I do . . . so, up next, a little house entertainment from me and Joe to you from England . . .
The bunting was everywhere . . . but look at these great houses . . . wonky roof lines, no two windows alike, narrow walking paths, like secrets, go between them to other parts of the village, and out, and onward, to the next one . . . amazing history … just hanging out there like they aren't even amazing, just normal! Tell your children:
Normal? Ha! And all handmade . . . because England decided not to let this charm go in lieu of big new shopping centers!
the bluest of blue skies, the whitest of fluffy clouds, the tallest of hedgerows . . .
Pubs and pubs and more pubs . . . how we love them!
Because they have been here FOREVER too . . .
I found critters to make friends with . . .
Bricks and gingerbread, and the MOST amazing trees
I could go on all day with trees!
Trees and pathways to discovery and serendipity . . . Spring in England is the cat's meow.
Many of the trees are as old as the rest of the country . . . you give them a hug and ask, could you please tell me your secrets?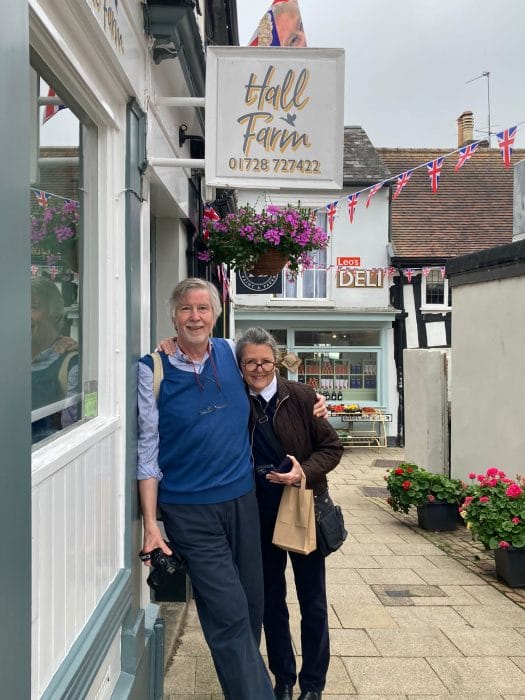 There really aren't very many photos of us together, it's either him alone, or me alone, or a tree alone . . . Rachel took this one . . . but I promise you 
THIS is how we felt most of the time. Verklempt at the beauty. (This old photo of us in tears was taken by my niece. We were all on a glass-topped boat on the Seine in 2001, having dinner, going by the sparkling Eiffel Tower, while a woman was singing La Vie en Rose ~ and Joe and I, being normal people, teared up from the beauty.) Leaving England, saying goodbye after two amazing months of our first freedom in years, sailing by the Isle of Wight as we left Southampton, this is what we were doing.
I'm sure we weren't the only ones … 
Perhaps the tears this time came from our stunning arrival in New York Harbor . . .
It was so beautiful … Staten Island Ferries with sunrise making them shine, passing ships!
Our ship was filled with Brits and Germans … and Americans, all thrilled to get up at 5 am to watch the Queen Mary 2 slip quietly down the harbor, and see the sun rise over New York City . . .
And as we sailed past the Lady with the Light, the gift to America from France, the promise and hope of everything we stand for ~ more tears.
Our crossing was perfection . . . we were wined and dined, we slept like babies . . .the views were stunning . . .MAS MUSICA
Rainbows, fog, blue skies, sunshine, and fast-moving clouds . . . we had it all!
Here are more views for my armchair travelers . . . ❌⭕️❌⭕️
But in this one, so foggy, there wasn't so much of a view! The ships horn blew all day . . . ships have been in these waters, going back and forth for hundreds of years. Now it's our turn. 
Nothing ever stays the same at sea . . .
Joe and I had every good reason to be toasting, but someone has to hold the camera! Our life together seems like a miracle. Since the first moment we met all those years ago, and first spoke about our matching dreams of sailing on an ocean liner to England. Sit down at an oyster bar and the cutie next to you says this! How can that BE? Especially when you KNEW you were finished with love forever??? How does that happen? 
Look a this delicious lunch! Henry the VIII did not have it this good!
They treated us so well. And just a reminder, ask our other girlfriends, this trip is affordable! Right? We had 90 kindred spirits join us on our way to England (on the way over, most flew home) . . . and, from what I hear, they loved it as much as we did! PLUS, you don't have to deal with an airport, AND you can take as much luggage as you want! So if you're inspired, make a reservation! And go!
 This was the hardest part . . . saying goodbye to Ray and Paul! But the fact we were able to spend so much time together made it all okay … an even deeper deepening of an already deep friendship!
Our last pub lunch together was made even better because my old friend Elaine (my boss in Fairy Tale Girl if you remember) had joined us in England by then!
The other thing about pubs, they all have outdoor gardens and tables … pretty special in this covid-ridden world we are having to deal with.
Elaine, Joe, and I walked all over this amazing place called Chartwell, inside and out, Winston Churchill's gorgeous home in the country. Talk about history! It was all there . . .
Elaine in Winston's kitchen . . .
Churchill's garden and one of my favorite plants, called Gunnera … isn't it fabulous? It wants "wet feet" in case you have that . . . I tried to grow it in my creek at the Studio, but it wasn't having any of it. I might have to try again! It's very picky, it wants everything PERFECT! 
My best new discovery . . . Do you see Elaine there in front of that giant bush or tree or whatever it is? Know what she is doing? She is taking a picture of it up-close so her phone will tell her what
plant it is. A wonderful free app for your phone they are advertising everywhere called Picture This.  Now I have it too, and it works! I can't tell you how great it is to not have walk past something beautiful and say, I wonder what that is?! Joe and I have argued about the blueberries growing on the dirt road where we walk for YEARS… now, as soon as they turn into berries, we are going to know the truth, the whole truth, and nothing but the truth. I can't wait! 
Okay, one more picture … a National Trust house full of William Morris that we toured … just LOVED IT. But you see, it's the books that make it!!! Which is WHY, I'm pretty sure, the future for e-books isn't as bright as it used to be! No good book smell! Not good for decorating! Carrying real books is good for arm muscles. See what I mean?
So all this lovely home sweet home stuff will be coming to an end for us soon. We hadn't planned it, but while in England Joe and I started talking about how much we missed California, our friends and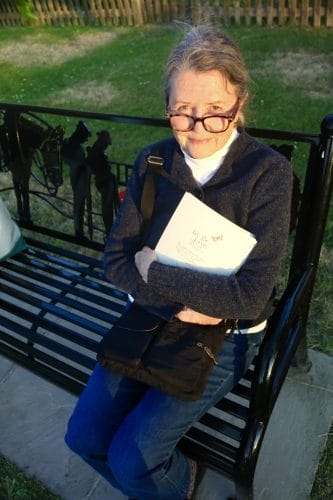 family, my Studio. It's been years! Plus, my family is going to sprinkle mom's ashes and I want to be there for the hugs. At first we planned to make our trip as quick as possible, and take the train so we could get home . . . but as time went on, and more bits of my new book began filtering in (the very first pages were sent to me in England that's me hugging them there), we realized we really wanted to drive so we can visit our favorite Independent Bookstores (it's been a long time for that too), and see as many of my Girlfriends as possible along the way. We aren't going everywhere, we really DO want to come home and stay home, but we
figured we could at least stop at the ones along the route. So that's what we're going to do! It will take three weeks, most of August (brilliant, traveling in August, pray for us!) We'll take the train home, and hopefully be here by September 14! We are going to meet you more than halfway, so now you have to come find us if you can! We'll all be careful of Covid, I don't want anyone to get sick. And I'll ask the bookstores to turn up the air-conditioning ~ I think it will be HOT!!! If you see a puddle, be careful not to step in it, it could be me! Here is our schedule so far. There are more dates coming, to see them scroll down on the home page, in border to the right of the blog post, and click on COMING SOON/EVENTS to get updates.💖
Some of the bookstores are already decorating! This is Prairie Path in Wheaton, Ill where we'll be on August 10! Making me feel so welcome. Sandy sent it ~ I'm so excited about this trip!!! Hope to see you there!
The first signing and talk is the 28th of July … right here on the Cape at Titcombs Books in Sandwich! Come!
Must go now . . . I have to design the covers of the 2022 calendars before we go!!! Much more little monster kisses to be given, and Gazpacho to be made! I hope you are staying cool, and having a WONDERFUL summer, and counting your blessings every day. I hope you LOVE the new book. Thank you for your faithful correspondence, it means the world to me!