Hello Girlfriends! I just want to say, your touching comments about our Dads (!), the Peter Rabbit Room, Domesticity City, and the newest recipes, plus all the connections we've been making with one another have made me so happy; I've been trying to think of a way to show you how much I've enjoyed reading them! This Fall Giveaway is the result!  xo
Plus, October arrives this weekend!  So let's celebrate all us kindred spirit vagabonds and our wild gypsy blood with this . . .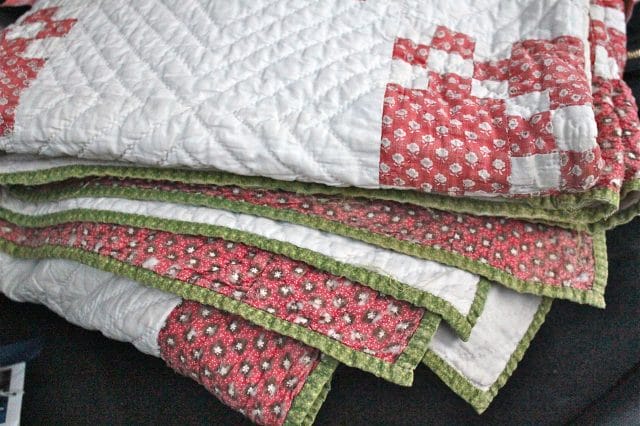 . . . gorgeous quilt, which will soon be in the hands of some lucky winner!  All you have to do to enter this giveaway is leave a comment at the bottom of this post, and answer one simple little question:  What's YOUR favorite thing about fall? ♣ Here are some hints and possibilities, to get your clock a tickin' . . .
 If you win, you could do this with your new, old, vintage quilt, and that might be your most favorite thing about fall this year. Putting the sweet in Home Sweet Home.♥
Or maybe you love outsmarting the first freeze and getting the last of the tomatoes in from your garden to ripen on the window sill… because they look so darn cute up there!
Or is it the cozy quiet back-to-school kind of morning when you're alone in the kitchen with the cinnamon toast?
Or is it the way your house smells with your little dinners of acorn squash and homemade chicken and mushroom soup? That could definitely be it! ♣
You could eat that soup in front of this wonderful old movie, which if you haven't seen, you would love. Have dinner with Cary Grant and Joan Fontaine. Bring your twelve-year-old daughter. ♥   ♥   ♥
Or maybe the change of season is so wonderful because we get to have more fires, turn off all the lights and pretend it's 1840.
Or could it be the sound the leaves make when we crunch through them and kick them into the air?  Don't we just love it when they cartwheel down the road, tip to tip?  Or, when we get to make wishes on the ones we catch in mid-air?
Or is it this, the smell of cedar, juniper trees, bayberry, musky rotting leaves, thick dampness in the air, salt and ocean; being swept along the dirt road by the wind filled with flying leaves; looking at Joe, cute in his black beret, the woodland around us laced with spider webs sparkling with dew on foggy mornings . . . could this be it?  Yes, it could!
Or, it could be when we reach under the leaves to discover the freebies in the compost heap, volunteers we didn't plant?  We even got a spaghetti squash this year!
♣   ♣   ♣
It's a season of the little things in life that make it so special. Let the fun begin!  What do you love most about the sweetest season?  And btw, not to forget, Hellooooo down there in Aussie Land and everyone south of the equator!  Tell us all what it is about spring that makes you fall in love all over again???  Inquiring minds want to know! xoxo Have a wonderful Day! You have until midnight tomorrow night (Wednesday Sept. 28 est.) to comment and be entered!
 With Love from the Heart of the Home and Me!  ♥