Hi Girlfriends!  I have a story for you today!   But to get your interest, I think I better start with a kitty picture. And your reward for wading through this will be a kitty movie at the end! ♥
Girl and Jack are "playing" except I think if she could get her paws on him she would box him up and send him into outer space. 🙂  He doesn't know it.  He thinks she loves him and wants him to follow her everywhere.
OK, here's that  story, it's about why I've been answering all your wonderful comments, but we have to start at the beginning . . .
A long time ago (all stories are best told with musica!), when I was told that my first book was going to be published, I was beside myself with shock and happiness. I hadn't met Joe yet, I didn't have Martha or Lowely in my life; I knew very few people on the island, so I was alone, jumping up and down in my kitchen when it happened, getting on the phone, screaming for joy into the ears of my parents and friends in California!  But that event paled (slightly) to what happened a few months after the book came out.
It was a day I'll never forget . . .  a freezing January afternoon. I'd gone to the post office to pick up my mail, parked my old green Volvo (which I still have!) in front of a gray snow bank and left the engine (and the heater) running.  I picked my way over dirty parking-lot ice, through the glass doors at the post office; it seemed like just a normal winter
day; I was feeling a little isolated and alone on the island, freezing, dark, gray, wintry Martha's Vineyard.  I was still a relatively new transplant, a stranger in a strange land.  When I got back to the car, I flipped through my mail and saw a pale blue envelope with a return address I didn't recognize, written in unfamiliar handwriting. It made me curious, of course, so I opened it right away.  It was a letter from a woman I didn't know telling me, in the most beautiful words imaginable, how much my book (Heart of the Home) meant to her.  I couldn't believe it; I sat there in the snow and cried tears of gratitude.  Suddenly, my world had changed; I wasn't isolated!  I wasn't alone!  My heart overflowed with happiness; I clutched that letter to me, would have hugged it if it was bigger!  It had never occurred to me ever that someone might take the time to write and tell me they liked my book.  It changed my life.  From then on, every time I sat down to my art table, the first thing that came to my mind as I looked at the clean white paper in front of me was, "What shall I give the girlfriends today?  What would they like?" ♥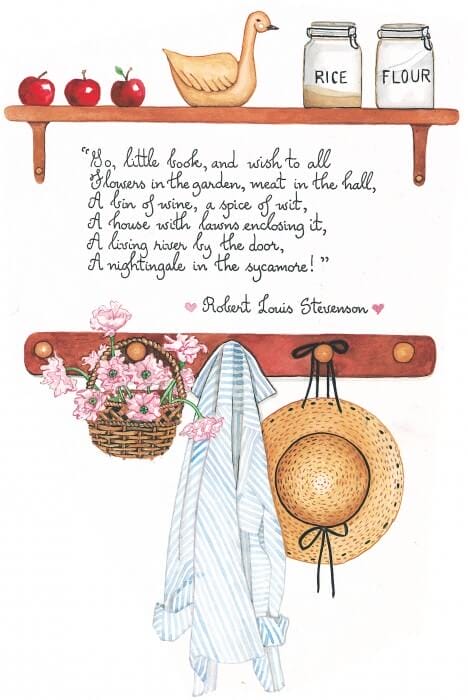 From page two of Heart of the Home . . . go little book.♥
The darling letters kept coming and for several years, I answered each of them individually. And I kept them, in shoeboxes; I couldn't think of throwing them away.  I taped them on my
studio door.  They were my inspiration.  But, and this is where it got to be unfair, pretty soon there were too many.  Although I read them all, I couldn't answer them anymore, and then I felt guilty; such nice letters!  And my mother raised me to answer my mail!  Plus, I truly enjoyed the connection it was giving me with people from everywhere!  I had always been the Pen Pal type!  It put me in a terrible conundrum.
And so, as next-best alternative, Willard was born.  My first newsletter, via snail mail, handwritten like my books, named after my grandfather, with news from the Heart of the Home, went out for the first time in
October 1995, and from then on, it was a yearly event.  As some of you know, I wrote Willard as a giant thank-you note (which is what it still is!), and so he came bearing gifts; tucked inside each letter were post-it notes, stickers, or a bookmark; maybe a little appointment book, or a gift enclosure.  Since I'd saved all the mail I'd received, I had all those return addresses, and that's who the first snail-mail Willards went to, to about 2000 of the nicest people I'd could imagine.  It wasn't as good as a handwritten personal note, but it did take away some of the guilt, and everyone seemed to like it.  I got more nice mail, thanking me for Willard! ♥
Each year, more girlfriends signed up for Willard; the last snail-mail Willard, sent in 2003, went to almost 25,000 people!  What started out as me, at the dining-room table, folding Willards and sticking on a couple thousand stamps, turned into me, and Joe, and three of my girlfriends, at the dining-room table folding Willards and sticking on 12,000 stamps!  And then, when it got too big for us and our table, Willard became a full on, hired-out, print job, with all the stuff that goes with it, including a bill for $26,000.
The miracle turned out to be that the last snail-mail Willard went out at almost the
exact same time I got my first computer!  And a web site.  It was also at a time when the economy was changing, and not for the better.  It was a very difficult decision to stop sending the snail-mail Willard, but I just couldn't afford it; I was SO grateful when I realized I could still send Willard, and for a LOT less money, if I sent him via email.  Much better, I thought, than nothing!  Plus, it would also allow me to do it more often, not just once a year, but once a month!
♥     ♥     ♥ 
These days Willard goes out to almost 45,000 girlfriends each month, we have more joining us all the time, and despite the fact that it's no longer in an envelope, I still do my best to make sure there are thank you "gifts" enclosed. And it's all happened the very best way, by word of mouth!  You made it happen, two by two, mom to daughter, sister to sister, girlfriend to girlfriend — and now, because of the BLOG, I can communicate, the way I love to, person-to-person, with everyone! ♥
The letters I received were always wonderful, filled with the breathings of hearts♥; it gave me such hope for the world to read the kindness in these letters, the stories of families, their joys, their sadnesses, their escapades; moms, daughters, grandmas,
sisters, aunties, and best friends, plus the occasional wonderful man, talking about the things that matter to all of us. ♥ I always thought how great it would be if everyone could meet each other.  We had so much in common, united in our love and dedication to home, family, and friends, connected through the same kind of energy, nurturing spirit, creativity, good heart, and a true belief in the world. I thought if everyone could meet each other, if we all could come together, we could give each other hope.
And now, here we are!  It's all come true, here in kindred-spirit land. ♥
I'm hoping this 
answers any questions you might have had about why I've been replying to all the wonderful comments left here!  I'm sure, with this story, you can see why, but it would still be a good question, because, as you know, I should be buckling down to write my book!  And I'm going to.
I knew, when I started answering almost every comment a few months ago, I wouldn't be able to do it forever (my experience with the letter writing told me), but I SO wanted to start this blog off right, to welcome everyone, at least once, with a word just for them, even if it was only "thank you" because . . .
You've been so good to me, as Joe put it, I've been "wallowing in your lovelight!"  Thank you all, you bring me such inspiration! I still think, every day when I sit down at my art table, "What can I give the girlfriends today, what would they like?"  I think I
know what you would like — you would like me to keep blogging and sending recipes, decorating ideas, kitty pictures, teapot photos, moon shots, island videos, and to finish this book. Right?  So that's my focus for the next few months.
When I'm done writing the book, I will have a GREAT surprise for all of you.  A really great surprise!! In the meantime, I will read and adore every comment made here.  I hope you connect a bit with each other too, and when you don't see me reply to your comments, you'll know that I love you for being here and I'm painting and cooking new recipes as fast as I can, all the while thinking, "What shall I give the girlfriends today, what would they like?" ♥
And now, with no further adieu, I will set the Random Number Generator into motion to choose the winner of our drawing!  Soon, two of my signed Love books, one for our winner and one for her to give away to someone she loves, will be winging their way across country along with a special Valentine just for . . . .  Yoo hoo, RNG?  The name please?
♥ J O C E L Y N  ♥
RNG only had a first name, but he also had her email address . . . so I wrote to Jocelyn and will probably hear from her soon.  One more hint, he says she's a quilter!
And now because you've been so good, here comes a kitty movie.  This is four days after Jack had his surgery.  I know you've been wondering how he is . . .
 XOXOXOXOXOXO
Yes, and after today, I promise to keep my posts a little shorter too! 🙂  Don't forget I'm taking you all to New York with me at the end of the month!  Have a wonderful day! ♥