Hi Everyone!  I just had to start off today with a big heartfelt Thank You — I spent all day yesterday writing a brand new Willard which will start going out to everyone next Tuesday . . . and in between, when I wanted a little entertainment, I would make myself a cup of tea and read your wonderful comments!  You are all the things I love most about my girlfriends . . .
For me, and for each other!  You make every day Valentine's Day!
♥     ♥     ♥ 
And now I guess we should get to the main reason we are gathering here today, the very big excitement we have brewing on this blog, what we've been waiting for with tea cups in hand, which is to find out the name of the winner for that Heart-Shaped Iron Pan and the Emma Love Tin we're giving away to one of our lucky girlfriends.
But perhaps not!  Let's not be too predictable; a little build up of expectation is fun, besides, until I type out the actual name of the winner, you are ALL still lucky winners, and I really like that so much better!  The hardest thing is to set the Random Number Generator into action and just choose one!  I'm like a mom who likes the presents to be opened really slowly at Christmas so I can see my kids faces.  Wade through this first and I'll tell you at the end.  First I want to show you what I got for Valentine's Day.  If you're a darling, tall, smart, handsome man named Joe, what do you get the girl who has everything?
♥      ♥     ♥
You fix it so that when she wakes up, the kitchen windows are covered in heart doilies (after you put small red hearts in the center of each of them); you bring home a ruffly bouquet of pink roses; and of course: bling.  You never forget the bling, she must have blinding proof of your love, bring her a gleaming red heart ring, preferably the size of a knee. ♥ I delivered my Valentine gifts to my girlfriends, flashing my new bubble-gum machine bling, and they knew I was loved.  And so did I.  My funny Valentine, don't change a hair for me, not if you care for me . . . ♥
OK, pour your tea, we have to get going, I have business to talk to you about today:  I'm calling today TCOBD:  Taking Care of Business Day.  I will try not to bore you too much.  But I've gotten so many blog-oriented questions lately, I thought I would put them in a pile and do them all at once and today's the day.
I know many of you understand how blogs work, but lots of you aren't sure; we have new girlfriends joining us every day, and I remember how it felt to leave a comment and have it disappear.  I would work so hard on my comment, and then it would go away, leaving my connection to that blogger and her followers out in the cold, never to be seen by human eyes, making me feel like an idiot.  Everyone else could do it, what was wrong with me?  (This is rhetorical, you don't have to answer :-)) So I thought I'd make sure that doesn't happen to any of you and explain how this blog works.  There are no photos that "go with" this subject, so I am going to scatter pictures of my Central-Coast-of-California picket-fence garden between the paragraphs.  OK? Because I'm getting a bit of a yearn to get my hands into some garden dirt. I think it might feel inspiring to see a little garden in bloom right now . . .
Mmmm, can't you just smell those roses and wild alyssum and those California hills?  We found that giant homemade birdhouse at a flea market.
OK, back to business, I'd like to deal with the biggest troublemaker first: the RSS Feed you see in the column on the right of the blog: see where it says, "Subscribe, Click Here?" I'm thinking about taking that down.  If you click on it, you can sign up to receive emails telling you my blog has been updated, and they send the actual blog to your email address, which sounds like a good thing.  But there are drawbacks, which is one of the main reasons I'm writing today.  Thousands of you have signed up for it, so you get this blog directly to your email account — but there are three main things going wrong with this method of reading the blog.  Number one, for better or for worse :-), you don't get any of my homemade videos, so you don't get to see Jack leaping in the air to go after a ball, you don't get to see any snowstorms on Martha's Vineyard, or walks in the woods.  All those big black squares you've been seeing?  In real life, those are movies.  You can probably live without them, but there's more.  Number two, none of the little icons at the top of the blog are visible to you, so you can't see "Martha's Vineyard Love Letter" or "Domesticity City," you can't see the Peter Rabbit room, or "I Love England" —  there's a lot more on the actual blog that's missing in those emails!  (People are reading this via email right now…they don't know what I'm talking about — they have no right-hand column, no art icons, all they have are these words, which is why I'm writing to them now.) Number three, and the worse part of it, is that you can't see our comment page; you can't leave comments to enter our drawings, you can't see each others comments . . . and that, of all of this, is the thing I miss for you the most, because you can't see the smart, funny, charming comments full of love we get here everyday or leave any yourself! Girlfriends are talking to each other and making friends, I think you would enjoy seeing it.  But that part's not delivered via email!
At least you can all see these breath-of-fresh-air pictures, but what you really need to do is allow the email to just be your alert that something new has been added to the blog, and then immediately come to www.162.240.10.175/~susanbs3/susanbranch/ and read the real blog, with all the art, the extras, the comment line, right here at the source. Up to now, any comments you leave from your emailed blog updates are coming, one by one, to a separate-from-the-blog info@ email address . . . which is invisible to the world.  Many of you have noticed there is no "comment" word at the bottom of your emailed post and are writing to ask where to leave your comments so you can enter the drawings.  In order to answer, I would have to send an individual email to each of you — I've tried, but it's just an impossible job . . .  So come on over!!!  www.162.240.10.175/~susanbs3/susanbranch/ — where despite that it's only February, the sun shines warmly and the garden is happy happy happy . . .
XOXOXOXOXOXO
See what you've been missing?  So glad you're here!  Next subject in this Thursday's tutorial:  When I write a blog or a Willard you will see colored letters like that, underlined.  Not everyone knows they are links . . . if you click your cursor on the word Willard, you will be taken to a place where you can sign up to receive my Willard Newsletter and read how it got its name.  When I write the word MUSICA, and it's underlined, you can click on it and get the musical selection for the day.  The idea is that if you click on it, a new screen from youtube will come up and music will start playing; if you don't like it, click it off.  If you do like it, just leave it, move the screen over if necessary, because under the youtube screen, this blog screen is still there — come back here . . . to read with the music playing in the background.  I do it this way because I don't really love it when I come to a blog and there's music playing that I don't like!  I get frantic looking for the volume button to turn it off; I'm easily driven insane and I wouldn't want this to happen to you.  But music can be wonderful; I love the music my mom used to sing around the house when I was growing up, music from old beloved movies; I like to match it up to my post, like the Love music I did for Valentine's Day, sometimes I think it's the best part of the post, like what's playing right now!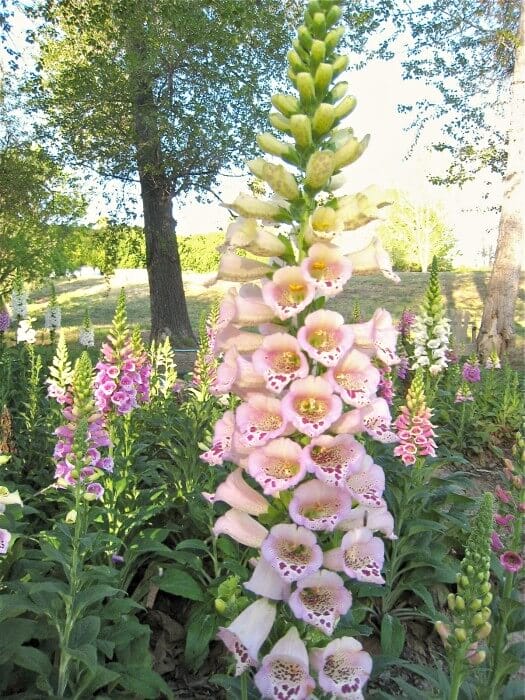 Several people ask me how to leave comments . . . just scroll to the bottom of any post, you will see the tiny word "comments" in grey letters with numbers next to it.  The numbers tell how many comments there are (and you should know, if you can't tell by now, I read every one of them!).  Just click on the comments word, and you can leave yours.  Sometimes it will take a while for a comment to become visible; first off, I like to read them, and secondly, I have to approve each of them individually because, for some reason I still don't understand, this blog attracts the Los Angeles Freeway system of spam.  Crazy silly nonsensical things, from vacuum cleaner updates, to rogue biting dog information. I don't know why or where it comes from, but for every ten of your comments, I get three spam comments. Some of them are as long as a novel, we don't want them on our pretty blog messing things up, so I have to physically delete every one of them — which is why sometimes your comments take a while to "approve."  Have faith, I will always get there sooner or later.  The blog also has little quirks: if it wants, it will remove words; it will remove links; sometimes I think it loses complete comments — these things don't happen often; there's no rhyme nor reason to it; it's probably what the future will be like when robots take over the world.  Disclaimer: It's really not my fault.  I am only the human around here, and not totally in charge.
I love these colors together!
You'll notice I've been leaving links all over this post today . . . because lots of people don't know that under those little bits of art at the top of this page are things like my Book List, my Sewing Room, and Girl Food; stories about interesting Martha's Vineyard people like Nancy Luce, or heroes like Gladys Taber and my dad.  They're there so that when I'm away for a couple of days, you still have fun things to read.  I try to add new things there as often as possible, new How-To Recipes for example, there are lots of them, like the delicious Pineapple Upside-Down Cake I made for our Valentine's Dinner. ♥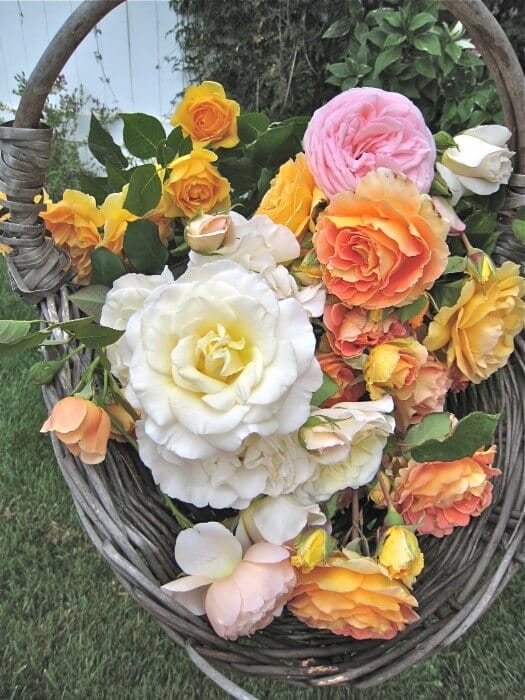 I used to have a store in California; I would fill it with roses from my garden every morning, which is why I have this basketful here.  Someday I'll do a blog and show you pictures of my store. It was lots of fun, maybe the most creative thing I ever did, making it beautiful every day, but it wanted so much of my time (picking roses!, I was crazy!)  So we opened a store on line where I can only show you pictures of roses!
Most of you know we have Shopping Pages here on the blog, but did you know we have lots of Free Stuff?  Stationery you can print out, pretty wallpaper for your computer screens, score sheets for games, bookmarks, and things like that?  We change them for the season, pretty soon we'll have all new things for SPRING!!!  You'll see we also put a Man Cave on our main shopping page!  A comfy place for the men in our lives to feel at home and shop for the women they love so they don't have to wander aimlessly as they are so wont to do in hugely feminine places, poor babies. ♥
Are you still with me?  I'm trying to answer everything at once, then I will save this in the FAQ part of this blog so these questions will be forever answered.  The only other thing I wanted to tell you is that each of us has a way of making our computer screens lighter and brighter . . . if you do that, everything you see on the internet is prettier, flowers are brighter, watercolors are clearer.  If your screen is a little dark, look for a way to make it lighter; my keyboard has a button with a little sun on it, I press it and I can make the screen lighter or darker.  OK, that's all the business for today.  I hope it helps someone!
In case my photos aren't doing it for you today, and so this post isn't a complete loss inspiration-wise, last night Joe and I finished watching a long lovely movie we got from Netflix.  It's called Our Mutual Friend; the last book written by Charles Dickens, some say his greatest; it's a 1998 BBC Miniseries — we loved it!
And now, along with roses from our Vineyard garden, a little drum roll please . . . because we are at that place, my darling friends; there is no getting around it; where one name and one name only must be drawn.  Here goes the Random Number Generator, into action . . . (RNG is such a terrible name; wouldn't it be better if they called it "Vanna?")
OK, here it comes, I can see Vanna's golden hand with her pink nail polish and her glittering diamond rings dipping into the huge bowl filled with slips of paper . . . She's stirring, now pulling one, pulling one, here it comes, oh! She went very deep this time . . . and the winner is… well girls, we don't have a last name . . . but we have clues: the winner has a Yahoo email address, she's a single mom with teenagers who loves creating things . . . I wrote her an email telling her she is our lucky winner . . .
I'm waiting for her reply, maybe she'll recognize herself . . . her name is
S H A R O N   J.
Congratulations Sharon!  You're one in over 1,700!  I know I speak for all of us when I say how happy we are for you!  Your prizes will be in the mail just as soon as I hear from you!  I have to say, I'm so happy we have Vanna.  I would hate to have to choose the winner myself! What an impossible job, all those fabulous heartfelt funny wonderful comments.  I think you're all wonderful.  Thank you for bringing me so much
Have a wonderful day! ♥