Happy First Day of Spring Girlfriends!!!
"Daffodowndillies are coming to town in a yellow petticoat and a green gown." ♥  Here's some MUSICA to take you halfway to heaven . . .
"Daffodowndillies" is the charming name they had for daffodils during Elizabethan times. It's very early, but here on Martha's Vineyard, the daffodowndillies are in full bloom!  The cheery little sunshine flowers are everywhere, peeking out from under
picket fences, scattered in clumps over hilly meadows fronting the sea, lined up in front of old rock walls; some look like they've just up and run away from home, they're out on roadsides all by themselves with no house in sight.  With the weather we're having, I forsee lots of Easter egg hunts this year, lots of spring celebrations. We had an Easter egg hunt here at the house one year when all my friend's children were little.  It was so exciting, decorating all the eggs, and hiding them!!!  Oh I loved it, the kids were so cute in their little Easter clothes, tearing around the backyard!  My favorite part was decorating the children's serving table.  I set it up on an old white,
wrought-iron tea cart, tied the handle with pastel-colored balloons, made Rainbow Jell-O in a clear glass dish (so you could see the layers  of Jell-O), made a macaroni and cheese casserole, and cut up some carrot sticks; but the coup de grace were the cupcakes on a cakestand in all different pastel springtime colors.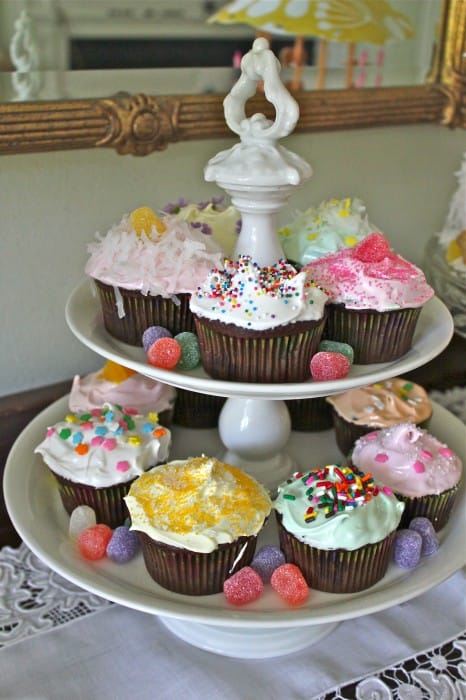 Who doesn't love the little cake things with the pink sugar icing? ♥ So fun to decorate with gumdrops and sprinkles; much more fun than eggs!  Because of the connection between being "grown up" and childhood, cupcakes have, in the last few years, risen to the top of the food chain.  Even the word is charming, CUPCAKES.  Cuppycakes.  Who doesn't want one. They are no longer the simple little frosted treat our mothers made as a matter of course . . .
. . . now entire stores have been built around them, where cupcakes are the only thing sold.  I have to say, not all cupcakes are created equally!  They have gotten as big as regular cakes for one thing.  There was this one little store, that shall remain
nameless; all they sold was cupcakes.  So of course when we saw that word on the door, we had to go in.  In front of us, almost like a 31 flavors ice cream store, in every color of the rainbow, was an array of cupcakes laid out in a glass case, twinkling like jewelry, lit up with cake sparkles, shimmer dust, edible glitter, sugar pearls, chocolate jimmies, colored dots, bright candies cut out into hearts, stars, flowers, kitties, any imaginable thing. We figured, since all this store sold was cupcakes, that they had to be delicious.  But, as my mom would say, "That's what you get for doing your own thinking."  Because, although they looked pretty, the cake under all that decorated foldoral was dry and dusty, and the frosting, that looked 
beautiful and swirly,  was actually like eating a helmet.  It was hard; there were perfect teeth marks in it when we took a bite, like as if you had taken a bite of a stick of butter.
Cute is just not good enough in the realm of food!  Although it's a nice start.  Why can't we have both?  A charming little cake, moist and tender, with a light frosting that balances perfectly with the cake; cupcakes that aren't too big, not too small; delicious enough for a tea party, wonderful in a lunch bag, perfect for an egg hunt breakfast.  Oh yes…that's the way it should be.  And there is never a better time of year for cupcake adoration than right now. ♥
So, let's go the carrot patch girlfriends and gather the ingredients we need to make little cakes that any bunny would love . . . Carrot Cake Cupcakes.
Chock full of nuts and fruit, they don't fall apart when you break into them; the frosting is homemade cream cheese; these cupcakes are good enough to give to your children, almost classified as a vegetable if you expand your mind a little bit and are a creative thinker. The frosting can be colored any way you like.  Here we go, here's how to make them . . . First off, in case you'd like to see the finished product . . . this is our goal . . .
I'm partial to pink and pastel frosting colors, but you can color the frosting and coconut bright green if you like, and make a springtime lawn on your cupcakes.
This recipe makes about 2 ½ dozen cupcakes; put liners in the cupcake tins and preheat the oven to 350°.  Here we go . . .
Set out cream cheese and butter to soften (for the frosting).
Put a can of crushed pineapple into a sieve to drain.
Beat 4 eggs in a large bowl . . .  I'll give you the measurements at the end so you can print them out if you like.
Whisk in the brown and granulated sugars.
And then the canola oil.
Add flour, soda and baking powder; whisk until well mixed.
Grate the carrots and add them along with
all the rest of the goodies: cinnamon, nutmeg, coconut, golden raisins, chopped walnuts and the drained pineapple.  Stir the batter well.  See what I mean?  Pure health food!
Fill the cupcake liners 2/3's full; put the trays into the oven and bake for 20 minutes, until a toothpick stuck in the middle of one comes out clean.
Cool slightly (now is the time to quickly down three of them).  Frost . . . with
Cream Cheese Frosting
So easy, just mix softened cream cheese and butter together with a box of powdered sugar and 3 tsp. of vanilla until smooth.  That's it!  Now the fun starts:
Divide the frosting into four bowls; keep one white and add a drop of food coloring to each of the other bowls; think spring . . . grass green, daffodil yellow, and cherry blossom pink. ♥
Frost them . . .
Right now, with nothing else done to them, these are perfect cupcakes, creamy, delicious, crunchy, with nuts and fruit.  BUT. . .
They are so fun to decorate! ♥
Kellee has been busy putting together kits of cute cupcake toppers for spring in our web store, including my dancing chickens  . . . which you actually make yourself . . .
They are so easy!  Scroll down a bit for the cupcake recipe all written out for you to print.  Hope you LOVE them!  A little (more) season brightener!
Happy Springtime Girlfriends! ♣ Enjoy your
C A R R O T  C U P C A K E S
4 eggs, well-beaten
1 c. packed brown sugar
1 c. granulated sugar
1 ½ c. canola oil
2 c. unbleached flour
2 tsp. baking soda
2 tsp. baking powder
2 tsp. cinnamon
1 ½ tsp. nutmeg
3 c. finely grated carrots
1 c. sweetened coconut
1-8oz. can crushed pineapple (drained)
1 c. golden raisins
1 c. coarsely chopped walnuts
Preheat oven to 350°. Put cupcake liners in two cupcake pans.  See frosting recipe below and set out butter and cream cheese to soften.  Put the pineapple into a sieve to drain.  Beat eggs in a large bowl.  Add sugars and beat until light and fluffy.  Whisk in oil and mix well.  Put in the dry ingredients and beat until smooth.  Stir in remaining ingredients and pour batter into cupcake liners.  Bake for 20 min. until toothpick comes out clean when inserted in center of cupcake.  Cool slightly and frost with
C R E A M   C H E E S E   F R O S T I N G
1/2 c. butter, softened
8-oz. package cream cheese. softened
1-1 lb. box of powdered sugar, sifted into bowl
3 tsp. vanilla
Mix all ingredients together until smooth.  If desired, divide frosting into several bowls.  Add one drop of food coloring to each bowl until the color is correct. Enjoy girls!