One of my favorite new words, which I learned while talking to a clerk in a bookstore in Ambleside when I was buying a book on sheep, is "heaf."  (Yes, I now buy books on sheep! Please don't let this influence your decision about whether or not to keep reading.)
 To put this word into context, I had to learn another new word: "fell." A fell is what they call a mountainside in the Lake District area; they might say, "fellside," instead of mountainside.  "Heaf," then, is an old Norse word that describes a certain area of fellside where sheep graze. Picture it for a moment.  See the hill?  See the sheep?  (Don't worry, this has a good ending and stops being like the 4th grade in about one second).  Beatrix Potter (you like it better already, don't you?) raised a breed of sheep (endangered at the time), called Herdwick sheep.  She especially liked this breed because it remembers its native heaf  and returns to it instinctively.  It's said that Herdwick sheep are "heafed to the fell."  Isn't that great? Heafed to the fell.  Says it all.  I'm heafed too; heafed to my own version of fell, which happens to be this↓.
H o m e . 
(When I think about it, it's such a short uncomfortable leap from "heafed to the fell," to "heifer on the hill!"  I know my dad will try to work in a joke here somewhere — I think I make it too easy for him! ♥)
The kitties were happy to see us (but not as happy as I was to see them!), Girl Kitty cried (my baby); we have been joined at the hip ever since; she has never slept cozier,  next to me! Jack still has his round kitty eyes, he still chases the ball, he sashays back and forth, curling around my legs, saying, in no uncertain words, I'm so happy you are  H o m e !
We drove up the back driveway, to the smell of cut grass and the old boxwood around the kitchen door. Dragged the twelve or fourteen (we've lost count) bags into the house, kissed the kitties, and pulled out all the cute things we brought home, arranged them on the dining room table, going Ohhh, and Ahhh, and Remember this?
Woke up yesterday morning in our own bed!!!  First words: Where am I?  Made tea, started a load of laundry, took my cup and walked all over the yard, to see what's up in the garden, to smell the roses, pull a couple of weeds;  when Joe got up, we walked out through the woods to the pond; how're the wild blueberries doing this year?; came home, more unpacking, more laundry, and we hung our flag on the house.  Which requires antics on our part, hanging out open upstairs windows.
Last night we walked down to the harbor ↑ to look at the moon and get a whiff of breezy salt air; the outdoor restaurants were lit up and filled with summer people, the terns were swooping and diving into the water, making those little plopping water noises . . . we window-shopped down our little Main Street; stopped for ice cream cones (pistachio and mocha chip in sugar cones), then walked back up the hill; our neighborhood was so quiet; a million fireflies flicked through the bushes around us.      H o m e.
Because we are  H o m e, we have heafed to the fell . . . and the timing couldn't be more perfect:  Martha's Vineyard looks and smells like a million bucks.
The whole place is dressed to kill, little straps falling off shoulders and everything.
And now, the Fourth of July!  How perfect!  So what are you doing tomorrow?  I hope it's something fun!  We're going to walk across the street, to my girlfriend Martha's, for a good ole' barbecue with our friends and their kids.  All-American hamburgers and hot dogs — and potluck for the rest of it.  We're bringing crunchy White Bean Salad, and cold Lemon Rice salad; made gorgeous with fresh herbs and lots of colorful flower petals; even if you're not cooking, a look at a photo of this salad is worth it . . . so pretty!  . . . and Joe's hot garlic French Bread.  How bad can it be?  I Tweeted the recipes today, but, just in case you missed them, here we go again!
America the Beautiful!  God shed his grace on thee.  And us too, please. ♥
I feel so lucky.  Number One, when you go away, you're never quite sure you'll make it back alive . . . but we did!  Out and back, like clockwork!  And number two; we're Home.  Heafed and Happy.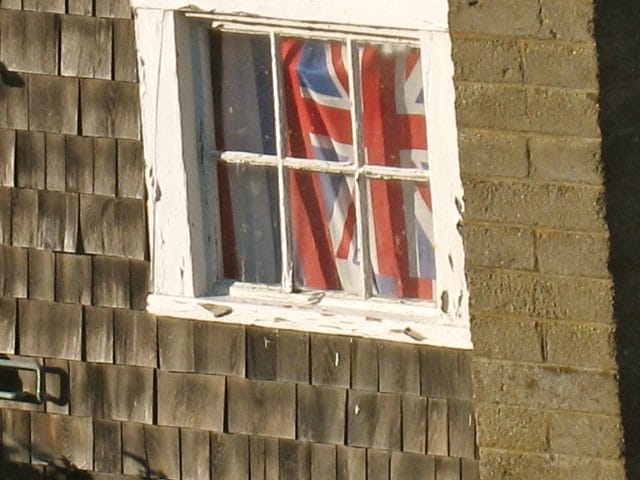 And we will never, ever, ever, forget the beauty of the Mother Country; the world history that's encompassed there, and the smart, funny, charming people we met along the way. ♥
And I will never ever forget how wonderful it was traveling with YOU!  The funnest girls ever!  I have lots more  photos and moments to tell you about; there's also a very special give-away coming soon, to mark this trip; it was pretty good, don't you think?  It deserves something special . . . after I get the mail taken care of, I'll be back!!
Mmmm. Someone just lit their barbecue in our neighborhood  . . . the smell is coming in through the window of my studio.  Two summer smells I love: coconut suntan lotion and a just-lit barbecue.   Happy 4th Everyone! ♥ God Bless America.