Hi Girlfriends!  I've been getting ready this last week, practicing "Ordinary Arts" at home.  Two of my girlfriends arrived here on the island (from California) last night (lobster dinner required and requirement was met!) — there are two more coming on Saturday! We're heading out for a walk in a few minutes … but they're telling me to say hello to you!  So, Hello!
Before they got here, I cleaned.  Nothing like company to get a person in gear!  All the dishes have been washed and put back into the freshly painted cupboard.  Clean and nice.  These are shelves that had cupboard doors on them when we moved in to this house, but my dad, who'd come to help us move, took them off, and I've loved them ever since.  But what I want to show you today is my napkin layer cake; that's it on the lower left side, bottom shelf . . . in front of the pink-rimmed plate.
This: the layer cake of napkin holders.  You know how I try to follow the William Morris rule of nothing in the house that isn't either pretty or useful?  I think this has it all covered.  Here it is, layer by layer:
The base layer of this cake is a sturdy dessert plate which I put in front of my large Birthday Cake Plate.
Layer number two, out of sight, but I know they're there, are ticket stubs from events to remember, and cards I've received over the years whenever someone sends me flowers.  I just lift up the pile and slip them in here, and now I have them forever.
 On top of the cards is part of my collection of crocheted potholders, ones too beautiful to pass by at a yard sale . . .  they make up the pretty layer.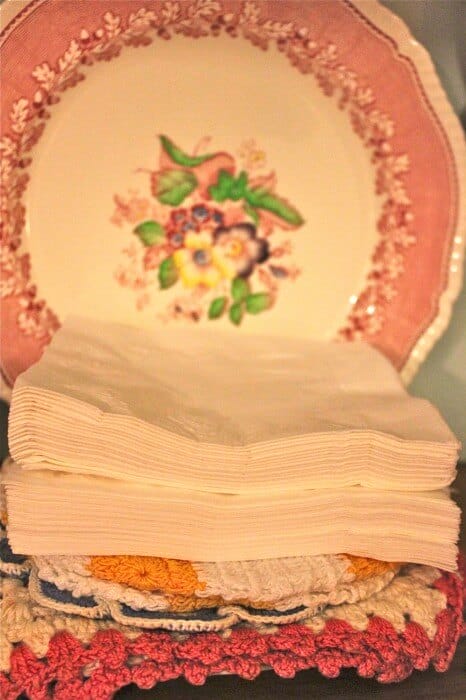 Then comes the white paper luncheon napkins we use for everyday.
And then, a heavy, marble watermelon slice I use to hold napkins down when we eat outside in the wind.  And that's it.  Perfect, useful in many ways, adorable in all ways.  Not important, but I really love this little layer cake.  It's playing house in the best possible way.  I don't even know if Joe knows I do this.
My soul is happy.  And, of course, I've had help as I've been cleaning, taking the screens off the windows, making beds, Jack is my constant companion . . .
Home is Paradise!
Have a wonderful day girls! xoxo