Hi Girls!  So sorry, I have been away from the computer; that's why your comments are all waiting for "moderation!"  I have to "approve" them before they go up, which I will try to do VERY soon.  I have about an hour this morning … so in the choice between approving comments or putting up a few new photos with a bit about what's been happening, I chose photos!  I'll approve asap!
It's been SO fun!  This is Bette on the left, she's a freelance stylist; Nat is from England! He's lived in Rhode Island for eight years.  He's a free-lance photographer; and Heather works for Yankee as the Photo Editor — she's in charge of the shoot.  They are WONDERFUL to work with — and will all be back over here early this morning, so that's why this is going to be short.  I need to get out of my jammies!
I was in charge of supplying the "props" — which I did; the best one being this old house, where you can do no wrong.  But here is Bette, tweaking, moving, making a story . . . trust me, Nat's photos will be AMAZING …. he has the best camera stuff!  Such talented people.  Isn't this pretty?  I'm leaving it this way! 🙂
Whenever I could feel like I wasn't in the way, I slithered in to take some photos . . . but my best prop of all . . .
 . . . has been the most darling!  You would not believe what Jack did.  Nat wanted him in a shot, in front of the tea table in front of the fire.  I'm thinking, this will never happen. Cat's are notoriously never going to do what you want them to.  I go get him, bring him in, hand him his red ball, and what does he do?  He cuddles himself in, in front of the fire, in the perfect place, and charmingly kitty-like, looking round-eyed, directly at the camera, he bats his little red ball around until Nat has taken a thousand pictures.  Who is this cat?
Thought you'd like to see everyone hard at work…here we are in the dining room.
Here's how it looked while I was getting ready for them to come . . . and HERE'S how it looked when it was done.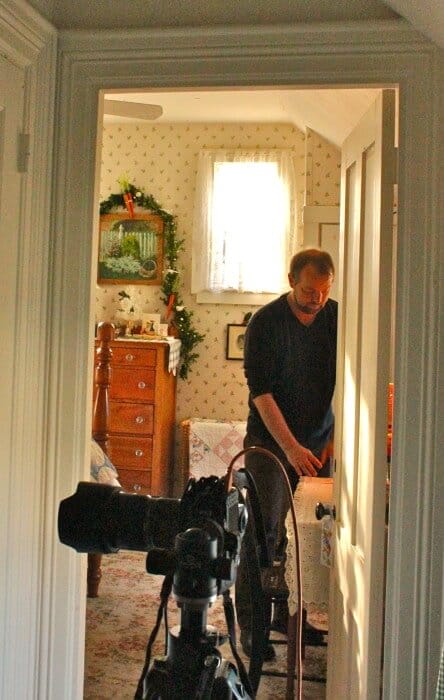 Here's Nat upstairs in the Peter Rabbit Room!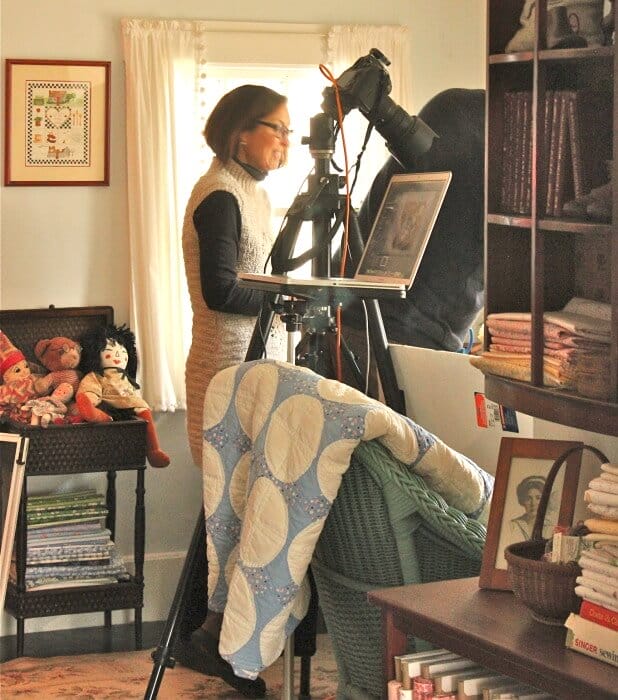 And this is Bette and Nat upstairs arranging a photo of the sewing room.  I didn't get a lot of pictures of them in the kitchen, but I did get this video, HERE!  And here are photos of what I did to get the Peter Rabbit Room ready for the shoot, before and after.  Okay girls, gotta  go, they're coming again this morning, but you know I'll be back! ♥ xoxo