Daffodil Sunday and Easter are both on Sunday this year.  How perfect that they're together! MUSICA
Our snowdrops are finally up!  I know most of you are way past the snowdrop stage, but our spring is coming very slowly this year.
I thought, since it's almost Easter, and it really is spring, I would give you my recipe for the easiest Bunny Cake in the world, in case you need something fast, but festive, kid-centric, and of course, delicious!
A couple of our Girlfriends sent photos of their finished Bunny Cakes, I thought you'd like to see ~ So creative! Dried apricots for teeth!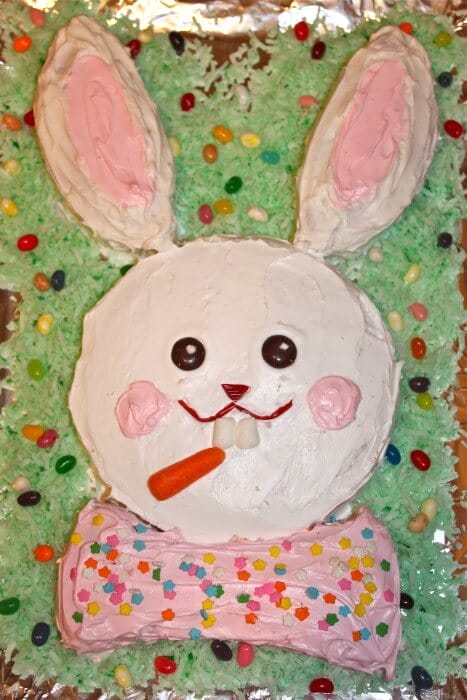 Love the carrot!  Mini-marshmallow teeth!  You can tell they had fun decorating! If you make one, try to post it to my Facebook Page; we'll love to see it!
The great thing is the Bunny Cake doesn't require any special equipment, just two 8″ cake pans and some jelly beans!
But if you would still like to have a Lamb Cake, we have some lamb molds left in our web store.  It's such a special cake for a Spring Tea, Mother's Day or a Baby Shower. (Lots of lovely tried-and-true Tea Party recipes in the "Spring Tea" link ~ choose the one you like on the teapot and click on it.)
I told you Spring is coming very slowly here, this was our first day of spring on Martha's Vineyard.↑ Welcome to my world.♥
Yes, but when?
And here they are, bless their hearts, demonstrating the thwarting of reality!
 They have risen above!  I have to tell you, that cold dirt smelled like heaven! Aren't they wonderful!  Like clockwork!
We have to rise above reality too, because it is definitely not time to put away the coats and jackets.
Despite the lovely morning light and the adorable kitty, we still need to keep the house cozy, and keep ourselves warm . . .
Clean clothes, warm from the dryer, is a most delicious way to keep warm! 
And then there's this way ~ with a mixing bowl and a 375º oven  . . . for some
I thought I'd show you my recipe for Rhubarb Crisp.  This is not a fancy dessert, but it's perfect for a family dinner, wonderfully seasonal, old-fashioned and delicious. And so easy!
I'll put the recipe at the end so you can print it out.  First you make the Topping ~ with oats,  brown sugar, flour, nutmeg, cinnamon, and softened butter.
Crumble it together with your fingers until it looks like this, then set it aside.  Wasn't that fast?  See what I mean?
Then you make the Rhubarb Filling   I measured my rhubarb stalks to give you an idea of how much to buy, each stalk was 18″ ~ the recipe calls for 5½c. chopped rhubarb ~ and we used three stalks.
I chopped them into ¾" pieces . . .
measured them . . .
And put them in a mixing bowl, along with flour, sugar, cinnamon and the zest of one orange.  Mixed well . . .
and stirred in a quarter cup of fresh squeezed orange juice.
Beautiful!  The rhubarb exuded juices and made a wonderful orangey-cinnamon sauce.
Spread the rhubarb filling into a buttered 8″ square baking dish . . . sprinkle over the topping . . .
And pop it in the oven for thirty minutes until golden brown and bubbly.
While the Rhubarb Crisp was baking I looked out at the feeders and found we had a visitor I hardly ever see ~ a Tufted Titmouse!  Such a cutie, with those pale peach feathers under his beak and wing and those big round eyes, not to mention the hair-do!  He's very shy and very quick, zipped in for a seed and right out, fast as a hummingbird. I was lucky to get this picture.
Since I had the camera, I thought, Hello Girl Kitty! She's shy too, but not so fast.
The timer went off, I pulled the bubbling hot crisp from the oven. It made the kitchen smell wonderful and kept it warm for our "spring" day that's so much like winter it's really hard to tell the difference. But then, I didn't really care anymore!
You can serve it hot with vanilla ice cream, or cold with whipped cream.  I made it for a dinner party ~ for our friend Peggy's birthday.
But we also had a gluten-free guest in our midst, so we tried something new and it worked.  We made a mini ice-box cake, the kind you make with whipped cream and the thin chocolate wafer cookies?
 (If you've never made one, the Ice Box Cake was what my mom always took to Baby Showers in the 1950's and it's DELICIOUS.  Just spread whipped cream between Nabisco Famous Chocolate Wafer Cookies, stack together and cover with more cream and refrigerate for at least three hours before serving.)  In this case, we tried it with chocolate-chocolate-chip gluten-free cookies, and it really turned out good!
So there you go my Girlfriends. Some bunny does love you!  Hope you have a wonderful weekend, Happy Easter and Happy Daffodil Sunday!
I thought I'd let our Studio kitties say goodbye from California . . . on the left is Sammy, and on the right is Sasha. . . Kellee and Sheri dressed them up for St. Patrick's Day! Aren't they adorable?  Even better in person!
I also wanted to thank you for all the lovely comments for my friend Margot Datz, her darling elf, her precious gnome and the naked leprechaun ~ and her wonderful art!  There are so many talented hardworking people out there who we don't get to hear enough about so XOXOXO to all of them too!  I especially wanted to thank you for taking the time to "like" Margot's Facebook Page.  She has thanked me every single day, and so I have to thank YOU.♥  You have made the day of someone very wonderful. And mine too.  But what else is new? XOXO Love You!
 OLD FASHIONED RHUBARB CRISP
8 servings                375º
TOPPING
½ c. flour

½ c. oats (regular oatmeal)

¾ c. brown sugar (packed)

¾ tsp. nutmeg

¼ tsp. cinnamon

⅓ c. butter, softened
Preheat oven to 375º.  Mix Topping ingredients together in a medium bowl.  Use fingers to make it crumbly.  Set aside and make the . . .
FILLING
5 ½ c. rhubarb, cut into ¾" cubes (3-5 stalks)

¼ c. flour 

1 c. sugar

½ tsp. cinnamon

zest of one orange

¼ c. fresh squeezed OJ
In a large bowl, mix rhubarb with the dry ingredients.  Add zest and OJ and stir well; pour into a buttered 8 x 8″ baking dish.  Sprinkle topping over rhubarb evenly.  Bake 30 minutes until bubbly and golden brown.  Serve hot with vanilla ice cream, or cold with whipped cream.♥
---