Happy Monday Girlfriends! MUSICA . . . We've been busy-busy, as usual. How's everything with you?  Joe and I are just getting "ready to GO" cross the country and meet everyone . . . doing little things around the house so I can feel proud that when we come home, nothing will upset us.  Like dirty curtains or something. Hate that.
Joe repainted the downstairs bathroom, which needed it. We took all the pictures off the wall, cleaned them, washed and shined the glass, and put them back. And then I washed this little dresser scarf we have on a white painted table in there, oooooh, needed it bad.
Spring is for Dust Bunnies.
I love old-fashioned starch you mix with water . . . crisp and white is the name of the game. Starched things stay looking fresh a LOT longer than unstarched things. By about a year I would say.
So pretty. So happy here in . . .
I did the little curtain in the bathroom too. Ancient though it is. But starched, you can't tell. If this curtain could talk!
When I first moved to the Island I brought lace tablecloths from California and made bedroom curtains from them. This curtain watched me write my first book! It saw Joe and I fall in love! It's the last survivor of them all and I am babying it.
Section-by-section, I remove dishes from the shelves, put them in the dishwasher, wash the shelves and put them back. The last time I did this was last fall . . . We'll be gone two months and if I didn't do it now, by the time we get home, this would probably reach out and slap me the moment I walked in the door. It's all sparkly now, and I'm a proud mommy.
As for spring, we've had a week of anything but, including rain storms, huge winds, and giant clumps of snow.
Can you see it out there? It's all melted now, but we've even had fires and made chicken stock. Gathering in the last bits of winter.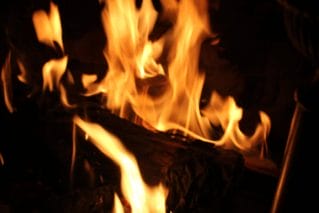 Y U M
With just a soupçon suggestion of spring . . . because my kitchen is my favorite place.
We stopped by the nursery before the rain started . . . very cheery . . . the juxtaposition between the indoors and the out!
Between snow drops and rain yesterday, I ran out and took pictures because oh yes, it is coming.  Yellow is the rightest color for spring. ♥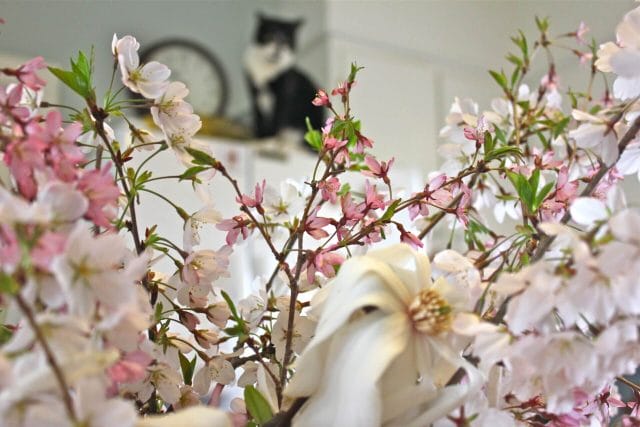 Unless it's pink. The buds for the magnolia and cherries are fat and swollen and ready to pop on the first sunny day. And we'll still be here to make one of these bouquets. ♥
Oh yes, and hang some laundry on the line. Fluff the quilts. We are happy!
I do think we will miss this . . . the Beauty Bush will have to bloom without us here to see it.
And likely we will be too late for this when we get home in July. Definitely the peonies will be long gone. But if it gets nice before we go, I will be planting the garden the best I can so it will be pretty when we get back. Home. My favorite place. Home, without a book to write, just a house to clean, a stove to cook things on, and a garden to dig in? Oh, you know, I am so looking forward to that.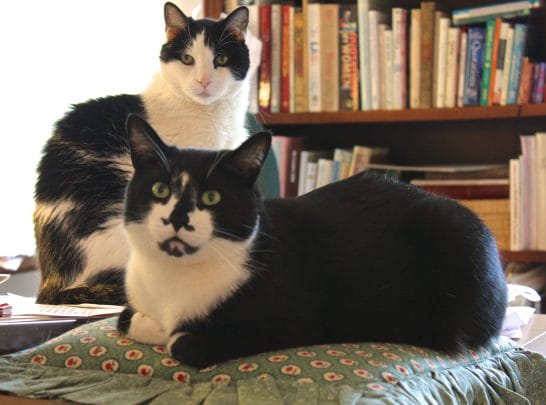 And these guys. I will miss them. Hardest thing of all to say goodbye to. Because I'm afraid they will think I'm abandoning them. But I'm NOT.
B E L O V E D
HOWEVER, there is a lovely exchange . . . I get to go see everyone, and put faces to the lovely comments I've received from my Girlfriends while creating books . . . As I've mentioned, there can be a real loneliness to book writing . . . but you make it much more bearable! So, as usual, I thank you from the bottom of my heart. If you are going to one of the signings, be sure to wear your Fairy Tale Girl Badge so we can know each other . . . You can get it Here . . .
And Lookit how cute you are.♥ I can't wait. . . The funnest book signings in the world are what I get to go to. Joe loves them too. And we didn't get to go for The Fairy Tale Girl . . . we stayed home so I could finish Martha's Vineyard Isle of Dreams.  This photo was taken back in 2013 when we went for A Fine Romance . . . so this next book signing adventure is actually a double whammy.
This was from the tea party in Wilamette (near Chicago) in 2013, and we're going back for another one!  Who wouldn't! These people are so happy because they have just been given the best tea in the world, cakes and everything! I'm telling you, I have the best Girlfriends! ♥
So often, it's a family affair, mom's and daughters and sisters come together . . . LOVE it.
You all know Chris Wells from Texas who leaves such nice comments on the Blog? There she is (on the left) in Ohio with her whole family! I have no words for how honored I felt that they came to see me.♥
And some of my California Girlfriends . . . came from Palo Alto to San Luis Obispo. Honored again! ♥
So yes, I'm doing this . . . lots of it. Not that it's helping in any visual way, but I'm feeling pretty perky on the inside with lots of energy, despite the ravages of time fully developed on the outside. Whatever.
Mas MUSICA
And I got this sent off to the printer . . . It's the 30th Anniversary Edition of Heart of the Home with lots of new pages and art and recipes. SO exciting. The endpapers in the first book were blank, so I got to decorate them for this book, and lots of other things . . . and of course this one will have a nice bright red ribbon. I can't help it. I have always loved books with ribbons.
And I did a cute ad for Yankee Magazine . . . for the May-June issue. AND, I got an entertainment lawyer to work out the details on the option for the three books for either a movie or a TV series!  Remember that? It is still sort of happening! I don't think it WILL happen, because it's just too crazy, but it still could! It hasn't fallen through yet, and until it does, I intend to enjoy the heck out of it! The first thing the lawyer asked me was who I wanted to play me.  That's how I knew I would like him. Those are the fun questions!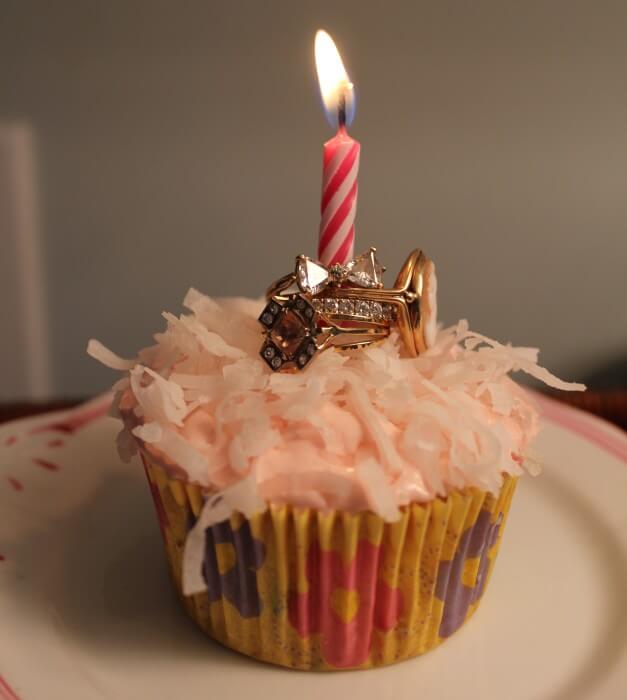 And I invited my Island girlfriends to a TGIT (uesday) Birthday Party next week ~ because it's my birthday and I get to give THEM presents, which they deserve for having such a terrible MIA girlfriend like me for so long.  I promise to be better (as soon as I get home!). 🙂 Oh well.
And look, somedays I even find this on Amazon.  Not always, but sometimes, and it definitely cheers me up!  And this is because of you too, don't think I don't know it. We are all word of mouth Girlfriends, this I know. And I love that we are selling the book for less than they are! And ours our signed. Ha! And we have them, but they don't!  Oh the power. Proud mommy.  And then, yesterday… this happened:
Oh yeah . . . the books came to the Island.  And today, the books arrive in California and the mailing BEGINS!!!
And this is the first thing you will see when you open your book . . .
Here they are on my table . . . I'm signing them for my brothers and sisters and best friends, and Tuesday Girls, and Diana, and Publisher's Weekly and Little, Brown and everyone I have known for the last half century.
My kitchen is now complete.  It's a strange feeling to see the book actually here. But a good one. And the other thing I'm doing is signing SIX of them for giveaways to YOU, right NOW. So this is your moment to leave a comment. ♥ If you already bought a signed book from us, that's okay, this one will be personalized to you, with your own name, and you can give the other one to your best friend. It's a win-win!
And Joe had a good idea . . . he said that I should save my worn-out paintbrushes, the ones I used to paint Martha's Vineyard, Isle of Dreams with and give them away with these books, along with one of my paint-blotters-turned-bookmark.  So each book in this Giveaway will have a paintbrush and a signed bookmark . . . So sign yourself up for the drawing by leaving a comment below . . . I already warned Vanna about the extra workload of drawing SIX names this time, poor girl. She'll need a vacation in Cannes after this one! Love you Girls, Happy Spring! Still working on fabric and Willard! . . . talk soon!