Hi Everyone! Would you like to be in England for Remembrance Day? You came to the right place!  MUSICA
I want to show you this wonderful thing that happens in England the second Sunday of November which Joe and I discovered a little bit by accident when we were visiting. 🍂 
It's actually a lovely tradition that started in America in 1920 when the Poppy flower was proclaimed by the United States to be our national emblem of Remembrance.  For Armistice Day, for never forgetting, and for the prayer of peace.  See Joe?  See that red poppy on his jacket?
Here he is, walking home from shopping at Blenheim Castle in Woodstock Oxfordshire, with a poppy on his jacket. Because, in November, all over the United Kingdom (Canada, Australia, and New Zealand, too) . . .
. . . you rarely see anyone who isn't wearing a poppy at this time of year. For some reason the tradition didn't catch on for America's Veterans Day, but it is huge over there. I wish I'd taken a photo in a train station, so you could see how popular it is, these little splashes of red hurrying hither and yon. You get used to it, then you start to fall in love with it, and especially the idea behind it.
This is Joe and Paul ( Rachel's adorable husband, English man extraordinaire, one of your funnier and more charming humans on the earth), both of them poppy-decked of course.
We went to a dinner, and everyone was wearing a poppy . . .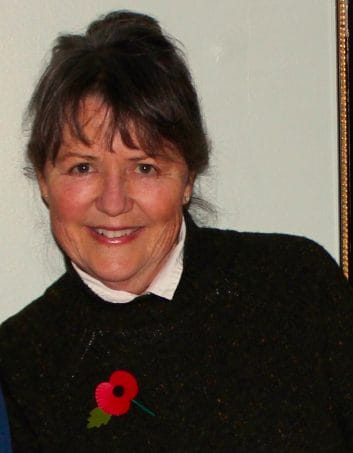 Me too . . .
And Rachel too.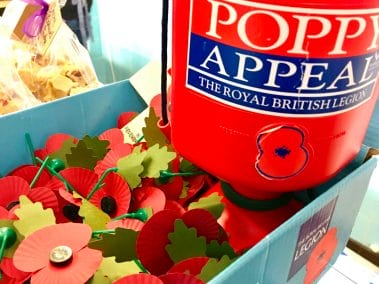 For a donation to the Royal British Legion ~ a pound for a poppy, you can pin one of these to your coat. The appeal raises millions for the care of British Veterans and their dependents, and by the 11th hour of the 11th day of the 11th month, the whole country is decked in solidarity-red for Remembrance.
We read the paper and learned the significance of the Poppy.
As the years went by, other wars and more loss, "between the crosses, row on row, that mark our place…" to what was the war to end all wars, the first world war. Flanders Fields were the battlefields in France where so many were lost,  the "western front". . . is now covered in poppies for remembrance. And a beautiful heartbreaking poem was written:
The first Poppy Day was celebrated in England in 1921, and has continued every year since.
There will be no forgetting . . . the whole country shows their gratitude and old men wear their uniforms on the street with pride. I think maybe because when bombs literally fall on your house and your neighbor's house, on your church, in your garden, you have a different relationship to war than others who were mercifully spared that experience.
You turn on the radio, and there's Vera Lynn singing We'll Meet Again back in the day with the voices of servicemen and their sweethearts singing along, and you can feel the heart in the moment, and your own connection to it . . .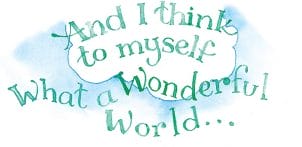 Poppies are everywhere, including pillows and sachets in the Blenheim Castle gift shop.
And we ended up with a bouquet of them for our kitchen counter.
You would find them on the street in simple little places . . .
And in the cities too . . . these are part of the Field of Remembrance, a small graveyard set up each year next to Westminster Abbey in London.
And there are remembrances in every small town . . .
This particular Remembrance Day found us in downtown Woodstock where we were staying, a small town in Oxfordshire with a population of 3,000, which is just
around the corner from Blenheim Castle where Winston Churchill was born. Now Winston Churchill has a special place in my heart, for more reasons than one. The marriage between his American great grandmother Aurora Murray to Isaac Jerome produced a granddaughter, Winston's mother, Jennie Jerome. That's her in this picture. My grandmother is Irene Murray, and through her lineage I discovered that Winston Churchill is my 8th cousin! (If you go sideways far enough back, you'll find everyone is related to everyone!)
XOXO
We came upon this solemn scene by happy accident. We were just walking back to the High Street after visiting Blenheim Castle (we stayed at the Bear Hotel ~ some parts of it 900 years old, you can see it in the video on the right), and didn't know what was going on when we saw a crowd had gathered, families, babies, and dogs, people of all ages, clergy and soldiers too.  It was 11 am on Remembrance Sunday, and the village had stopped to honor Armistice Day as they had done for 95 years, for all those who served and died in war ~  we learned that this quiet remembrance happened in every small and big town in England at this same moment every year, the 11th hour, of the 11th day, of the 11th month. MUSICA.
Tradition is such a beautiful thing. Honoring the people who built the world, who came before us is such a right thing to do. Afterwards we discovered that Winston Churchill was buried nearby, in a tiny churchyard in a small village called Bladon. So off we went through the golden air of the English Countryside with this music playing in our car to find Churchill's grave. 🍂
When we found the tiny village of Bladon, we fretted about leaving our car parked halfway in the narrow street, 
only a bit more than one car wide, but it was the best we could do and still be in the town. How they could have had a state burial for one of the most famous people in the world in this teeny place with zero parking is a mystery.  But look at that beautiful stone house.  See the roof line, all curvy and crunchy from age? I always stop to marvel that they kept the beauty and history of what came before as times changed and such things as bathrooms and electricity were invented ~ how they did it is beyond me, but they did!

Nothing in the town had changed since the day the Prime Minister was laid to rest, except the people. The generations have turned over more than once.

We walked through the quiet, echoing streets of the village looking for the church listening to the birds singing . . .
 . . . enjoying cottages and curtains . . .
. . . and people who brought nature inside.
We peeked in the windows at the far end of this house with the amazing vine . . .
. . . and saw these in the little panes of glass! It was the Studio of a sculptor . . . ohhh, I wanted to go in so bad!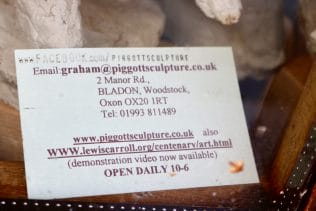 But it wasn't to be . . . "Open Daily 10-6" said the card in the window, but another sign said, "Closed!" Travel is all about the serendipity!
I was perfectly happy wandering the lanes, taking pictures of the stone houses with names on them . . .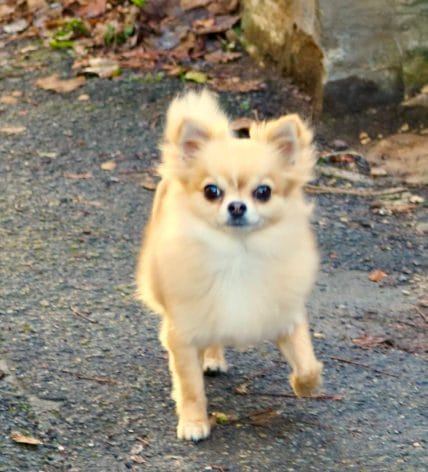 and of course, the little charmers out for a walk . . .
And there it was, the flag flying over St Martin's Church . . . where the bells had just rung for Armistice Day.
A small, rather austere church . . . an unassuming village church like so many others wherever you go.
with lovely details
And a sweet peaceful graveyard, these being my favorite, family gravestones held in nature's embrace.
Next to Churchill's grave were simple elegant memorials, and benches for sitting.
with rather an amazing drain in the stone path ~ I had to take a photo of it!
Churchill's grave sort of broke our hearts. Everything so real. I couldn't help but think of my dad who had fought in WWII and had died a few months earlier. 😢 We'd been to Churchill's wonderful house called Chartwell and learned about him and his fascinating wife Clementine ~ and here they were, buried together. History of the world,  just waiting for us to find and remember and learn.
It's actually his family burial ground, his mother, Jennie Jerome, Lady Randolph Churchill is buried in the center grave surrounded by the hedge.
Sure and certain hope.
Afterward we stopped at a nearby pub to read our paper and eat "Sunday Roast" ~ another wonderful old tradition, served in most British pubs every Sunday,
. . . a glorious menu consisting of your choice of beautifully cooked roast beef, roast chicken or roast pork ~ with Yorkshire Pudding, stuffing, roasted carrots, parsnips, and potatoes with gravy.
And poppies on the mantle . . .
After lunch we drove to Oxford to see Carrie and Stuart, who took us on a tour ~ here we are in one of the churches.
Then back to Carrie's kitchen which was in full-remembrance mode. We had a wonderful visit with them . . . but when we got back to our rental house, I noticed I had lost the poppy from my jacket. wah. I know, I had another four in my poppy bouquet, but I hated losing even one.
We spent more weeks in England, taking long walks under blowing leaves, enjoying the fall, and did not return to America until late November ~ celebrating Thanksgiving on the ship, going home the old way, past the statue of liberty into New York harbor, dreaming our memories in the rocking of the boat.
And finally home, where Jack was waiting, and H❤️ME was waiting, and of course we brought our poppies home with us. A few days later, a surprise arrived in the mail from England.
It was a book-gift from Carrie, along with the poppy I'd dropped at her house! She found it and sent it back to me! Total perfection!
And that's my story for today, Girlfriends . . . Celebrate  November 11 … Remember our Veterans. Study history, see how we got here. With life's vagaries it's a pure miracle we are!
Here is my kitchen this morning, sparkling with light from the sunrise…
It's our time now . . . and one of the gifts of remembering is the gift of knowing the real and important things of life, and passing  them to the ones we love . . . 
Clothespin caught a leaf, and I got to make a wish.  So I think we can all make a wish!
Ah yes, time for tea! Hope you enjoyed our trip to England! Have a wonderful day! XOXO