Well, we made it home!  I thought I'd do a little recap for you … with MUSICA! 💞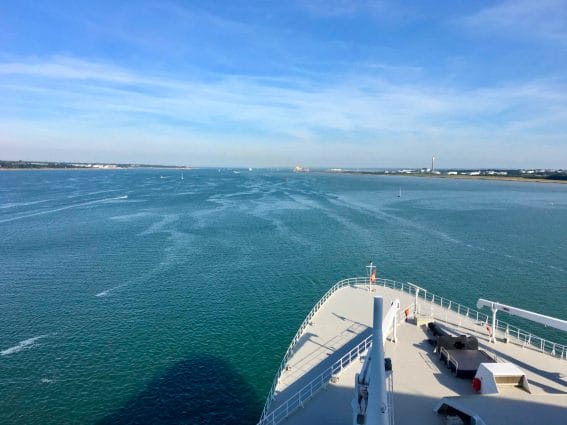 Here we are, just leaving Southampton not all that long ago . . . waving a tearful good bye to luv-lee England, more in love than ever! It could not have been a better trip home. I think we have to remember to ALWAYS travel by ship at the end of June! The water was sparkling and flat most of the way . . . we even saw dolphins!! It was so amazing and wonderful and special to see them jumping out of the water, arching in unison, going along with us next to the ship. 🐬
The good ship Queen Elizabeth was just ahead of us as we left Southampton, making a very pretty picture with all the little boats escorting her out of the harbor.
The moon was up when we caught up with her . . . I hope our ship looked as pretty to them as theirs did to us!
The setting sun shone on her as we went by and she turned off to whatever wonderful place she was going.
The moon followed us on the Queen Mary 2 all the way home. We left England on a Sunday, the moon was full on Wednesday, and we arrived home, along with the moon, the following Sunday . . . pondering the gift of each day . . .
The moon made a path to our stateroom twice in this photo, both outside and also reflected in the door to our deck …
We had amazing fresh ocean air, I had my books, I took naps, I took a bubble bath, I had room service, I wrote in my diary, I went dancing, I walked around and around the boat and worked out in the gym: EVERY day was a Red Letter Day!
It was the most wonderful thing. I took this in the morning, the moon is actually setting …
Here it is, on another night, right over us at 1 am …
And after six luv-lee days of this, at about 4:30 am on Sunday July 1, the first lights of Long Island came into view . . . it's hard to describe how it felt, it had been a long time. We left our home March 4, and here we were, back again.
Coming home after a long slow voyage over the wide ocean, experiencing the world space as it is … is majestic. We were pinching ourselves as we glided quietly through the dawn, seawater washing over the sides of the ship, toward the lights of the Verrazano Narrows bridge.
We ran up top to see it up close as we went under it and found out we weren't alone!
Everyone was taking pictures, watching tug boats as we passed the twinkling lights along the shore.
See the lit-up cameras? Notice the stairs, look at the top, see the people crowding the rail to get a view of New York? People come a long way to do this, in more ways than one!
I looked back, as we passed under the bridge . . .
And then we got our first glimpse of the most wonderful welcome home you could get, the Statue of Liberty (her light is shining there on the left). It was perfect timing, we arrived home in time to celebrate the Fourth!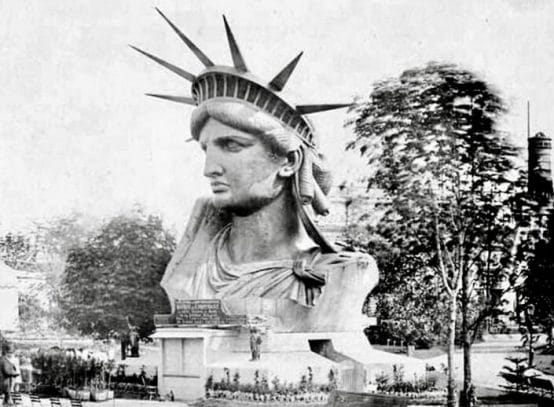 As you know, the Statue of Liberty was a gift to America from France to celebrate our 100 year anniversary of the Declaration of Independence. 🇺🇸
She was assembled in France, then taken apart to be sent to America and came to us in 350 pieces! I love these old photos. Seeing her in pieces is surreal!
The sculptor used his mom's face for his model. What a good son!
The first bit finished was Liberty's right hand and torch ~ which was shipped to Philadelphia and put on display. For a fee of 50 cents, visitors could climb a ladder inside the hand to the balcony around the torch. Ah. luv-lee history! I imagine no one had the slightest idea of what was really to come, but this probably gave a tiny hint.
The unveiling took place with parades, a Presidential speech, fireworks, cannons, flags and an overflowing New York City ~ she'd already caught the imagination of America.
And now it was our turn. Standing there in the hushed dawn light, it was easy to imagine what an inspiration the Lady was to the huge numbers of immigrants arriving at Ellis Island ~ if your family came to America on a ship after 1886, they were greeted by Lady Liberty. Can you imagine the thrill? And for us too, it was total chills. Five-thirty in the morning and EVERYONE was up and dressed and on top of the ship for our arrival, arms around each other, tears in the eyes, cameras clicking, all together experiencing . . .
. . .excited to see the light of her torch. Her formal name is "Liberty Enlightening the World."
Wow. Right? Just beautiful. I took this photo with my cell phone and it almost looks like a painting.
When the sun came up everyone applauded!
SO American, so Fourth of July! Such a perfect welcome!
The moon was going down as the sun came up behind us shining on the front of the ship.
Hello new day.
An amazing morning of celebration ~ for tourists and for us, coming home sweet home.
Everyone was taking their last photos . . .
And saying good bye to an amazing crossing . . .
wah.
So long ship, until we meet again . . . save our place!
You say good bye, and I say hello . . .
I found a porter and we gathered our 50 billion pieces of luggage while Joe went to rent a car . . . and soon, off we went. HOME was beginning to come into focus, but we still had a five-hour drive and a ferry ride before we would turn into our driveway 😻. LOOK at the AMAZING Brooklyn Bridge!
We were a little worried when we saw this!
But no worries, the nursery was open . . . we needed flowers at home so we stopped here, and loaded up at the supermarket . . .
Everything was getting precariously close to the ceiling of the car, but there was still breathing room!
Across Connecticut we went . . . into Rhode Island . . .
Through Providence . . .
To our home state!
And everywhere people were getting ready for the 4th …
Flags flying …
I just put the camera up to the car window and clicked, because flags were flying everywhere . . . what a welcome home!
Down Main Street in Falmouth, all decked out in flags . . .
And finally, to the BOAT!!! Thar she blows!
And while we waited for our ferry, the sky turned pink and the sun began to go down.
And pretty soon it was our turn to board . . . I could hear Jack meowing from here . . .
Off we go . . . by this time I've lost all pretense to  calm dignified travel, I'm DYING to get home! This boat can't go fast enough.
We sit up top on a soft balmy night heading across the sound to our Island, a 45 minute trip. We drove off the ferry and down the familiar streets of our small town . . .
We turned into our driveway…by now I've almost lost consciousness, I can barely remember, but we put the key into the kitchen door . . . and the lock wouldn't turn! I could see through the window in the door and there, on the floor, was Jack, looking at me. His eyes were round as he threw himself down, rolled onto his back, twisting and wiggling and pawing the air . . . Joe ran around to the back door while I whined and cooed through the window.
We finally made it in and spent the evening purring at each other (me and Jack, Jack and Joe, me and Joe), while unpacking. Sweetly, Jack was perfectly willing to repeat his rolling wiggling performance on the ironing board the next morning when I had my camera ready!
Never tell me cats don't show love.
Because this is what it looks like. And it hasn't stopped! We've been forehead to forehead, inseparable, every day.
He watches me unpack, get organized, do laundry . . . slightly suspicious that this might not last… "She is my sun, my moon, and my stars . . ." 
Fear not Jack! He sleeps with us, of course, he curls up on me when I take a nap ~and when we go out for a walk, he does the wiggling thing when we come home. When I sit down to read my book, he cuddles right up. He was well-loved while we were away ~ he plays ponytail band better now than he ever did! Being at home is, as I know you know, a wonderful thing.
With my own luv-lee shadows through the linden trees, then through the windows . . .
and into my own living room . . .
My own top of the stove to decorate the way I like . . . we know where everything is! We know how it all works! These are little pleasures in life!
I count my blessings while polishing my wand . . .
Loving everything!
Saying hello once more to the children . . .
Walking out to the garden with my scissors on these warm mornings . . .
picking roses and pulling weeds . . . getting the fountain out of the barn for the kitchen porch . . .
. . . and filling my little vases . . . Oh the glory of it. Going away makes coming home better than imaginable.
Our friend Jaime gave us a welcome home party in the back garden of her most adorable house . . . It was Jaime's son Duncan (one of triplets!) who took care of Jack.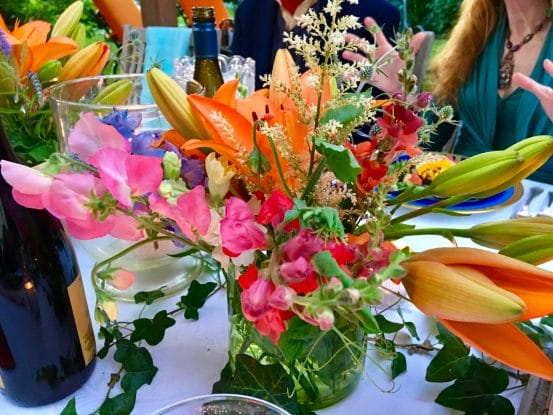 It was heaven seeing everyone again . . .
Gorgeous salad, Jaime is amazing! One of the most generous souls I've ever known.  She's a caterer, receiver of the "Best of Vineyard" award for years and years!
We've had a ton of unpacking to do, a lot to catch up on, you know, the bank, the dentist, all the regular things . . . but so far we're trying to be balanced.  
Our walks to the water are still my favorite part of the day . . .
The Island was crowded on the Fourth … This is a tiny beach has a very shallow protected beach, perfect for paddling children, and very popular especially on Summer holidays!
But early on other days we have the place pretty much to ourselves.
Not tired of the sea!
And to add to the wonderfulness of everything, your sweet comments on the last post were  delightful, making me cry many times. 💞 Without you this trip would still have been magical, but with just a little less sparkle ~ you made it so much more fun . . . trying to see everything not only through my own eyes, but maybe through yours too, having you along has gotten me a little bit outside myself and that can only be a good thing!
Oh, yes, I've been unpacking our memories too, getting out my watercolors early in the morning, getting organized . . . I'm going to have so much fun putting this new book into my "good" handwriting . . . adding the photos, the watercolors, the quotes and recipes, the how-to's, and all the other little bits and pieces I think you will enjoy seeing in this book.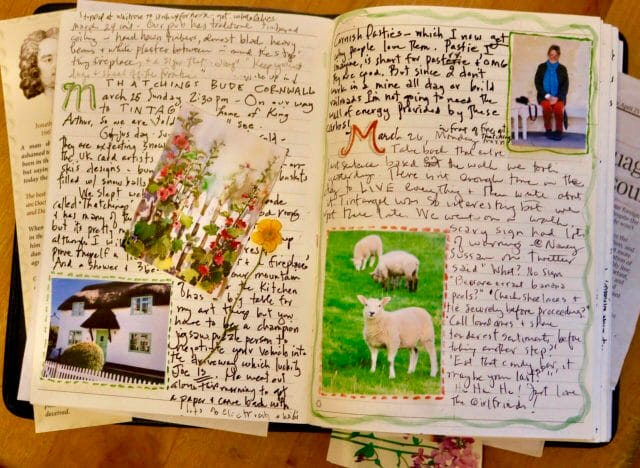 I wrote the whole thing day-by-day, in the moment, while we were in England, Wales, and Ireland . . . I also kept a diary when we were in Scotland and I plan to include bits of that too . . . all the best most informative and enjoyable parts. We learned so much, had so many amazing moments, I couldn't possibly tell you everything while we were there ~ each day was too stuffed full, so there will be surprises! And now for the fun part, I get to write it . . . Stick with me while I do it. I'll hurry.
 So here's a few things that happened while we were at sea . . .
The new 2019 Calendars went up for presale! (Can't believe it, means it's almost fall!!!🤣) This is the cover for the 12 x 12″ Wall-Calendar. They're up for presale now, but they should all be at the Studio by the middle of next week.
Here's a little preview of the November wall-calendar page . . . with a quote that came directly from one of our Girlfriends, Lee Gordon, here in our comment section! Isn't it a cute idea? I know, it's playing with your food, but canned black olives are different! I keep telling you how much I love your words and thoughts, well, it's true! 🎃
We have the Mini Calendars, too, as always, and the Blotter Calendar, and the Purse Calendar … (That's the Purse Calendar in the upper left photo above⤴.) You might remember the publisher decided to do away with the plastic cover for the Purse Calendars … which resulted in the loss of that little storage pocket on the inside covers. SO, Kellee, being the genius that she is, fixed us a fix! You can click HERE to receive free papers, pattern, and directions to make your choice of two different pockets (as shown above) to add to your calendar if this is something you would like.
Our Girlfriend, Posy Lough, made our wonderful new Alphabet Sampler pre-printed Embroidery Kit … I left a place for the date in the design, and for you to embroider your own name.  Of course there's bunting! I hope you have fun with it! It's in now, it comes with directions, embroidery floss, and pre-printed 12″ x 15″ cotton fabric…
Last but not least . . . I think you all received your new cups, right? I hope so and I hope you LOVE them! 💞… and I have a little surprise . . . I thought as a 🎵 Welcome Home to Me 🎶 I would do a new giveaway. We finally have our cups in all four seasons! So one of you lucky girls is going to receive this entire set (yes, I do hope I'm helping with some of your Christmas shopping)! All you have to do is leave a comment ~ just scroll to the bottom of this post and in teeny tiny letters (look closely) you will see the word "comment." Click there, leave a comment and you will be automatically entered! In not too long from now, we will have a drawing, our in-house "random number generator" we call Vanna, will draw the winning name.  I'll be announcing the winner here on the blog and sending an email to the lucky person! So don't forget to say hello! ❤ Always so much to look forward to with you Girlfriends! My favorite thing!