We're in the Pink darlings, in more ways than one . . .  MUSICA 
So, in honor of Vanna, in honor of our Giveaway, today we celebrate with her favourite colour which of course is PINK  ~ the colour associated with JOY, femininity, and romance (also Double-Bubble gum, flowers, babies, cotton candy) … it's the color of universal love and warms the cockles of our hearts. And most of all, it puts sunshine in our day … pink sunshine. Vanna is getting into her deep-dive costume, and while we wait . . . let's do pink!
Take a deep breath of this luv-lee flower . . .

Ahhhhhhh . . . . mmmm, roses . . .
Mmmmmm.
Fill it with pink lemonade . . . 🎀
Tea anyone? Or iced tea? Go get some, I'll be right here when you get back!
All treasures from second hand stores . . .
Ice-cold Lemon Rice salad is good with everything in the summer, especially barbecue! And so pretty decked in flower petals. The trick to rice is to rinse it in COLD water when it's done. Get all that starch off so that it doesn't feel slimy or stick together.  Here's the recipe!
Pink . . . 
Clematis . . . read how to grow this fluffy springtime spark of light HERE.
Another yard-sale find . . . 
We were far from home when we saw this lamp in an antique store and could not take it with us … but a picture is almost as good!
More pink!
We saw these luv-lee things at the New York Gift Show, having pictures is almost as good as having the real thing, less expensive, takes up less room.
Top o' my stove . . . Rachel gave me the little love creamer … check out the tiny tea-for-one … another antique store moment.
Martha's Vineyard in June and July . . . roses everywhere!
My kitchen porch after a day of hard work in the garden! Pink glass … 
F I R E W O R K S  in the Park . . .
The hydrangea in our dining room . . . I bought the Hydrangea Pot at Macy's about 25 years ago . . . I've gotten my money's worth out of it . . . just keep refilling it with potted plants, and voila! The glory of the dining room!
Oh yes, Pink. The letter I got from the Lady-in-Waiting to Queen Elizabeth when I was a little girl. (Lots of you already know, but just in cases: Yes, I wrote her first!)
Christmas Pink!
Painting in pink!
I think I love pink easily as much as Vanna! This is my Fairy's Petticoat Pale Pink Peony.
Ahhh yes, England. Does anyone know what this flower is? It was in the fall … they reminded me of bleeding hearts but the fall isn't the time for bleeding hearts . . .
Yard sales!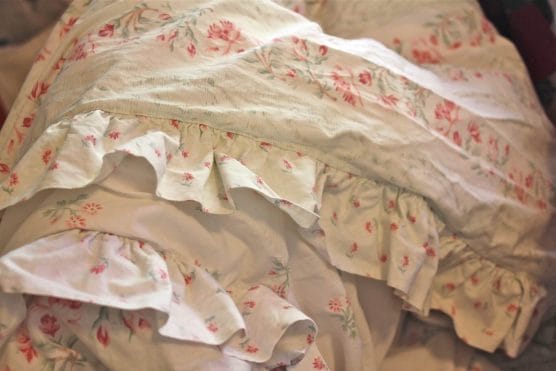 Sweetest duvet cover . . . we sleep so good under this! Nothing like a cozy bed!
Table set for a wintry Valentine Breakfast . . .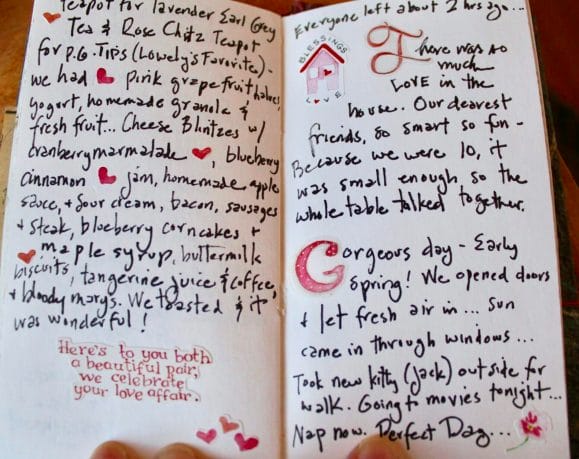 My dinner party diary for that day . . .

Things like this make doing the dishes highly satisfying.
Okay, now you are all in the very best, calmest, happiest, and dreamiest of moods . . . one more deep breath . . . ahhh , good, because it's time for our drawing, and as you know there can only be one winner 💔 . . . so hold those happy cheery thoughts, because who cares, they are only cups!  And you are so lucky, you already have everything you need!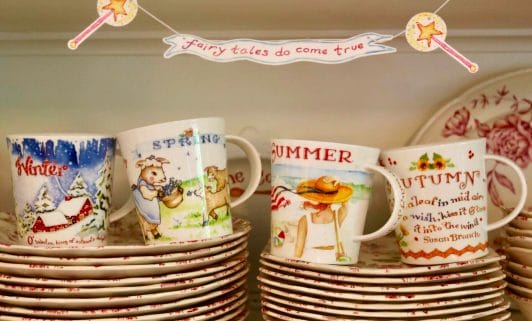 This time it will be four fishes! 🐟🐟🐟🐟 Get ready girls! Open your mouth, here comes the fish. (No, no, not you Vanna, you're not a fish ~ I was talking to the Girlfriends! You look beautiful, I love your scaled lime-coloured body suit and shiny pink flippers, perfect for slithery deep dive. The pink plastic ice-cube necklace pulls it all together!)
Vanna's so talented.🌸 Okay, she's UP! Her hands high over her head, thumbs twisted together in classic dive form… Kick OFF Girl!  She's DOWN!  She's a whirling dervish. Little confetti-bits of paper with names on them are spiraling into a vortex of churning paper, the room is filled with floating, flying confetti . . . Vanna surfaces, looks up and like a lizard's-tongue after a fly, a lightening-bolt across the sky, Jack's claw as I walk by, she plucks a name from mid-air, and hands it to me.  💌    Oh, I love this so much!💖
Alright, Girls, here we go . . . little drum roll, please . . . The winner of all four cups is . . . . .  L O R R A I N E   M A C H O L Z 
Congratulations Lorraine!!! From almost 3,000 entries, YOU'RE the one to come up with the fish! Lucky Girl! I'll need your address . . . watch for an email from me soon.💖
So, to change the subject for my wonderful dear girlfriends not named Lorraine Macholz  . . . 😢 (Don't worry, you know we'll do this again!)  So, let's see … first off something I think you might like if you don't have it already . . . there's an easy way for you to be alerted when I do a new post. You'll get an email, just like when you get a Willard.  To make that happen, go to the top right-side of this page … (see the example with the red arrow below, you'll just click there . . .)
And when you do . . .
A screen that looks like this will come up. Not very Susan Branchy, but it does deliver! Just click the little envelope in the red circle . . . sign up, and from now on, when there is a new blog, it will simply show up in your email!💌 If you want , you can go from HERE . . .So what else . . . Oh yes, before I go … we DO have a few Spring and a few Winter cups left, if you'd like to see them, there are very few, I hope if you want one, you can get it HERE.
Oh yes, the date is set for my talk at the Apple Farm in San Luis Obispo, California.🍎 Joe and I we'll be taking the train out in October . . . we'll be at the Apple Farm on Saturday, October 13 . . . they'll have further information for you HERE on July 25. Hope to see you there!💞
This was me the last time I was at the Apple Farm 🍎. I'll have to remember not to wear that dress!
AND, if you're going to be near Cape Cod in November, I'll be speaking at the West Falmouth Library on Saturday, November 10, at 1:30 pm.📚 Fall! It's coming!🎃
And one more thing . . . Oh, yeah . . .
I know I said I might not do anymore cups . . . but then I thought, what about fall???
And I could not resist . . .
And, was there to be nothing for Christmas?  I didn't think I could bear it! And this one is a whole new shape. It's a wider-mouthed cup sized between our large one and the small one to make extra cuteness on your shelves … a luv-lee 14 oz. cup. The holly design goes all the way around. I am picturing my Christmas dinner table right now!
Then The Apple Farm 🍎 said they would love if I did an apple cup . . .
Of course I did, how wonderful, more fall!🍁 Perfect for eating Apple Crisp out of! And I think they'll be there when we are!
I just wanted to show you what's coming. The saucers for the cups shown are mine . . . was just trying to see how they would look with antique saucers and I think they look good! Soon I'll show you the bottoms and handles and we'll put them up for presale … just didn't want you to think I was being lazy!
 I will leave you with this little reminder: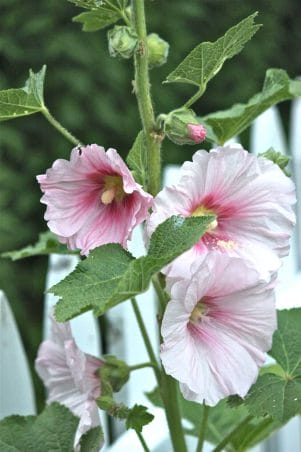 Yes, it's Pink and it's Summer. We are so lucky! Love you dearest ones. Thank you for all the wonderful comments. 💞 You are by far the funnest of them all! The cleverest of them all!