So where were we? Oh yeah, paint. And curtains. Nesting. And, oh! It's September! And Shirley Temple's favorite, September Sunday . . . Who could ask for anything more? Not moi! MUSICA
 On days like these . . .
The light is changing . . . the late afternoon wall-sparkles are back, jumping and blowing all over the kitchen!
Diamond-bright light shimmering through the trees and onto my walls ~ nature gone wild in the best possible way, distributing beauty, free of charge . . .
The shimmers follow me all over the house, they sparkle across the bed, glimmer in the sink, even when I'm on the floor doing my exercises, the twinkling lights find me and I have to take advantage of the moment to wave hello to you!
It's been going on for a while . . . the change that's coming . . . the days are shortening …
And it's getting more noticeable daily. I had to sweep leaves off the porch for the first time yesterday . . . they're just beginning to flitter out of the trees . . . the air smells like fall, after a long hot wet summer, there's a heavenly change in the air.  It is so easy to count my blessings . . .
As forever and always, I am so grateful for these little things, as I am saying prayers for all our girlfriends, their families, homes, and their petty pets in the Carolinas being devastated by rising waters. The weather is so capricious, landing anywhere and everywhere, causing fires, floods, and storms, willy nilly, there's no reason why we shouldn't be next, this little dot of an island sitting out in the Atlantic, but today, I'm especially blessed with the feeling of gratitude and appreciation for the kindness of so many rescuers and volunteers helping their neighbors. So much divides us these days, but in times of trouble, we turn to each other with no thought of religion, color, or politics, and it's a beautiful thing to see. Just what we expect and know to be true about ourselves.
Oh yes, my heart is at home, and sunlight through the trees is not the only thing sparkling my walls . . . we have been very busy! I work on the new book early in the morning when it's quiet, and the rest of the day, I work on the house!
I don't know why, but I seem to do so much more cleaning in the fall than I do in the spring. I guess I'm just a born hunker-downer, is this true for you? I love everything about preparing for the cozy season. All my down comforters have gone to the big washers at the cleaners, all our pillows have been washed and dried on the line . . . I'm going through piles of linens now.
Washing tablecloths, napkins, dresser scarves, and curtains, mending, bleaching, starching, and ironing them into snowy clouds . . . this house has made it clear that it expects me to do this. It is not happy without its pretty old linens. It's that kind of house. There are times I regret it, but we made a pact a long time ago ~ as the caretaker, I know what I have to do, there is a strong element of love involved.
And Jack, as always, helps! I am not alone.
I wrote last time that we were painting our dining room. I thought then, for a moment, I
might paint the walls navy blue, which would have been gorgeous against the white trim, until I realized that during the winter the blue would turn black and I don't want to live in a black house! And, the house, when it heard, actually, would not put up with it,  so we decided to paint the walls pink. Joe painted a little stripe and the dishes said YES!
We had to take down our old flowered wallpaper (there was a mold problem) which I knew I would miss so I started shopping for flowered curtain fabric! Old house says, give me flowers. I say, your wish is my command.
And, the cat . . .Mr. Adorable, helping Joe . . .
Jack blesses the work from the tops of ladders or draped over my clean sheers. How do kitties know which is very cleanest thing ~ the exact thing you are trying to keep clean and smooth? My art, he always tries to lay exactly on the page I'm painting!
Fabric swatch choices for the dining room were narrowed down to these three. I put this photo on Twitter and got lots of advice from our girlfriends! I went back and forth . . . believe it or not, they do sort of look alike, but it was a very difficult choice!
All of this frenzy of curtain activity is because every time we've gone to England, I've fallen more in love with the curtains …  those people understand curtains like no one does . . . they are everywhere, in every house we stay in, no matter how fancy or casual the house is ~ they are in all the hotels, and even in the pubs ~ Siobhan has a thick green velvet curtain charmingly hung over the inside of the door to her cottage to keep the chill out. I have promised myself for years, I'm going to go home and get me some of those. But I never do.
Look at them!  They're real draperies (although they do call them curtains), heavy, thick, and lined . . . twice. With heavy flannel and then a backing to protect them from the light.
I really could give you dozens of pictures of curtains I've taken everywhere we stay, but I think you get the gist … well, okay, maybe one more . . .
This one was in a hotel room.  We only stayed there one night, just passing through on the Wales/England border, saw the hotel in a book and said, okay, let's go there … and I have about twenty pictures of the curtains in our room, in the dining room, in the sitting room!
So here is the fabric we chose for our dining room ~ it was the less "structured" art of the three, more like watercolor I thought, and I love the touch of blue . . . we're waiting for the fabric to arrive from England . . . I think they'll be up by the time we come home from California at the end of October.
So we put the room back together . . . All I can do about the new curtains right now is dream . . . it's 
And here is our choice for the new curtains in our green living room! Yes, I've gone stark staring curtain-mad. MAS MUSICA?
Here's the "before" photo for the living room . . . I probably bought those green curtains at Target maybe fifteen years ago … they're old and have little rips and it's time to say goodbye. BUT, we get to keep a bit of their essence: they had a very nice trim on them which we took off to use on the new curtains.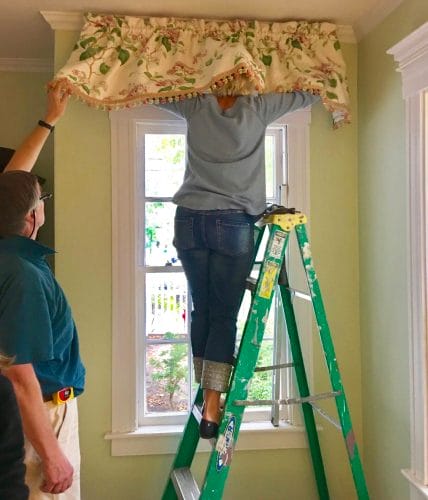 And there it is! This is my talented curtain-making girlfriend Jessica . . . she does this for a living ~ she's a good friend of my neighbor Lowely which is how we met. So of course, here she is, doing the first installation of the first valance (Rachel says, in England they call this piece a "pelmet")… I am taking pictures and saying eeeek! I love it!
Here's a better look at the little trim we took from the other curtains . . . looks good!
She put them high above the windows, so we lose as little window-light as possible.
Jessica taught Joe how to install the rest of them . . . then she left.
Besides saving light, putting them up that high also visually raises the ceiling height (you can see when you look at the "before" photo).  Jessica's now making the actual curtains which we should have by the end of the month. The house is rockin' and rollin' in flowers now!
She's going to do the other end of the living room too . . . We'll keep the lace curtains, but there will be matching long curtains on both sides of this alcove window.
And outside, at the same time, we're painting the house!
All scraped and ready for paint, something about this I love, would be fun to leave for haunted-house look for Halloween! Under all the crunchy bits, Mrs. House of Creativity is smiling!
This side too. She's an old house, built in 1849. We hadn't been attending to things, and finally said, when we come home from England, we PROMISE to take care of you!!!  The last coat of paint is going on today, her gutters all got linseed yesterday, and when she's done I'll take photos and show you next time.
Jack watches the cans of paint and ladders go by… while I . . .
. . . make new stuff . . . I heard you, Girlfriends, and finally got busy and did the final designs for a few new pieces . . . Yes, the little Courage vase is done! 💞
And here is the back side . . . you can use it as a cream-for-one, too! It's 1 5/8″ tall.
And there will be other things . . . two nightlights . . . (this is the back of one of the designs)
And two butter dishes, one plain, with just flowers and border, and the other has this quote from the movie of Little Women . . .
The Courage vase/pitcher will come in a set of three tiny vases . . . here's vase #2 …
And this little round one is the tallest of the three, at 2 3/4 inches.
This is the back of the last one . . . there will be more too, a tea bag caddy, a kitty dish, a ring dish, a large vase, a heart ornament that hangs from a ribbon, and a pencil cup. We will get them in to the Studio right around January first!
And this? This is going to be my first stuffed doll, how appropriate that it will be Jack! I drew him in pencil, and he's being made into this ⤵️ !
A soft little doll you can embroider and stuff, with his own little quilt, which has a bit of embroidery outline, but the letters are printed (which you can embroider or not). For a little one. They can put their baby to bed. Coming soon. Watch this space!
Before I put the dishes and glasses back in the dining room … I washed everything, wanting to do a good deep cleaning. AND while I was doing that, I finally went through the boxes of things I've bought over the years, as we travel, that I saved for you . . . to put up on our website in the Vintage section.
Such as these gorgeous, etched, vintage wine glasses . . .
It's a set of six with an extra to break (always good to have an extra) … and when you toast with these very thin glasses, they ring like bells.
And this sweet little cream and covered sugar bowl. There's lots more, including a couple of sets of dishes, I took pictures for Kellee . . . so watch our Vintage store over the holidays, Kellee will begin putting them up on Monday.
I also signed a contract to do the new 2020 calendars coming out this time next year . . . And there's going to be a new addition! It will be mostly photography … a 12 x 12 wall calendar showing the beauty of the English Countryside. This is the cover . . .
And here's a sample of the inside, the top-page for May 2020! I'm sure you know that our 2019 calendars are up and ready to go when you are!
So, when I finally got my dining room/gym back, I was lying on the floor doing my exercises . . . looked up, and there he was, head dangling over the side watching me. So adorable, I had to get UP, and go get the camera.
He just laid there waiting for me.
Being the most adorable. Ah, kitty love…
Remember this? It's the soap dish I've had on my counter for probably 30 years. I found it in a kitchen shop and it's been just the best thing ever. I'm not a person in love with pump-bottles of soap on my kitchen counter, so this more-natural looking thing makes me happy.
So just in cases you aren't a pump-soap person either, I finally found the wood dishes for you . . . and then they stopped making them! And then they started again! Yay, so we just got them back in our web store . . .  with the perfect hand soap for next to your sink, a giftified set of soap and wood dish with sweet label to make a special little stocking stuffer/housewarming gift. The soaps are also available separately in sets of three.
Joe and I leave for California by train on October 3rd (three days of Twitter from the Twain, Boston to LA, follow us on Twitter for cross-country fun! You don't have to join to look at the pictures and read). Part of what I've been doing is getting the house ready for fall . . . we get home four days before Halloween, we want to walk into AUTUMN! So I got out my Autumn Book to inspire me . . . 🍁
So the owls are on the window sill . . .
And the wreath is on the wall . . .
Reminding myself about decorating, getting out wooden candlesticks and bowls, planning my Halloween menu, Touchdown Chili and Corn Pudding and Gingerbread Cake with Lemon Sauce . . .
We bring home a bit of the woods on every walk . . .
Dried corn is on the door, and right before we go, once the house is good and dry, we'll line our pumpkins on the little shelf over the front door.
We're having luv-lee sunsets lately, the pink of this one attached itself to the spire,
Jack says bye-bye . . . stretching in the sunlight
Bye Bye to the picket fence garden . . .
Bye Bye to whatever this is, just a cute photo I felt like putting up!
Your cups are in the cooker . . .  never know exact date, coming all the way from England, getting through customs, but before end of October if all goes well!
Hope to see you at the Apple Farm in San Luis Obispo, CA on October 13th at 2 pm for a talk, book signing, and question answering! So excited! I believe it's sold out, but they do have a waiting list. Yes! And for you hip east-coast girls,  don't forget when we get home we'll be at the West Falmouth Library on Cape Cod, MA for a talk and signing on November 10th at 1:30 pm.
My son helps me paint (in his own way). And I am writing like crazy, it's like living in a conscious dream, being "there" all day and thinking how I can tell you the story in the best way. Joy of joys. I'm in the zone.
I leave you with a quote that was printed in Yankee Magazine in 2013 . . . Here comes that time of year when you can make a little world for you and your loved ones. Has to do with the smell of cooking foods they love, with fresh sheets on the bed and cozy jammies, having a little petty pet to love, and really and truly, it has everything to do with counting our many blessings.
Oh yes, and P.S., if you stuck with this long enough to get all the way to here, you should have a reward 🎉🎊, so here you go #1, the "movie" is still being thought about💃, and #2, you're the first to know, the name of our new book is  . . .
 E  N  C  H  A  N  T  E  D
England, Wales, Scotland, and Ireland
XOXO, from your Pal, Enjoy your September Sunday (Monday, Tuesday, and Wednesday, too!) xoxo