We've all been waiting for an October Surprise, so I thought I'd get it over with. Here it is! YAY! MUSICA? You bet!💞 
Luv-lee, luv-lee Gladys, tells us how it is!
Our walk is changing so quickly … no matter how long I live here, even thought I know it's coming, October is ALWAYS a surprise to me!🎆
Time for coats and hats … We went out at sunset the other day … Luminious is the right word! World gone gold!
Nature gives us many miracles, from bees to camels, bittersweet to redwoods, apple orchards, the smell of sweet peas and gardenias,
and everyday a sunset, and at night, the moon and stars, but add to that, the miracle of four seasons! Aren't they just wild? Thank you is what I say! When I first moved to the island, I would meet someone and ask them how long they had lived here. They'd always answer me in winters. "I've been here seven winters." It scared me a little bit to hear that. I was a beginner from California and major change of seasons were new to me. Hadn't they lived here seven springs? Why did they choose winter?😳 
I'm not a beginner anymore.🍂🍁 Now I'm just here to celebrate.👏 🎶 But if I'd ever leave you,
It couldn't be in autumn.
How I'd leave in autumn
I never will know.🎵
I've seen how you sparkle
When fall nips the air.
I know you in autumn
And I must be there.
Our walk never gets boring even though we've been going this same route almost every day, in all seasons, since we moved into our house in 1989… down a sun-splotched, puddled and rutted dirt road, through the woods of pine and oak, now festooned with bittersweet, past old fishing shacks, to the sea . . . and back. A perfect almost-three miles. Best part of our day.
We get a little sad sometimes, when we remember our wonderful walks in England… and feel very sick of this dampanic 😷, 
. . . wishing we were kicking up leaves in England… sitting in front of pub fires . . .🔥
Or, riding a train to California in our room with a view . . . stopping for dinner in Chicago . . . having adventures! But then we remember how lucky we are to be safe at home, and how much harder it is for so many who've lost much more than we have. All we've lost is our freedom. It could be so much worse.
There is nothing to complain about. We have a clothesline!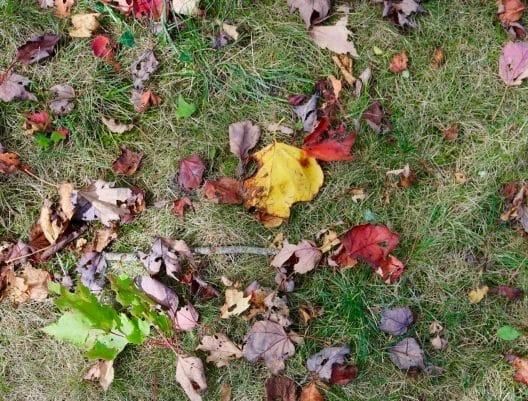 And leaves . . .
And Jack . . .
I have window sills!
And work I love to do, for people I love to do it for 😘 . . . who could ask for anything more?🍁 And I've already been thinking about Thanksgiving. Unless something changes and Doctor Fauci gives us the all-clear, I guess Joe and I will be alone this year. So I have it all
figured out: I'm going to stuff a big chicken with my grandma's stuffing, and roast it until the skin is buttery-crisp, and make delicious gravy with the drippings for the mashed potatoes, and I'll make whole berry Cranberry Sauce, I can't wait! And pumpkin pie with real homemade pie crust! I'll polish two forks and two knives, light some candles and we'll eat it all in front of the fire.
And then we'll watch one of these!
This little girl got our entire country through a World War, I guess she can get us through a winter. Grandfather! Grandfather! You can never go wrong with a Shirley Temple movie!
And something else. Give your heart a rest and spend a few minutes in heaven among the sweetest sheep you ever saw with Kirsten and Joerg on their visit to Yew Tree Farm in the Lake District. This is one of the farms Beatrix Potter saved from the developers and it's also where they filmed the movie Miss Potter (while you're at it, watch that too)! Your cheeks will hurt from smiling so much.😘

And another little cheer-up October surprise . . . a new bookmark! Just click HERE and print it out on card stock. Laminate it if you like, send one to someone you love . . . And now, for a recipe!
Many of you have read my new book Home for Christmas, and you probably remember I wrote about Snippy Doodle, one of our family treats when we were little. It's not in any of my books (yet), but I thought you might like the recipe. (I made this recipe into cards ~ and now you know why . . .  guess what I'll be sending everyone in our family this Thanksgiving?) 
My mom wrote down this recipe for me years ago, even her handwriting brings back wonderful memories . . . She wrote "Grandma Orr" on it, so it wasn't just my mom's recipe, it wasn't from the 1950s, it was my Great Grandmother Sarah Foster Orr's recipe and she was probably making it on a cast iron stove in 1895. I LOVE family food and the way it connects the generations!
I know exactly what she means!💞
So, do you think it's time yet? Shall we draw the winning name for this delicious quilt? Drawings are by far the hardest thing I have to do on this blog. The whole time I DON'T do the drawing, everyone is a winner, but the moment Vanna comes in to the picture, it's the beginning of the end for everyone but one Lucky Person.
Teeny, tiny, perfect, professional-looking stitches, so tight nothing could ever come apart, all handmade, and for sure, for whoever made this, it was not their first quilt, it is too perfect. What a family treasure that somehow got let go into the world until I pounced on it. I hope whoever wins it will love it as much as I do.❤️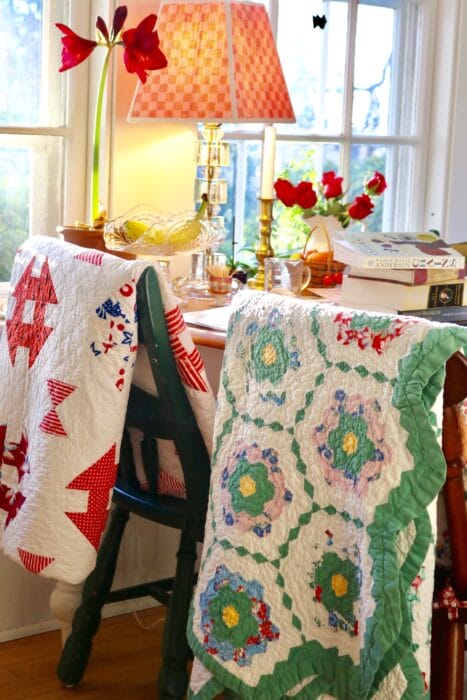 And before I let Vanna do her stuff, let me just say that if you want to hang quilts on your kitchen chairs, you should go right ahead and do it! 
I know it doesn't make sense, quilts in the kitchen, but if you need the chair you can move the them. Until then, they are SO cozy and SO pretty, good for fall, good for Christmas🎄, good for winter, actually, good for every season ~ and you get to enjoy them in the spot where we spend so much of our time. The heart of the home! Of course they are gorgeous no matter where you put them. I've found all of mine in second hand stores, antique stores, yard sales. The prettiest ones are hard to find, but that's what makes the hunt so much fun, and when you find one that you love, and when the price is right, you POUNCE. Otherwise, you wait, like a stalking lion, until you feel your heart soar, and then you know you're in the right place.💝 
I call this a Flower Pot quilt although I have no idea what the true name of the pattern is. But it looks like flower pots to me! There she is, all folded and ready to go . . .🌺
She has danced with the angels here on Martha's Vineyard 🍂 . . .And now she's going home . . . with our lucky Girlfriend who I am SURE will take good care of her . . . so are we ready??? Here we go! The winner is
VAL S. from OHIO!!!!
C O N G R A T U L A T I O N S    V A L ! ! !
I'm so happy for her! I hope she's surprised! Okay, you all know there is something else. Another small treat:
It's this lovely rare book about Christmas at the turn of the century … published in 1938, no longer in print, and very hard to find these days . . 
Filled with sweet line drawings by beloved artist Lois Lenski. 
 I hope the lucky winner of this charming book will have someone to read it to this holiday season! And the Lucky Winner is:
RACHEL LEIGH S.!!!
Ooooo, I know this Rachel, she's been a girlfriend of ours for a very long time! How fun! Congratulations Rachel! AND I do think she'll have someone to read it to!💞
You two can look for emails from me so I can get your addresses to send your October Surprises.💌 I'm so sorry for anyone who had their heart set on one of these treasures, but you know I will have others . . . . 💞
And here's a teeny-tiny partly-printed quilt you can make yourself! And a little embroidered stuffed Jack goes with it!❤️
I keep mine all wrapped up in a bedside table drawer in the Peter Rabbit room, so if we have a guest, and if they open the drawer, they'll find they aren't alone!💞
As lots of you know, knitting, embroidering, cross-stitch, and sewing are luv-lee things to do while watching an old movie when the weather gets cold, and Kellee wanted me to let you know all of our embroidery and sewing kits and patterns just came back in! Maybe a little Christmas gift in there for someone you love.💞
And who doesn't love homemade dishtowels! These are embroidered and appliquéd. Use up some of that fabric you've been stashing forever! I hope you find something HERE that inspires you!
We're going to have a special full-moon on Halloween night, the second one this month, it's a Blue Moon! So, be sure to go outside and make a wish on it. This old world needs us and all our good prayers more than ever🙏, it's been proven that if lots of people pray at the same time, good things will happen.❤️
And Sheri wanted me to tell you our Puzzle is right on schedule! We should have it by the end of this month or the first week in November and they will go right out to all of you who have preordered! It's called
It's a big one! I'm so happy! I'm going to take it slow, I want it to last all winter!!!
"We are all children of God" . . . the Pope just said it on TV while I was writing this, about to say goodbye for now, and it made me feel so good! What a perfect ending! Take good care of yourselves dear ones! Thank all of you that were able to make it to my Zoom programs! So fun! There's another one this Sunday … you can get the details in the column on the right of this blog page, just click on the word "EVENT" and voila! See you soon! 
🎃❤️🎃
PS This just in . . . my new ad in Yankee Magazine! So excited!