Another short one today . . . couple of things to tell you . . . here's some MUSICA to go with wishes for a HAPPY . . . 
Every day a little deeper into fall. Out on our walk, I caught wishes galore falling from a tree. Thinking over how to spend them. Riches!
 And look at this! A white rainbow ~ have you ever seen one? Us either! They're rare! Another perfect place to make a wish! To come upon this took our breath away! I had to look it up. It's sometimes called a ghost rainbow or a "fogbow," they're made from the same stuff of rainbows, but because fog droplets are smaller than raindrops, when the sun shines on it, the color goes away. Interesting eh? Morning science! I just reduce it all to one word, magic.
So here's why I'm writing … to let you know there is a special Zoom program tomorrow, Sunday, November 8, for anyone interested, you can read about it and sign up Here. From my kitchen to yours! I will still have ONE MORE, next month, on December 6th, and will give the details for it soon. (That picture above is my "set up" light for Zoom so I don't look like I'm in a closet! My stove looks good in it!)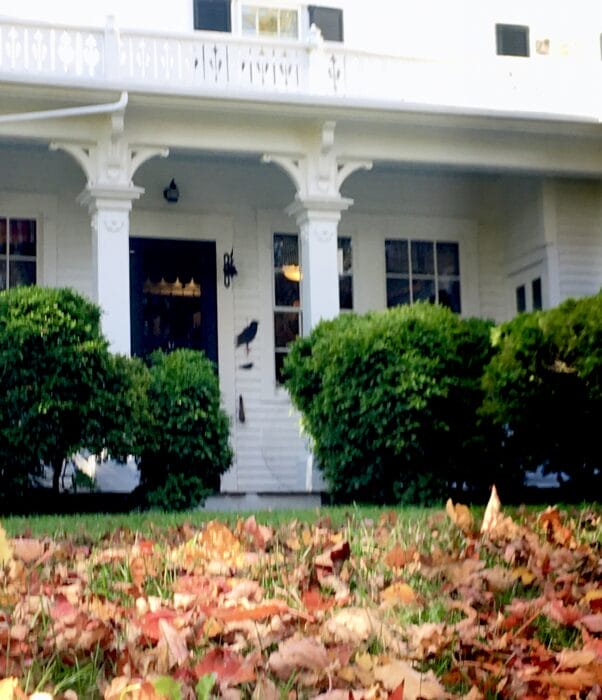 So now I have to go work on putting together the slide show! I'll be back when it's over to talk about all our normal stuff! I have about 16 things I want to tell you! Gorgeous here on Martha's Vineyard today, wish you were here! Blessings on you Girlfriends. With so much love . . . xoxox