Green is the emblem of optimism. Like a green traffic light, setting us free to GO! It's also the color of Spring! This will put you in the mood even if spring is coming in on little duck feet where you live! MUSICA!
IT'S SO CLOSE!

Still a lot of attitude out there! (Dark cold short days do that to a person!)
But, as we know . . .
JUST SING!
This is our idea of OH MY GOD IT'S SPRING!!! SHOUT IT TO THE ROOFTOPS. Daffodils!
JOE! COME LOOK, TULIPS!
So we walk under leafless gray trees, through the woods to the gray sea . . . breathing clean ocean air, listening to the most
wonderful English accents reading us the most wonderful books, still a little bleary-eyed from jet lag caused by daylight savings time, but too absorbed in The Last Bookstore in London to care. And THAT'S how you fight reality! Which I know you know. And P.S., that book was wonderful, you would love it! We get inside these stories and don't want to come out. On the rare days we decide to just listen to the wind, the stories are now in the woods and wrap themselves around us as we walk. We fed the woods and the woods feed us back.🥰
We commune with the sun, when it comes out, we lap it up ~ and my watch says, "Good Girl, you walked 23 miles this week," and I give myself a gold star, and my dad whispers, "Good work."

And all the while, I know this dreamy thing is coming . . .
I've been getting lots done. Staying close to home, watching some fun TV, just BEING. I've so enjoyed this period of quiet, of rebirth I believe, just in time for spring, I've been deep in the throes of what I call the 
foundation for the creation. It's working, I feel excited, my head is filled with ideas, I'm always grabbing note paper, writing in my diary, or typing out a quick paragraph of ideas … I can't wait to see where they go. You might remember that during the Pandemic I shredded most of my diaries, freed them, is the way I like to think of it. (You can read about the philosophy of shredding HERE) . . . I kept a few pages, but let most of them go. I still have several diaries, my dinner-party diary of course, my England diary, a couple of others . . .
and this one (above) . . . it's a long diary, it goes from 1992 to 2007! It comes from pre-internet days, before digital cameras ~ before phones, or blogs! When we still shopped in actual stores! So much good stuff in that book, almost the entire 90s! Little notes, bits of art, photos, plus, I didn't say anything quite as moronic as I did in those first books.

Of course, I saved this page. So funny, asking that question while I'm writing! I just didn't know yet. But I imagine that even Shakespeare asked himself this question when he was young. It's got to be a question every dreamer asks themselves in some way or another. Which makes me think, for my own little world, that maybe I wasn't a late bloomer like I thought, I was probably right on time.
Anyway, back to this diary, only one problem: Poor thing was dragged onto too many trains and is now coming apart. It had a cloth spine… what was I thinking!
It's a very fat book . . . but the pages are still holding together,
. . . they're stuffed with all kinds of bits and pieces, a newspaper clipping when Frank Sinatra died in 1998, my first national book tour schedule for Girlfriend's Forever in 2000 (by train), a note from me to God thanking Him for not "letting me have arthritis," lovely bits of fan mail, a recipe card from my mom for Green Bean Casserole, a ticket stub for Miss Potter ~ and so much more, making this diary even fatter . . .
This is how the happy gene manifests . . .Good old 1999!
 I don't want to lose this book . . . so, yesterday it went off to Mitzie Pratt, a bookbinder here on the Island… she will put it back together for me, and give it a brand new spine! There are a few blank pages left in the back . . . so maybe I will give it a
little 2023 update.
And other things I've wanted to do have also been checked off my list ~ I finally got our wedding rings in to be engraved ~ I've always wanted to do that, and it's finally happening.💞 Sending some of that love out into the world all alone someday. Also, I found a 1923 dime on my dad's grave the first time I visited, I took that in too, to make a pendant out of it. He was born in 1923! And it's 2023. So this is the perfect time. I'm having them put a gold ring around the outside, with a loop for the chain.💖 For forever. And, guess what just came in? ⬇️ Samples!
Our cups!!! They arrived from England for approval, which they definitely got! Color turned out great! They do such an amazing job!❤️ They're being made now and, as promised, will ship at the end of April. I just wanted to show you. I can't give an exact arrival date right now, because once anything is shipped these days, no one is ever quite sure when it will get to its destination. But never fear, we will stay on top of it, as I receive notices and more information, I will share it with you!!! I'm thinking May . . . but we will see.
Aren't they wonderful? I've already had tea in all of them! Took 'em on a test run! ❤️ We haven't sold out yet, they are all still available, but I should say if you want the Queen Elizabeth cup, you probably need to order soon.
My book, Fairy Tale Girl has been hard to find anywhere but on our website, and we're down to just a few, saved just in cases, for Girlfriends. . . because we sold out everywhere else! So now, it's being reprinted . . . the printer sent me the entire book so I could check the pages for color and layout, be sure the cover is right, and make sure it has that new book smell. I am still getting thank you letters for this book, warming the cockles of my heart.
And not just one book reprint this time . . . two!
Because A Fine Romance, Falling in Love with the English Countryside has also been missing in action! Thank you so much for liking them! You know it's all you . . . your word of mouth that has made this possible. Mom's to daughters, sisters to sisters, girlfriend to girlfriend ~ and so many of you took that word of mouth to Amazon.💖 Such a huge help! Word of mouth, my very favorite thing. Who do you trust more than your mom or BFFs? No one! I love it for my books, for movies, restaurants, exercise, for EVERYTHING actually, and feel just the same about it for the books I read … We are a sharing bunch aren't we!?! Kindred spirits!
Oh yes, they sent the ribbons too! All approved and I bet we get them in the next month or so. 
And yes, we also ran out of our fine art giclee prints . . . they are all being reprinted and will be coming to the Studio any day now! Beautiful reproductions on heavy watercolor paper ~ the color is so good it's very hard to tell the difference between them and
the originals! I left enough white paper on the sides and top so you can frame them if you like. I will sign and number them before sending them to the Studio for our webstore. And SURPRISE! See the geranium there on the right? That is a print of the very first painting I ever did, when I was 30, before I even knew I could paint. Painting this geranium with my brand new Birthday watercolors was a real awakening. I have one here in the house and I thought it would be fun as a giveaway ❤️❤️❤️ . . . I'll personalize it to whoever turns out to be the winner of our drawing … so leave a comment (you'll see where to do it directly under the end of this post… click on the word "comment.") I just want to show how much …
And that's the truth! You're family! One of my favorite things about winter is how quiet and hushed it is here on the island. Tourists aren't here yet, ferries sometimes stop running due to the weather, otherwise I can hear the boat horn echoing every time it leaves the dock. We have church bells clanging and ancient sad sound of foghorn too. All we need for perfection is a train whistle! Dark quiet mornings before sunrise, just me and Jack, a cup of tea, and my watercolors, are a pure gift to my life.
I've been painting . . . so fun to watch a piece of art come to fruition … the smell of the paper, the pencils, it's back to school time for me. I start with a sketch, decide where her shoulders should be, what her hair might be, hat or no hat, what groceries should she have, what colors, everything . . .This is where the eraser comes in handy. I think of my eraser the same way as I do my seam ripper . . . tools I could not live without.
Once I like the basic idea, I redraw it on the "good" paper . . . Then comes the scariest part . . . putting on the first paint. Still scary after all these years!
Then I begin adding the layers of paint, trying not to hurry, enjoying every hair in my two-haired paint brush! Right here is where I sometimes want to stop! I love it right now! But then, I think, those lips, gotta do them! I'm trying to get ahead of next year's calendars with some new art. And while I paint, thoughts and ideas pop into my head, so I write them down before I forget, sometimes it's just a few lines, sometimes I have to stop because the idea takes pages . . . Everything seems so inspiring to me! Must be the longer light in the day, Spring! Or maybe the books we "read" while walking, I think about them, the magic the authors portray with their words, those wonderful wonderful words . . .
So in honor of St. Patricks Day AND the first day of Spring, I thought I'd give you some GREEN. I file my photos in lots of different ways, and one of them is by color! For all of you suffering from constant storms, and for everyone else living on the edge, ready for some green, I give you . . .
Almost time to mulch and dig my picket fence garden . . . and I can't wait!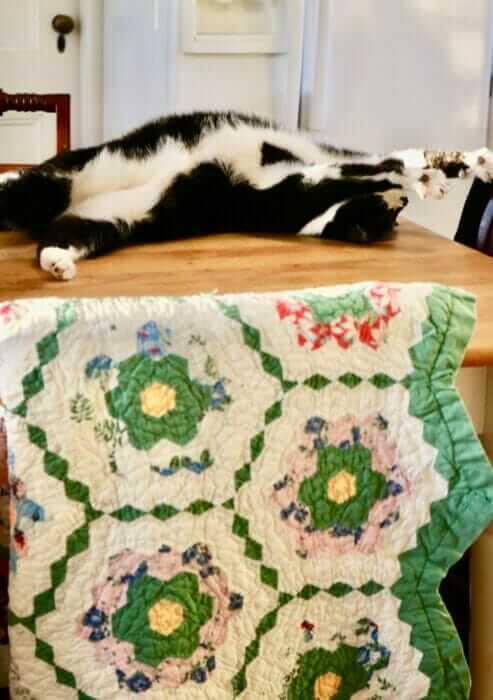 Green, most wonderful quilt, and Jack, one happy cat, make my kitchen a little bit of heaven.
Slippers warming next to the heating vents. So I can take off the cold ones and put on the warm ones. Foxy, don't you think?🤠
The green rag-rug collection getting a little fresh air.
Luv-lee green glass, antique store find.
From my 2020 English Countryside photo Calendar…
. . . I should have included this miniature car covered in artificial grass in that calendar! Must totally disappear driving through the hedgerows! English people have the best sense of humor!
Green! 
My happy cutie in the English Countryside, wearing his Scotland scarf.
In honor of Girl Scouts Week, my cooking badge. Didn't quite make it to the sewing needle, still pinned on my sash where my mom put it.❤️
A window in a cottage in the Cotswolds. Kitty curtains framed in  Green!👏
Driving through Vermont in the snow.
And the reason I LOVE clover and let it do anything it wants. But what I really need are sheep!🍀
Here we are at Carrie's house in Oxford. As you can see, she has the charm decor gene in spades ~ loves green too!
Here's how to make them: Cut stem flat against artichoke. Rinse it in water. Boil a pan of water, enough to cover artichoke. When it boils, add
all ingredients except lemon juice … Check it after about 20 minutes to see if fork slips into stem easily. It's done when it's soft. Drain, and squeeze on lemon juice just before serving. It's good hot or cold. Pull off a leaf, dip the wide end in mayonnaise, or mix mayo with lemon juice, or try melted butter ~ and pull "meat" off with your teeth. Keep going this with each leaf until the leaves are too flimsy. Then scoop out the center choke, dip and eat the "heart!" Yum. Fun to grow and they make the perfect dinner for losing that last 10 pounds, or the first 20. Here's why they're good for you!
Me, on a walk in the New Hampshire woods!

Needlepoint pillow. Goes with walls, lamp shade, green in chair, little Irish house roof on hutch. Goes good with Christmas too!
Me, way back when I lived at Hollyoak, when the cows escaped into my backyard from the farm next door, and I ran outside to see them, paintbrush in hand!
Beach booty. Heart shaped rock for the collection.
This is the color we get in spring . . . I call it "screaming New England green." It's like the day green was born! So green it even reflects on the gray roof of the house and turns it green!
Despite what this camera says, this is green . . . and it's our dining room the way it was in 1989 a few days after we moved in ~ I'm playing house, setting the table for our first dinner party in our new home, which, I can tell by the bowls, nutcrackers, and lemons, was lobster! I'm pretty sure I bought the white paint for the trim and started tearing that wallpaper off the next day!🤪 That's Girl Kitty. Jack isn't born yet.
First thing I noticed about my first house on the island, when we drove into the driveway ~ it had a name. On a green sign nailed to a tree.
Black beret, but a green jacket and green pants  . ..
And this, soon we will be drying our sheets and tablecloths in the salty wind and dappled light of the green-drenched island. It's gonna happen!!!
 ART, my dears, is what you THINK IT IS. Which is almost everything!
So book-time, walk-time for me and Joe . . . off I go. Wishing you a wonderful weekend! If you're in California, you've had SUCH a
tough winter, but I envy you your lupin and poppies that will be popping up any day. Hillsides and beach walks full of them, your reward, and you deserve every bit of it! Texas bluebonnets too . . . probably something to look forward to every where! Here's to us Girlfriends! Don't forget to leave a comment if you'd like a chance to win the Geranium giclee!
Your pal for life,