Here's how spring is progressing in our home! Musica for today: our new favorite song . . .I'll get you hooked yet!♥
But first, just so you know, the drawing for the Rose Chintz teacups is still open; just leave a comment at the bottom of this post, and you'll be entered in the drawing!  You can read more about it and see pictures if you scroll down one post.
I just couldn't wait to show you what we found in the hall next to our dining room!
I think many would see this as a harbinger of spring, which was exactly my first thought; plants are bursting up through the floor!  How adorable!  Get the camera!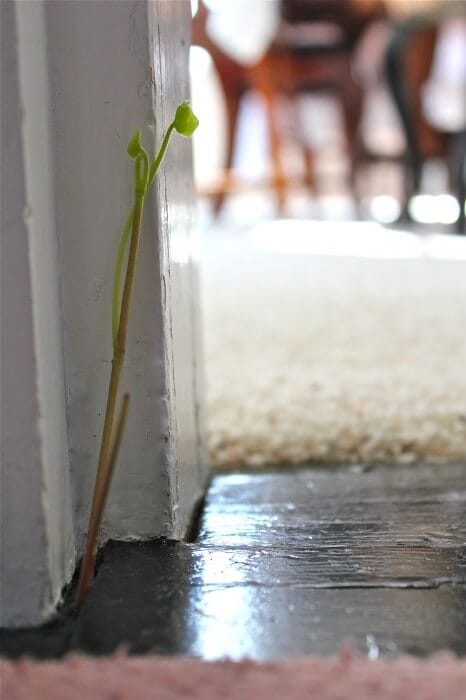 But, with a little help from Joe's more mechanically-minded, reality-based thinking, our second thought was, What's going on in the basement?  Is there massive plant growth down there?  Now we're afraid to open the basement door!  
Well, Joe's probably not, but I kinda am. I've never really gotten used to having a basement even on a good day.
Our basement was dug in 1849; it has a dirt floor so it smells like old dirt down there; the walls are made with granite blocks.  It's very deep, plenty high enough to walk around in, it's very cold, and it has rooms!  They probably kept their apples and potatoes and other garden produce down there in the old days.  And who knows what else.
You get there through an outside door on the porch; the door opens with a long creak to a steep set of granite stairs going straight down into a dark, what appears to be, hole.  The stairwell is very deep and draped in cobwebs suggesting that a person should definitely duck when they go down the stairs; the corners are alive with long legged black creatures that seem to "winter" here; they like it in the summer too; I don't know if they jump. I've only been down there maybe four times in the twenty-three years we've lived here.  Our basement goes under the entire house. I call that area of the house "Man Country."  It's where Joe keeps his paint cans, for one thing; and he seems to like it down there.  But of course, he was born in this part of the country (Connecticut) where every child grows up with a basement.
I grew up in California, no house I ever saw had a basement; all I ever learned about basements was through Halloween stories ("he's on the first step; he's on the second step . . . slooowly he turns…" . . . my dad, entertaining us around campfires with ghost stories), horror films, and movies like Arsenic and Old Lace, where the darling old ladies buried their gentlemen friends in the basement.  So basements, to me, had no lure.  I wasn't all that wild about attics either, for the same reasons.
Having 
basements and attics were two of the many new things I had to get used to when I moved to this part of the country; every old house has them!
 I never went into the basement of my first house until I completely owned it; did not visit it in the course of buying the house. Even then I knew it was man country down there (this definition comes from having four brothers and learning very young what was and what was not, man country; I'm sure there are plenty of intrepid happy normal women who love basements too, don't get me wrong; I like the basement, I just don't like to go there!), there were no men around me at the time; I rest my case, pathetic as it is. It never occurred to me (because I was young and this was my first house) that it might be the place where the furnace was, which is something a savvy home buyer should take an interest in.
Now I understand that having a basement is a wonderful thing!  It's extra storage space!  It's where many people do their laundry; it's where they keep their children when they turn into teenagers; but I'm also pretty sure it's where Lizzie Borden kept her ax. I will love our basement if, and when, a giant hurricane comes to the island; we'll make friends then.  Why am I talking about this?  Oh yes, Joe (Oh yes, I'm spoiled) needs to go find the beginning of this plant before it eats the house!
I really didn't think I'd be writing about basements this morning!  I meant to write about happy harbingers of spring, and then our basement crept into the story. That's how letters to my girlfriends have always been. We go from cheese blintzes, white tablecloths, and Rose Chintz dishes to scary old basements in the blink of an eye.  That's another thing I like about us!  We're diversified!
 Now, here is a true harbinger of spring.  Normally, one hundred percent zero things bloom on Martha's Vineyard in February, no camellias ever bloom here this time of year. At least, I've never seen it.  But, I went to my girlfriend Annie's house the other day
for tea, and the six foot camellia bush next to her front door, outside, was blooming, all over, like this!!  I want to be afraid about what this could mean, planet-wise, but I'm too happy having them on my kitchen windowsill right now!  I will let this pass for one winter; if it's like this next winter, I'm going to start having a fit.  Let's all have one!
What else?  Oh!  You know what I think would be fun?  If, when you leave your comments, at the end, you always type in where you are, what city, state, or country.  I love hearing where people are so I can imagine, or try to, their surroundings.  Plus, then everyone with the same name will start to look a little different!  We have girlfriends from Alaska to Florida, Maine to Hawaii, and so far, just today, I've heard from Finland and France!  Love it!  Sing with me!
♫ I'd like to teach the world to sing, in perfect harmony. . . ♪
I was going to show you more of my dinner party diary, but I think I'll save it for later, this should be enough for today; I have stuff to do, and you probably do too!  I kept you long enough the last couple of days!  Love hearing from you!  Love how you're connecting with each other too.  Have a great day! ♥