For years I've kept a "Dinner Party Diary" where I write about special parties ~ for the memories ~ it's part diary, part scrapbook.  And this  MUSICA is for you, also for the memories . . . we can only imagine how many kisses there've been with this music playing in the background! (Just click on it and come right back, it will play while you read.)
♥     ♥     ♥
I started keeping track of parties in this book in 1993, but not every party I've ever given is here . . . it's a tiny book and probably has only twenty parties. I only do them when I remember, or I'm in the mood, or the party is so good that I have to do it!  Our Sunday Breakfast Party went right into the book: I remembered, I was in the mood, and it was good!
♥        ♥        ♥
Our 9th Anniversary is in this book too . . . that one was an afternoon tea party and we hired a piano player to play The Glory of Love, and all the other old songs we love.  I always write down the names of guests, the menu, the dishes, and the weather. (And sometimes what we wore, and sometimes poems people say at the table.)
And here we are, getting ready for our 25th Anniversary Party.  Starting with putting a clean tablecloth on the dining table; Girl Kitty had grown fond of the old one and wasn't letting go of it so easily.
And then the flowers . . . it was supposed to be a combination Valentine's & Anniversary party, but with the gorgeous weather, it turned out to be an impromptu celebration of Spring!  We even had the door open!  Birds were singing.  It was gorgeous.
You can't celebrate spring around here without daffodils!  They are the cheeriest things!
A little pink for the coffee table.
Happy singing bird vases, a heart teapot, a matelassé bedspread for the tablecloth ~ and what breakfast party is complete without chocolate kisses?
Love?  Romance?  Hearts and flowers?  Old music, best dearest friends . . . and delicious food.  And everything pretty in pink!
I made the place cards; luckily Joe has a cork fetish and never throws them away, so I thought, what says celebration and happy memories more than a popped champagne cork . . . ? ♥
I tucked the cards into the wires on the back.
We needed a centerpiece.  Joe and I took the QEII on what we called "our test run," to see if we liked it, in 1997 from New York to Bermuda.  Sailing on the QEII was something we talked about the first time we met — not necessarily doing it together (it was too soon for that at the time) but something we both wanted individually!  So, of course we saved this little bottle of port we found waiting, when we finally did go, in our stateroom, and now it's part of the glory of, the story of, love. ♥
Almost there, need napkins!  Need food!
Jack helps by bouncing off the walls and aerating the chair backs with claw holes.  Thank you Jack!
Yes, actual food will be served.  I do adore setting the table, but I know that our guests are going to expect food, not just dishes and flowers!  Here, Joe's making crepes the day before, for the Cheese Blintzes we're serving.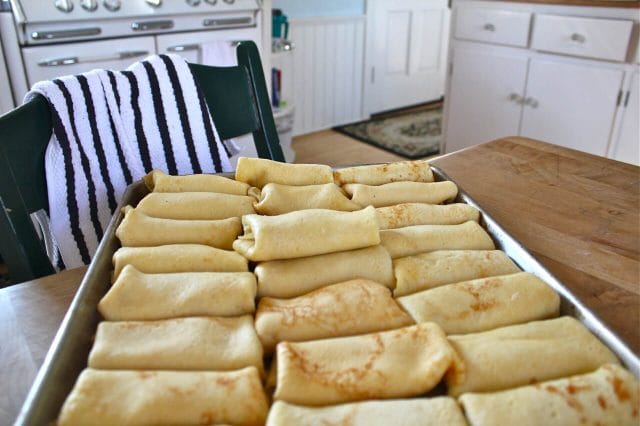 There they are, the blintzes; the lemon, basil, and ricotta-cheese filling is all rolled inside…. we covered the pan and put it in the fridge; the next morning we browned them in the frying pan before serving with delicious jams, applesauce and sour cream.  The recipes for all of this will be in my new Breakfast Book!
Did the MUSICA go away?  Noooo.  Say it ain't so.  Can't have that. ♥
Is there anything better than plain, old-fashioned, ice-cold, juicy-pink grapefruit on a spring morning?  No, and I do what my mom taught me; I cut around each segment for easy eating.
Mmmmm, crisp-edged, crunchy Blueberry Corn Cakes and hot maple syrup!  Gotta have it!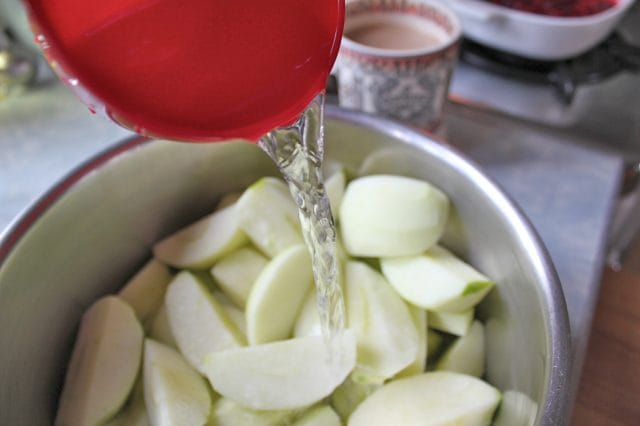 Homemade Applesauce made with Granny Smith's, so fresh and appley!  Yummy with Corn Cakes, delicious with pork sausages, perfect with Cheese Blintzes.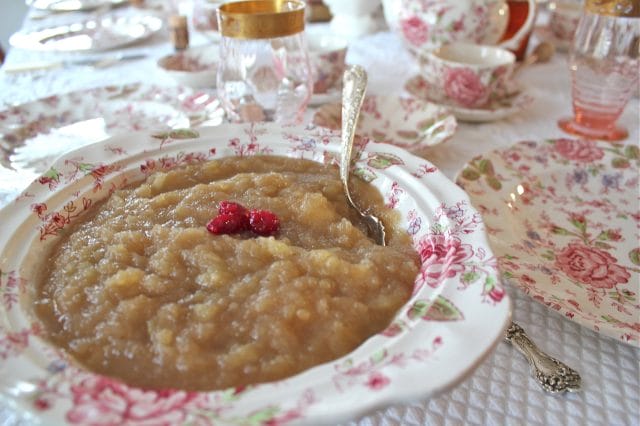 My Applesauce is full of apple bits with a little tooth to them, not the smoothed out stuff you get in the market . . . we served it cold.  I put some roasted cranberries (left over from the cranberry marmalade I made for the blintzes) in the middle as decoration.
We had bacon, sausage, sliced steak and buttermilk biscuits too . . . the platters warmed on top of the stove.  The southern style breakfast at Tara, with Scarlet O'Hara's family, I read about in Gone with the Wind, was my inspiration for this . . . believe it or not we didn't touch the decadence they managed to come up with!  But we tried!
Margot and Tom weren't able to make it 🙁 , they're on their way to New Orleans 🙂 , but before they left, they stopped by with Margot's gorgeous bouquet of Valentine roses ~ which were still beautiful; she thought we might like to have them at the party.
She was so right!  I recut them and put them in a shorter vase and here they are, a little more Valentine love DNA, gracing the granola-yogurt-and fresh-fruit buffet we set up on the sideboard.  Thank you Margot! (BTW, that sideboard was here when we bought the house; Mrs Bowditch (a previous owner) told me it was here when she bought the house in 1949; maybe it's been here since the beginning, 1859, when the house was built and the Smith family moved in!  I would like it to talk!)
Man Food.
And there it is in all its glory; we turned on the music and toasted to love and each other with icy tangerine juice and bloody Mary's; we had tea, coffee, and everything you see on these plates!  We talked about local island news while the birds sang outside the
window; what's been in our papers, what the ferry boat is up to these days, the weather (of course), how far up the daffodils have come, the blooming snowdrops, our gardens, Facebook, Twitter, movies, spring vacations; and we ate, and ate.  I didn't do a dessert (although I was tempted to make baked stuffed apples in a cream bath!) — but did we actually need anything more?  No.  We did not.  Then everyone kissed good bye and went home; we washed the dishes, read the paper, and took a nap, then we went to the movies and saw the new silent movie called The Artist.  And THAT was Sunday, pretty good huh?  Love morning parties!
And for your patience for reading through this, not to mention WILLARD, who has spring fever just like me, and is going out to play all day today and tomorrow; you have a reward . . . I have something I'm really excited about . . . a giveaway I think you will love.  Ready?  OK, it's these ~
Two Johnson Brothers, Rose Chintz Teacups!  Yes!  With saucers!  "Sing Ho for the Life of a Bear!" My own set actually has twenty cups-and-saucers, many more than I will ever need!  So I am giving away two of them!  They come with invisible magic as they were right there on Sunday, at the party of love.  (But, of course, just like the sideboard, they won't talk!)  All you have to do to be entered is to leave a comment; "Vanna" will draw a name in about three days . . . want to make sure you all get a chance to enter to get a little springtime pink in your life. ♥
HAVE A WONDERFUL DAY GIRLFRIENDS! Sing HO!