It's May, it's May, that Lusty Month of May!  Hi Girls.  I promised, if you asked, I would give you the recipe for Blueberry Angel Cake sooner rather than later, and you asked!  So, here it is!  Happy May Day!  You deserve it, you've been sooooo good. ♥ I have much love for you! Your comments are amazing! xoxo
Easy, wonderful cake . . . ENJOY!
In honor of May Day, I'm going to let our Giveaway (scroll down to the post just following this one if you missed it) continue a few more days, to make sure everyone has a chance to sign up.  If
you already did, you don't have to leave another comment because you are already entered, but you can if you want because Vanna is not only beautiful but smart . . . she knows to choose from only one of each comment, which means you can talk all you want.  And I thought I'd sweeten the pot just a wee bit to celebrate May!  Someone is going to win BOTH my SUMMER and GIRLFRIEND'S Books, and in addition, we'll draw one more name, for this:
It's my brand new (I forgot to tell you!) COUNTING OUR BLESSINGS, BOOK OF DAYS.  Kellee called me yesterday to remind me that "the Blessings Book" came in during my months in the FINE ROMANCE tunnel and I just forgot to mention it.  (Now that's a tunnel!)
I designed this book and sent it in last year, just before we sailed away to England — another lifetime ago!
I based it on my old DAYS BOOK (which is out of print now) — so it can be used as a Journal, a Birthday Book, or a Dream Book, but since we are such Blessing Counters around here ♥, I thought it would be a wonderful place to jot down the best things of each day, what we learned, and words of wisdom, so those memories last forever, and can even be passed down to people we love.  If you're not already entered for the other two books, just leave a comment at the bottom of this post, and we'll draw for both prizes at the same time.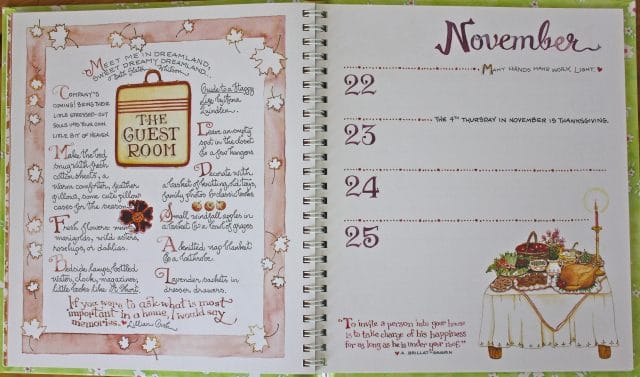 It's the little things that make up a lifetime — we'll take care of the minutes and the years will take care of themselves. ♥
Here's a minute: Our tulips are in bloom!  Blessing. ✔ Check!
Not all of us are experiencing bowers of flowers right now — and washing in snow, fair maid or not, is not quite the same as "washing in dew!"  There are still snowstorms out there!  So, this is for you, all of you really, if you run to your door, you might (If I had my way) find one of these hanging on your door knob, from me to you with love, a bouquet in a wallpaper cone (from our dining room wallpaper). Such a sweet tradition, leaving garden flowers on friend's doors. ♥ The red flower is from our quince bush, which is obviously celebrating FLORA, the Goddess of Flowers, which has nothing whatever to do with Frosty, the god of snow! Go away Frosty!
 This is what we want now!
May, Flowers, CAKE, and books, who could ask for anything more?  The tiny frosting on the cake would be if you haven't seen the movie featuring this Musica (playing right now if you clicked on it at the top of this post), you might want to put it on your list.  FRIENDLY PERSUASION  is a wonderful sweet old movie; it will make you cry, and you know how we love that.♥  XOXOX