The first seven pics here were as far as I got in
the "saying goodbye" department before the ferry boat horn blew and we had to run out the door to make our 8:15 boat yesterday.  But my heart was in the right place. I really tried. Now, I'm in a hotel room, drinking tea and trying to make up for lost time. MUSICA
I wanted to show you some of the views we're aiming for on this trip we're taking up through Vermont . . . to Lake Champlain.
It's a little early in the season still . . . most of the leaves here in Massachusetts are only tinged with color . . . nothing like these.  But maybe when we get further north.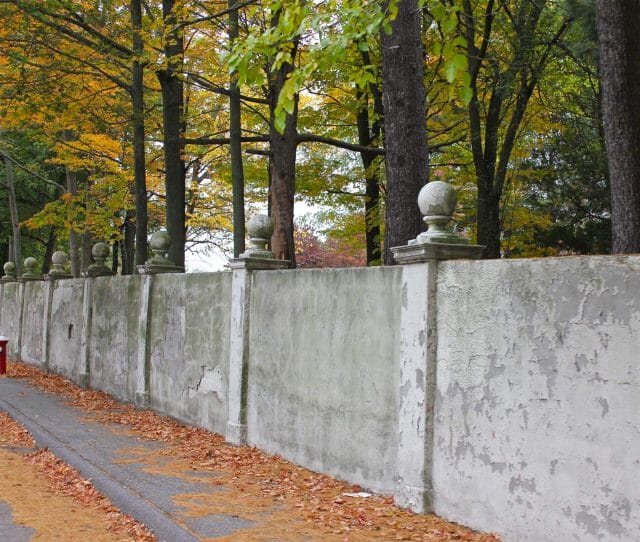 These pictures were from another trip Joe and I took a couple of years ago . . . Nice fence eh?
Here we were yesterday morning.  I took this picture of the West Chop Lighthouse, not so steadily, through the ferry boat window as we were sailing past, with my iPhone.
And this one of the sky over Falmouth, MA through the windshield of the van . . . as you can see, not much color on the trees yet, but oh what a sky! Perfect day to be a travelin' man and girl.
The van's loaded up with Fairy Tale books we're taking to my book signing at Innisfree Bookshop up in Meredith, New Hampshire on October 3rd.  If you pass this van on the road, honk if you're happy! ♥
Had to leave the kittens behind of course.  My worst thing ever.  Why can't they stay cats but act just a tiny bit more like dogs, in the coming-with department?  But nooo, they gotta have everything their own way… white blankets and white sofas and all. They have a wonderful kitty sitter living with them, so I know they're doing just fine! (I already miss them and it's been one day!!!) 
Tonight, the super moon will go incognito with an eclipse that hasn't happened in this exact way since 1982 — which is the year I moved to Martha's Vineyard, so I'm HOPING we get to see it.  I don't know what the sky above us might be up to tonight. We're meeting up with Lowely and John this evening and spending the night in a B & B that used to be the home of Lowely's grandparents.  I'll take pictures!
Hasn't the Pope been wonderful?  Isn't it refreshing to hear words of hope and goodness?  Wob him.  ♥
The Fairy Tale Girl books are still going out so if you haven't gotten yours, it really won't be long now.  The whole crew worked Saturday and as it looks now, I think every book that's been ordered should be out by Tuesday afternoon.  Fingers crossed.
I did allow them time to eat lunch, because I'm just a really great boss that way! 🙂  Aren't they cute, all around the breakfast bar in the kitchen in the Studio.  Best, nicest, hardest workers in the world! My favorite part is how much they all like each other and get along. They make the Studio a very nice place to be.
All in a day's work . . .
Bye-bye books.  Spread sunshine please!
This was my fortune cookie fortune this week.  Good timing!
You should remember some of these next photos . . . This one is of our Girlfriends in Ohio, Linda and Kathy having an elegant champagne and tea party with A Fine Romance.  When that book first came out, our Girlfriends sent me the most wonderful photos . . .
. . . of our traveling book . . . as it went all over the world really . . . to kitchen tables, to libraries (like this one with our Girlfriend Pamela), out camping, to the top of a mountain, in front of Highclere (home of Downton Abbey) . . .
And here she is, with Beatrix Potter's Hilltop behind her, looking up at Castle Cottage in New Sawrey, in the Lake District in England, soaking up the sun and the magnificent ambience. Our English Girlfriend Eli took her there and sent the photo!
And remember her here, lounging in the most adorable bedroom belonging to our Girlfriend, Paula.  (I'd like to see the rest of her house!  The wallpaper sends me to the moon! The blue vase, with the peony?  Killer!)
And who can forget our Girlfriend Cathy Shultz's contribution, getting Paul to hold up the book!  
So the point is, if you take The Fairy Tale Girl somewhere on vacation, or to a tea party, or to a book club, or to the bus stop, anywhere at all, you can send me pics at Feedback@SusanBranch.com ~  Kellee and Sheri and I will choose our favorites and I'll include them in the next WILLARD which will be coming out the middle of October. Won't that be fun? 
I thought I'd show you where Smallville met Plainville yesterday afternoon ~ We stopped especially to visit a wonderful new bookstore we heard about in a town called Plainville here in Massachusetts.
The store had the perfect name, it's called An Unlikely Story and books flew overhead ~ see them? I really hope this brand new independent bookstore can survive, because it is very wonderful. Here's the story of how it came to be . . .Just a guy with a dream! ♥
See? Flying books . . . 
They don't know me in that store, and I'm always too shy to say oh me, here I am, so I didn't say anything and they don't have my book yet . . . but you should go LIKE them on Facebook if you feel like it, because they do deserve it for making something so special for humanity.♥
The store has deep leather chairs for reading, and a wonderful coffee shop and beautiful everything. If you are ever in the area, be sure to stop in!
Also, Joe and I dropped off a box of books at Titcombs Bookshop yesterday in Sandwich, MA (that picture is from a couple of years ago, nothing has changed in this lovely old bookshop except that sign wasn't there yesterday), in case you live nearby and want a book (I signed them too).  Not too many bookstores have The Fairy Tale Girl yet . . . Only Titcombs Bookshop and Bunch of Grapes, our wonderful independent bookstore on the Island, have them so far. The rest are being shipped probably by the end of this week. We're going back to Titcombs on October 17 to meet and greet and to sign books . . . If you can join me, go HERE to read more and print out a Girlfriends name tag which looks like this . . . ♥ 
Speaking of printing out, I hope you've seen all the wonderful fall FREE STUFF Kellee has put in our webstore?  If not go HERE and check it out! We have some great stationery, bookmarks and gift tags . . . write your girlfriends a letter and send a bookmark and say Happy Fall!
 Well, that's all she wrote . . . I have to say, Later Gaters, talk to you soon, time to pack up and keep moving! Have a WONDERFUL day! XOXO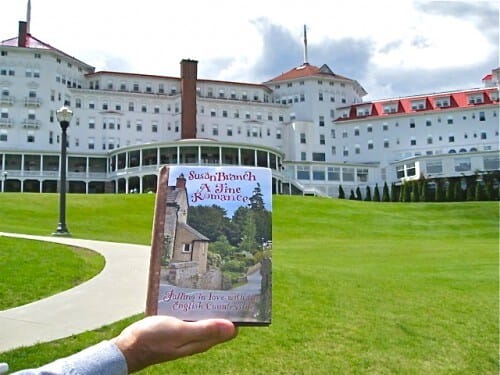 Okay, just one more . . . 🙂 Love the red roof of this historic inn in New Hampshire . . .♥ I'll be on the road today, probably won't get to "moderate" comments until later tonight or tomorrow, but never fear, I love reading what you write!  Byeeee, XOXO