Hi Everyone! Time for Witchcraft.The good kind! MUSICA! 
Love lighting candles in the fall, when it starts getting dark earlier . . . makes the rooms so cozy.
We're deep in it now . . . Storms are now on most of our windows, I've remade the beds with comforters, no one wants to get up in the morning, we are too happy!
Did anyone try the donuts? I wasn't surprised to learn how many parts of the country had never heard of Cider Donuts since we can't get them here either, and we ARE New England and we HAVE farmstands!
I forgot to show you the bottom of the donut pans! Very festive . . . and now, it's time for our drawing . . .
The winner of the two sizes of donut pans, the signed copy of Edible Magazine, and package of Christmas recipe cards is 
L I N D S A Y    S C H . . . . whose "little kids" will love the smell of cider donuts baking in the oven! Congratulations, Lindsay … I'll email you and you can send me your address!
I wrote about my house for my Autumn Book. Some of you have read this story, but just in cases . . . As a young girl growing up in California, I never imagined I would someday live in an old Captain's House on an island in New England, much too much of a dream come true, way too Louisa May Alcott, veering on the very edges of Abigail Adams . . . but that just goes to show you, life has a way of surprising us! 🍂🍂🍂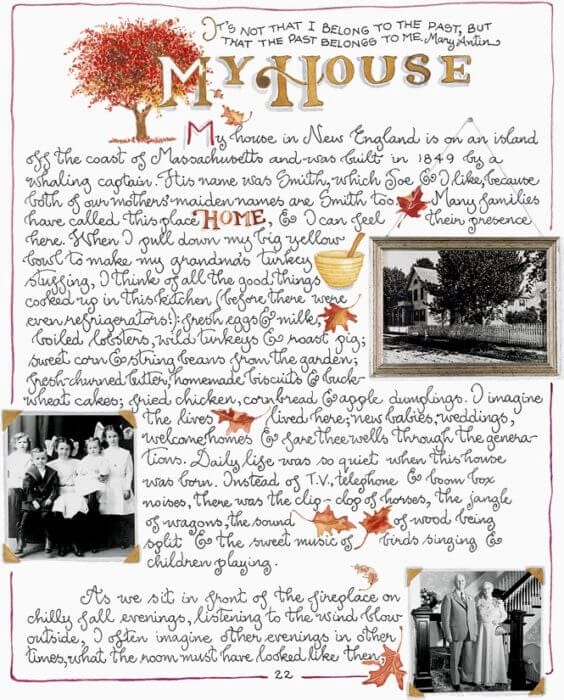 Look who came to visit! Lots of you know these two wonderful women ~ I've posted their pictures before, especially when we were
in England together, but many of you talk to them when you call the Studio, or you've written to say how much you love the caring way they wrap packages they send from our web store. Kellee on the left, has been my right-hand person for twenty years (‼️), and Sheri, on the right, has been making our lives easier for the last ten years. Which means, if any of you have been trying to get hold of them for the last week, you now know why you couldn't! They're here!

We had the best time. It was Kellee's second time on the island, and Sheri's first. The weather was perfect the entire time, cool, crisp, sweater-weather, very different from the Central Coast of California where they live. We walked every single morning they were here, just like we did when we were in the Lake District for the picnic at Castle Cottage!
We have dear friends living in one of the old fishing shacks out on the water, Joe and I often stop and visit in the morning. This time we took the girls. Wanted to give them the whole wonderful experience!
Pretty as could be . . . wind through the grasses …
They loved our woods filled with magical floaty leaves . . .
Love it when our friends and family come visit and we get to take them on an "Island Tour!" We forget to go! In this pic we're up-island, in the little fishing village of Menemsha, where Jaws was filmed.
They have some tough rules for their beach!
Very quiet this time of year. In summer it's crazyland, crowded with summer people who come for the wonderful sunsets from the beach with rules.
Recognize this beautiful old graveyard, shining golden in the afternoon autumn sun?
Yes, we stopped by to say hello to Nancy Luce.

One of my favorite Island Heroes, Nancy Luce, the brave chicken lady. If you don't know who she is, you'll love her, click there and read about her.
Afterwards we walked grave-to-grave, reading out loud to each other, names and dates … I think we got back to about 1703, old names, old times, old memories, and all a mystery, except for Nancy.
At home, over breakfast, tea, and coffee, we plotted our business, what kind of calendar to do next year, what kind of new cups, new charms, cross-stitch and Christmas cards, surprises, and free things, my job, their jobs, the new book, and when, keeping up with everyone, making things work! We love this kind of creative talk! So much more fun to do it in person rather than over the phone!
Into the Fine Romance van we went every day, shotgun-person changing with each stop! On back roads overhung with red-and-green-leafed trees, lined with yellow and orange bushes, color shining in the sun.
Sheri's in the front seat, I'm in the back, but I CAN'T get a picture of the whole lighthouse through that window! I need help!
Voila! Problem solved! Thank you Sheri!
On our way home . . . another beautiful day . . .
And next, a must-stop, the Field Gallery, with the famous dancing sculptures in the yard, many done by Tom Malley who is no longer with us . . .
So much joy and charm . . .
It's catching!
Nearby, a road perfect for the curious mind . . . wonder where THAT goes . . . ? ? ?
Across the street from the sculptures is Alley's General Store, a landmark since 1858!
Of course we had to take them to Little House Cafe for delicious strawberry shortcake! Which we ordered with ice cream AND chocolate sauce! And four spoons!
Back to meandering . . . we brake for nurseries!
We've been wanting to get some of these late-blooming daisies! They seem to be everywhere this year, except in our garden! Fixing that!
And then, a day in Edgartown . . . charming side streets lined with small and large cottages, and whaling-captain mansions with widow's walks on roofs overlooking the harbor.
To the wide porch of the Harborview Hotel . . .
We're laughing because this sign was just too perfect!
Did a little sunglass shopping. Joe made us laugh when he tried on these, so NOT him . . . but perfect for putting on lipstick!
Cute! For lunch at The Atlantic!
Yes, they are ALL wearing Joe's shorts! Because this motley crew is going clamming!
Which they did and hit the mother lode of clams . . . very exciting for a first time! Beginner's luck!
. . . they brought them home so Joe could make us his famous stuffed clams . . .
They are even better than they look, toasty, crisp on top, a wee bit of bacon, slightly spicy, chewy clams, lemon zest, delicious! They brought home the bacon!
And out to the garden I went to get the makings of our salad.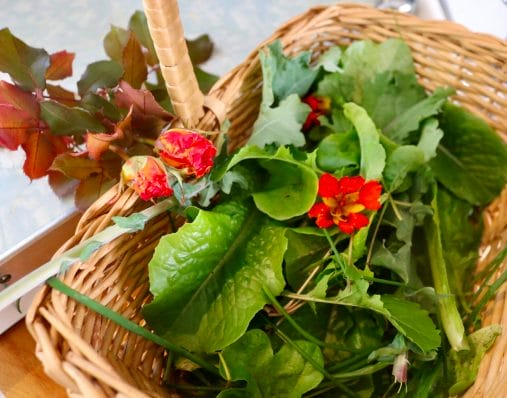 We haven't had a freeze yet, so we're still getting fresh leaves and herbs. And a few last roses too.
We ate lunch out every day, but cooked dinner at night, lit the candles and ate at the kitchen table. This night we had salad, lamb chops, broccoli, and spinach.
We went out back to kick up some leaves, while Joe was back there raking . . . see him?
Contemplating leaves as art . . . 
We turned around to see this! He's getting to be more me than me!
But you know . . . time passes . . . 9:30 am on Saturday, Sheri went off to visit her son at college in New Jersey, and Kellee headed home . . . 
After kisses and hugs goodbye, onto the ferry boat they went . . .
With one last . . .
wave goodbye . . .
And home I went, to change clothes, gather goodies to go to Edgartown to speak at the Carnegie Library (which isn't really a library now, it's a charming museum, complete with very nice gift shop!).
Since last weekend was also the famous Edgartown Food and Wine Festival, Edgartown Books and the Martha's Vineyard Trust, who hosted this signing, suggested I talk about my first cookbook. My baby. Fine with me!
And so I did. I read the parts in my books that made up, for me, the anatomy of my first book: from The Fairy Tale Girl I read the part where I discovered Julia Child and fell into the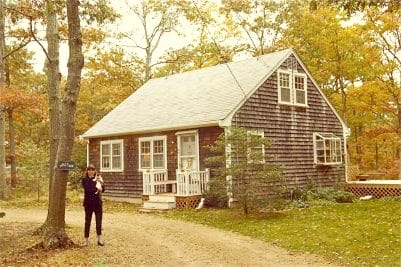 wonderful art of cooking. And, from Martha's Vineyard, Isle of Dreams, the story of the dark and stormy night in my first little Holly Oak house in the woods when I started trying to figure out how to write a book. And from the same book, I read about my first scary visit to a publisher, getting lost in Boston ~ then later, leaving fifty pages of my unfinished Heart of the Home behind so they could decide if they liked it enough to publish it, standing on their porch looking over the Boston Common,🍂🍁🍂 leaves swirling around my feet, hands clutched to my chest, with eyes-to-sky 🙏, and one-word prayer, "please." (Made myself cry with this one.) It was a lovely day, I answered questions, signed books, and visited with, as always, the nicest people in the world.📖
Ahhhhhh, yes, deep breath of autumn leaves and salty air . . .
And here we are, thirty years later, another luv-lee November on the doorstep . . .🎃
Girls are gone. Wrist feels a LOT better. Still exercising it every morning. And, there's my Enchanted diary, fat with memories . . . Back to work I go . . .💖
Finding the right words, the right watercolors to convey the magic and try to take you there . . .🎨
Because if you can't smell the wildflowers in the Lake District, taste the salty Irish Sea as we cross, or hear the patter of rain on ancient and historical gravestones, I'm just not doing my job!🖌
There are probably tiny cat hairs in every watercolor, but Jack is not charging me for them, they are free!
Dream world, winter is coming to the house of creativity. It'll be just us . . . I will be boring, because this will be Groundhog Day, not a lot of change except maybe which movie plays in the background while I work ~ We are giving a nice big Christmas Party 🎄 this year, that will be fun! . . . and my heart will be very happy in my quiet world where I never feel alone, because I have YOU!💞
We still have Halloween coming . . . here are some ideas for Pumpkin faces . . . don't forget to put cinnamon on the inside of the lids . . . smells so good with the candle burning. Watch Practical Magic while you do it! Lots of fun Halloween ideas in my Autumn Book!
Merry Halloween, Dear Ones. Rabbit-Rabbit on Friday. Make donuts! Kick leaves. Be safe. Show love.💘 XOXOXOXOXOXO