Hi Girlfriends!!! MUSICA   . . . Here we are, in Cincinnati, Ohio, going soon to our Saturday book signing at Joseph-Beth at 2 pm . . . I had a few hours this morning so I thought I'd update you on this lovely trip across country . . . where everything is blossoming and it's . . .
You should see the wild dogwoods, both pink and white, all through Pennsylvania and here in Ohio . . . they grow wild, and in the Allegheny mountains, they were so thick they almost looked like snow!
Most trees are leafing out now . . .
And so far, our welcoming committees have been outstanding! This almost required a dog-napping . . .
Where are we? I don't know. But, thank goodness, because . . .
None of this would be possible without my map-man, pathfinder, van organizer, sidekick and love of my life. ♥
Here we are, just pulling out of our driveway on the Island, heading for the ferry in the Fine Romance van, all packed and "ready" as we'll ever be, because this is it! 
Kisses goodbye . . . 💋
And so it begins . . . SO EXCITING . . . For a little San Fernando Valley Girl, this is beyond wonderful . . .
Meeting all our wonderful Girlfriends, Blog Girls, FOSB's, and Tweetettes . . . do you see yourself here?
Oh, yes we can!
Sometimes I read from one of the books . . . and I always answer questions . . .
Here I am, ear scratching while talking to our Twitter Girlfriend Georgie @FarmGirlGeorgie (she's wearing a scarf she just made from her new Spoonflower fabric) and we are speaking . . .
This is Liz, the event coordinator at R.J. Julia's in Connecticut, introducing me . . .
We've been having fun wherever we go . . .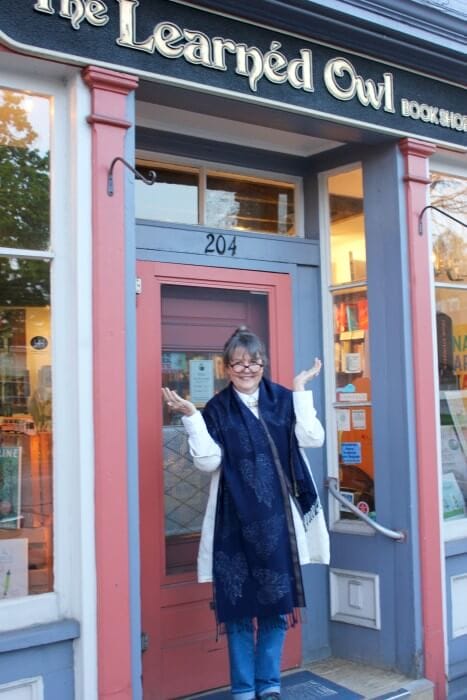 We love our little Independent Bookstores . . .
The Learned Owl is a family affair, that's Kate Schlademan (who owns the store) in the green, with her mom and dad, Lois and Jim . . .
These bookstores add so much character to their towns, towns that make for a wonderful livable, homey America . . . we celebrate them!
Out of the 23 book signings we've scheduled, today in Cincinnati will be our fifth . . . we still have 18 to go . . . Come see us! ← Click there for our itinerary.
But if you can't make it, we've left signed copies of all the books at each of the stores we've visited . . . (even a few Autumn books) ~ you'll find phone numbers for these stores in our itinerary . . .
I'd love for you to meet some of our friends . . . like Barbara and her husband . . .
Yes! Our Fairy Tale Guys have been there too!
And so many Girlfriends!
And twin sisters too . . .
All with so much in common . . .
And perfect timing for Mother's Day . . . so many Moms and Daughters . . .
The "road" has been fun, as it always is . . . so much to see. This little car parked next to us at one of our hotels . . . we thought, "How green! Only a rubber band to keep this one going!"
I waited until the cart was half empty before I took the photo, to make us look at least a little bit civilized . . . so you didn't get to see that we really did bring the kitchen sink.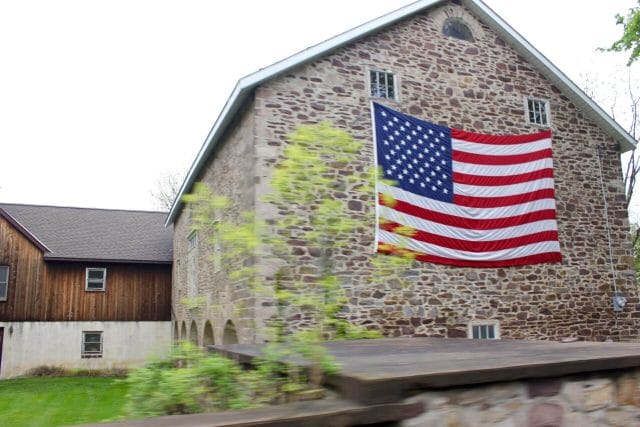 I'm always trying to catch good photos out our car windows . . . Pennsylvania has the most beautiful old stone houses and barns . . .
Not a lot of traffic if you keep off the main highways! Here we are on our way to a tiny town in Ohio called, of all things, and most appropriately, "Willard."
We wanted to stop there to visit with our printer . . . the ones who make it possible for us to put "made in America" on all of our books . . .
Here we are in the waiting room, looking out the window toward the parking lot on a perfectly gorgeous spring day!
The printing plant was huge, covering over 30 acres, there were even railroad cars parked inside, being filled . . . and SO interesting, a place filled to the brim with books ~ and with them, the hopes and dreams of authors and publishers, that they may have created something to help make the world a better place.♥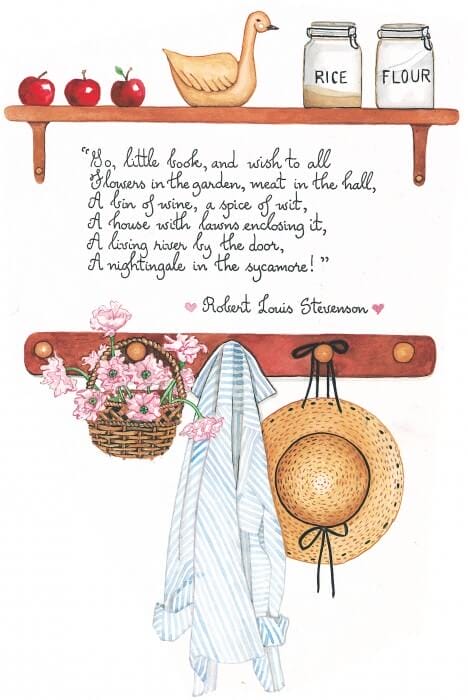 . . . I'm sorry, they wouldn't let us take photos inside, so I can't show you. We had to walk down little yellow painted walkways (for safety sake) and wear earplugs! HUGE MACHINES . . . and all those trade secrets had to be protected. But they showed us how HEART OF THE HOME was coming along, and gave us the components of the book, pages, ribbon, cover . . . to take with us.
The pages aren't bound yet, but they've been sewn together . . . I'm wild about the color, love the paper, really happy about the new recipes and the new art . . . my baby has a whole new set of clothes! ♥
It was a treat to meet the people responsible and see pages so very hot off the press!♨️
Seems like just yesterday I was doing this . . .🎨
So, let's see, what other fun things have we seen? Oh yes, we love to visit supermarkets in other parts of the country . . . This is Hienen's in Hudson, Ohio ~ a perfectly wonderful place, GO there if you can… you will love it . . . It's Trader Joe's, times ten, every kind of flower, a real butcher cutting meat, huge salad bar, beautiful already-made salads, gorgeous breads, and then of course, the dessert section! No, we did not JUST take pictures!
Loved the architecture there too . . . and these charming spring wreaths . . .
And the tree lined streets . . .
And the signs of spring everywhere we looked . . . I had to take pictures for you, flowers to  wish you the very happiest . . .
To all you wonderful mothers and nurturers everywhere. While we've been on the road, we've had Teacher's Day and Nurse's Day too, nurturers all! Be sure to reward yourselves . . .♥ Make that milk cake you see on your May calendar page, or go HERE for the recipe . . . And then . . . do this . . .
B e c a u s e . . . .
And you deserve it!  Okay, off I go to the exercise room to ride that bike and read my new book . . . We'll keep in touch . . . thank you for coming along. Hope we get to see some of you along the way! Thank you for your wonderful, tear-inducing,  comments about the new book ~ and, well, for everything! XOXO