Hello my friends … First … deep breath, and a cup of something ~ go get it, I'll wait. I'm no good without you anyway. I promise not say a thing of substance before you get back (and maybe never🤣, we shall see). Perhaps some fine olde MUSICA to send you on your way? MUSICA…
You back? Okay, here we go . . . Ahhhhh, these bewitching late summer nights are what I live for. They are the thing that made me stay here forever. Doors and windows open, cool air blowing through, leaves beginning to drift, talking into the night accompanied by the songs of crickets, with bug buckets glowing . . . Know what a bug bucket is? It's that ⬇️ … a big candle in a bucket that burns citronella to keep bugs away … we surround our chairs with them.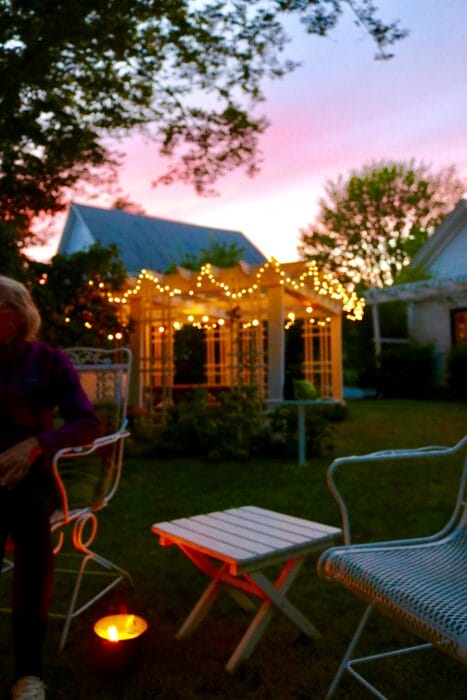 Darkness falls streaking the sky in pink and lavender, bug buckets and twinkle lights lit . . . quiet voices in the night . . . making some summer souvenirs . . .💞
Stars shining bright above us🎵 . . . and for a while we forget the troubles of the world . . . and lose ourselves in the hearts, memories, and laughter of our friends . . .
You can't solve all the world's problems. Now go wash your hands and come to the table.  💖My Mom
So basically, that's what we've been doing, coming to the table. Definitely a thing of substance, you can tell by the way the trees are leaning in to listen. We did it last night and we're doing it tomorrow night. I feel like I'm trying to grab onto a speeding car! September being the car.🍂🍁🍂 
I've been wandering through my recipe books. We're making Chili for tomorrow (p.78 in my Autumn book or right
HERE), in fact it's cooking on top of the stove right now. I'm sorry to all the other chili makers out there, but this recipe is the BEST in the world. Please give it a try. Deep, dark, and delicious. The other night we put fresh littleneck clams in our linguini, tossed a spoonful of pesto on the top of each dish … and served it with my dad's delicious buttery garlic bread, so so so good, you can read about it HERE.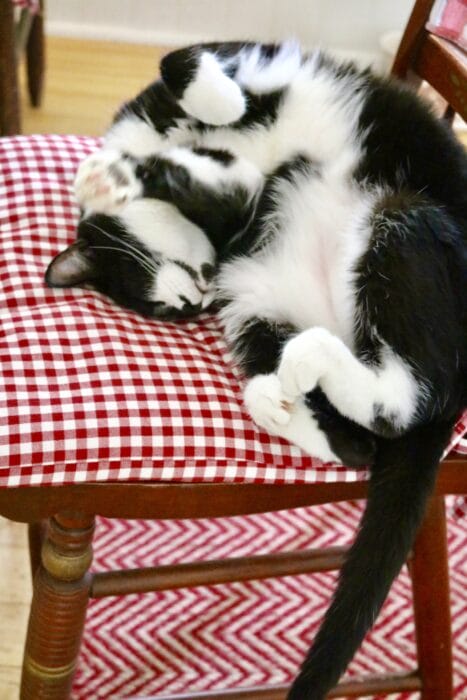 And of course my shadow hangs out in the kitchen while I'm cooking, he is always where I am. Next to me now, I reach to pet him, on your behalf, big round eyes look up ~ tiny mew! This is his birthday month! He's almost ten! How can that BE? 
And this, because NOW is the time for juicy, sun-ripened garden tomatoes ~ pop them into a jar with basil, garlic, and olive oil, and then into the sun for a few hours. It's one of my favorite summer recipes.
And corn? Have you had your allotted amount of fresh corn yet this summer? Now's the time, those little kernels are popping off the cobs … and, do not forget this wonderful recipe for Corn Chowder … put it in a mug for a cool evening in the garden . . .
Joe's homemade picnic tables turned out great … We had our first sit-down dinner for six since last winter! It's been a dinner-drought during this DamPanic! And everyone was at least 6′ away!
So many memories under this arbor … not only ours, but for the people who lived here before us.
Especially the Bowditch family. Mr Bowditch built this arbor, Mrs. Bowditch named it the Teahouse of the August Moon . . . we love these people so much, I've told you before, they owned our house from 1949 to 1980 and left us so many gifts. Like their forever-foundation of rose arbors, creaky wooden floors, old trees, and a fireplace that can talk. They are gone but not forgotten.
"O' thou who has given us so much, grant us one thing more, a grateful heart." 💝 George Herbert
The other blessing of these summer nights . . . the beautiful moon we share with the whole world. But, this moon is not seeing the same thing everywhere it looks. As it drifts across America this year, it sees less and less twinkle lights and more and more hungry, isolated, and homeless people 💔, NOT enjoying
linguini in Clam Sauce, wishing for a big bowl of corn chowder, longing for a breath of fresh air from a pure breeze over a clean moon, and no smoke, and no heat, no orange skies, and a peaceful end to this
crazy year that Michelle, one of our girlfriends, described as "the new cuss word," as in "I don't give a 2020." But we DO give a 2020, don't we? I'm showing my gratitude, best I can, by donating an early Christmas present to Feed America and the Red Cross. And we can't forget our darling animal friends who make our earth a brighter place to be. When humans are in trouble, animals are in more trouble. We can't do everything, we can't all be nurses or firefighters or teachers, or first responders, heroes all, but we can do something, don't ever think a dollar doesn't matter.💞 They need us, and we need them and . . .
So what else magic people . . . ?
This, me, painting for the (OMG) 2022 calendars. You know I did my first calendar in 1993? Almost 30 years of celebrating the days!  With a few time-offs for good behavior! But I love every moment of it. Writing out the words of distilled genius, painting these little letters . . .
Letters that go perfectly with now. So, dinner at the Teahouse of the August Moon requires tablecloths!  Which gives us this wonderful thing I wanted to share with you in case your dreamy fall-wind ration is wanting . . . here's some of ours…
XOX
Laundry is the very best way to catch the wind . . . (Ah, but I may as well try . . .🎵)
First little leaves are floating out of the trees ~ this one got caught in a clothes pin!
Mmmmm, line-dried laundry . . . even folding it smells good.💓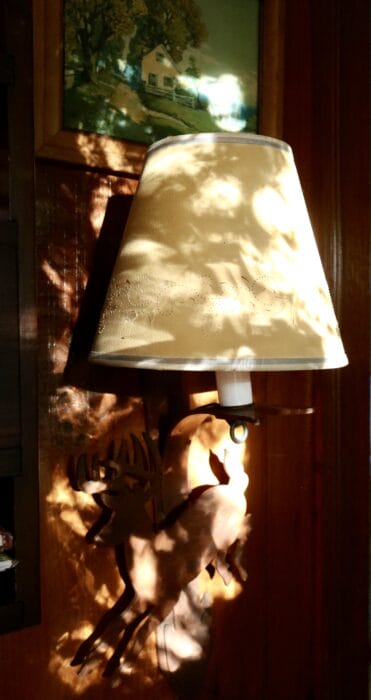 For us lucky ones, these are lovely days of noticing the little things in life . . .💓
Good morning sunshine . . .☀️
What's on the porch? Oooo, heavy … oh my!!! Could it be? Little heart flutter …
Yes! Home for Christmas has come in for a landing! The little baby is born. My first view of it. 💞 
Hello Baby! We think the rest of the books will arrive at the Studio tomorrow, or maybe Monday, but SOON… and then, off they 
go, to everyone who preordered, first come, first serve! 💝 With all my heart.💖
I should tell you, even though I do not like to say it, and I'm sure you do not want to hear it, but my precious mother went to heaven in April. I'm sorry. I'm one of those people who can't talk about such things for a long time, it takes me a while to learn how to live with it if that's even possible. But from the moment she went on hospice care, I began writing this Christmas story. I wrote all through late winter into spring. I was with her the entire time
and she was with me. It was the perfect place to be. She's the "Home" in Home for Christmas. I knew a lot of you had figured it out, and I was sure that when you read the new book you would ask, so I'm sharing it now, because in so many ways, you knew her too. She was in my right hand at the writing of every book, the hand connected to my heart that connected me to you. It's her spirit of love you read on every page. Dearest person, mom of eight, wise beyond her years. She said the simplest things, like, "You know the difference between right and wrong." And she convinced me I did!
Patricia Louise Smith Stewart, a girl after my own heart.
 I immediately sat down and read the first book out of the box and made myself cry. You know I'm okay. My mom WANTED to go to heaven. It was the right thing at the right time. Thanking you ahead for all your kind thoughts. You don't have to say a thing. Because we both already know.💞
And because I have it now, guess who gets the next three copies from my box of Home for Christmas? Oh yeah, YOU! Let's draw the names of our winners!! Our random number generator, the famously wicked and charming Vanna, named for another talented Vanna, is ready for the pick! I say, You go girl! And she does! Down, down, down, deep into thousands of names she dives, scissor-kicking to the bottom, crinkled slips of paper like from a fortune cookie flying through the air, each one has a name, and here she comes … her green eyes are sparkling with success as she hands me the three bits of paper, and back down she goes, into the melee, on her next quest: to find the winners of the cups! SO, let me see, I'll give you the names and a bit of identifying something from their comments, so there won't be any mixups … the winners for the Books are, drum roll please . . .  
Katie Craig! She's one of our heroes, a teacher working very hard to make things right for her kids during Covid!👏🎉
Number two, is Karen Giordano! She wrote that my Autumn Book is her Labor Day tradition!👏 🎊
And last but not least, Susan Karasievich ~ she appreciates fairy tales!👏🎈
Kindred spirits, all!💞 Congratulations! I will send you an email soon and you can send me your address and what name I should write in your books and off they will go!
And Next? Three cups . . . fingers crossed, Girlfriends, I hope you win one of them!
And here we go: For the Bluebird cup . . . 
The winner is …. Marie from Chester, Oh! our girlfriend in England! Hi Marie! Looks like you're going to surprise your sister! xoxo 💝
Next is the Santa cup . . . are you ready Linda Beck? You better be! (Perfect because she has been "coveting" cups!)💓
And very last (except we'll do it again someday)… the winner for the Little Things cup . . . Here we go! It's Amy from Wisconsin ~ Yay Amy! (she moved back to Wisconsin in 1979 and she's been happy ever since)!!!🎉
So happy for you all! 👏 
Here's the full-page ad I did for the Nov-Dec issue of Yankee Magazine ~ it tells more about Home for Christmas … look for it and a smaller version in Victoria Magazine!
I hope I'm going to see some of you in my magic mirror on September 20th, at 3:30 pm EST, for Sunday Tea with me and Titcomb's Bookshop. It'll be on Zoom, so easy if you haven't tried it yet (believe me I don't know what I'm doing either, but let's not let that stop us!), you can Google "Youtube, how to do Zoom" and they will show you how. It's going to be another BYOTea, just like today, except with zoom-a-vision … Go HERE to sign up.
 So what else might I have in my bag of tricks? Oh yes, because I heard you when you asked . . . here they are, Holiday Cooking Greeting Cards! You'll see I write about my mom's famous Snippy Doodle in the new book, so I thought you might like the recipe! And of course, who doesn't love Cranberry Marmalade! Something to share! 
Ten cards with envelopes, and each package comes with a candy cane bookmark! For Thanksgiving, or Christmas, or for any old reason, because the more connection to each other, the better!!💞
This is inside Cranberry Marmalade . . .
And here's Snippy Doodle.
And here's the back for both of them! A kiss across continents! Christmas Cards are coming soon!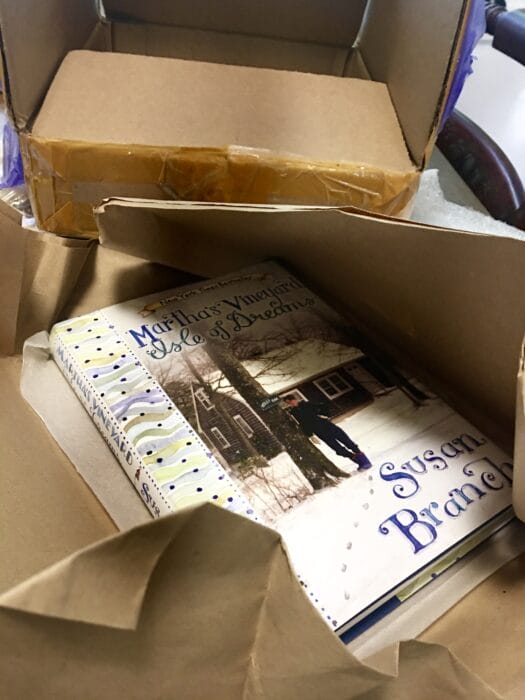 And another good thing happened, the 3rd printing of Martha's Vineyard Isle of Dreams has finally arrived . . . in case you were looking for one… they are BACK! And FYI, just so you know, the new puzzle is right on schedule⏰ … they should be in at the end of October. Perfect timing!💓 And so, sweet people, off I go … Until next time . . .
If you can, 
Thank you for everything . . .💞 See you next time! I have an idea about the next post. Can't wait!👏